Audi A8 3.0 TDI quattro SE Executive 262PS tiptronic road test report and review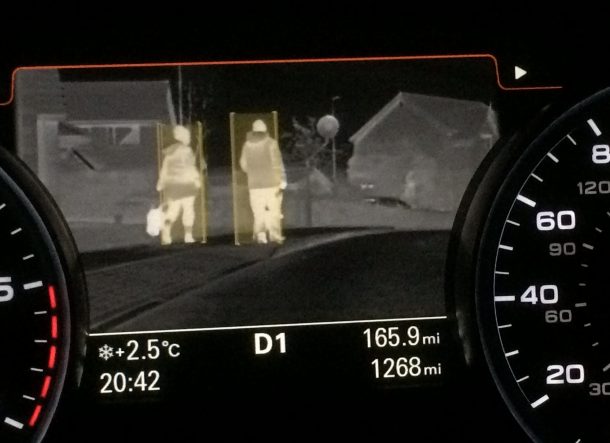 Audi A8 3.0 TDI quattro SE Executive 262PS tiptronic road test report and review: DAVID HOOPER marvels at some of the latest technology in Audi's luxury limousine.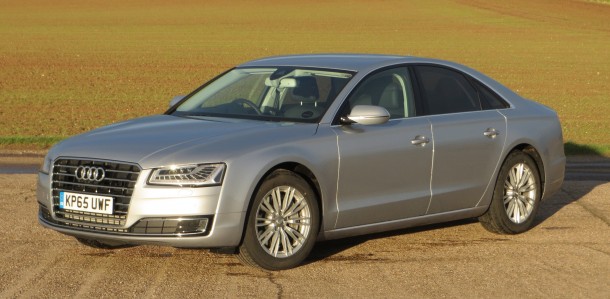 I LIKE carrots but I don't need to eat them any more to be able to see at night thanks to the amazing night vision technology in this palatial Audi A8.
The press of a button turns the screen on the dashboard between the two main dials into a night vision camera which spots people, cyclists, even the occasional fox,  who can hardly be seen on dark roads at night into bright white silhouettes, and as you get closer to them, places them in a yellow box to highlight their position.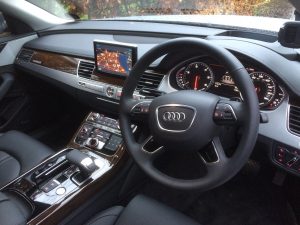 For those who've grown up on computer games playing Call of Duty, or spend their spare time watching Traffic Cops, the images are like those you see on thermal imaging night vision cameras – but is it really necessary in a car? And is it a distraction? And is Audi's Night Vision Assistant with pedestrian and animal detection really worth paying £1,535 for?
You could certainly be forgiven for thinking it's a gimmick, but even with the car's super bright Audi Matrix LED headlights, which are themselves an £840 option, the system was picking up pedestrians before I spotted them on a dark winter's night.
And then there was the moment when the car startled a fox in a hedgerow. As the fox legged it, the car flashed up a red warning triangle on the dash to alert me to its presence, which made me jump at first, but could have prevented an accident.
The system isn't cheap, and is certainly very clever, but can be a bit of a distraction, and how much you would really use it once the novelty wore off, I'm not sure.
This was just one of the new technological highlights on the current Audi A8 range, but there was also some old technology on our test car which has almost been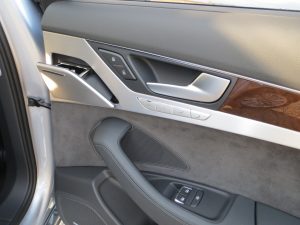 consigned to the history books these days. When, for example, was the last time you saw a cigarette lighter in the back of a car, or even an ashtray?
The A8 has both, testament to the fact this car is often the preferred transport of cigar-smoking celebrities, company executives and other great and good citizens who have made it in the world and afford such opulent luxury.
And once seated in the back they want for nothing, travelling in virtual silence thanks to the double glazed windows – yes really – with individual climate control for their own personal corner of the car, their own electrically adjustable seats complete with three memory positions and their separate heating or cooling settings for each seat. The electric rear seats, which also recline, are another options list item and cost a substantial £4,445
In addition to the tinted privacy glass, there are also side and rear sun blinds which operate electrically and disappear into the car's doors when not in use so you don't even know they are there.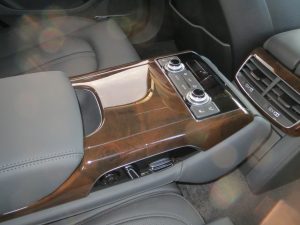 Up front, where the driver, or in many cases the chauffeur sits, I loved the stainless steel dashboard trim which housed the classy analogue clock in the centre of the dash, sitting above the climate control panel and the Multi Media Interface which controls the car's navigation system, telephone, infotainment and most other settings. The whole "look" was finished off by modern LED ambient lighting.
This Audi A8 was powered by the proven 3.0-litre six-cylinder turbodiesel engine with 262PS, which although is not as quick as some models in the range, is perfectly acceptable in performance terms and can really hustle the car along at an agreeable rate of knots, especially when the sports mode is selected.
Almost silent once on the move and up to cruising speeds, the eight-speed gearbox is as smooth as they come. During my test of 530 miles, the car averaged 34.1 mpg across a broad range of driving conditions, although on a steady journey that figure could rise to around 40 mpg with gentle motoring.
The Audi A8 is luxury on wheels, and thanks to its aluminium body is light compared to many rivals which helps with the running costs, although depreciation will be heavy, with second-hand examples proving to be proper bargains – but if you can afford a new one, you'll love it – and don't forget to order the night vision system – it's a great gadget to impress your boardroom buddies with.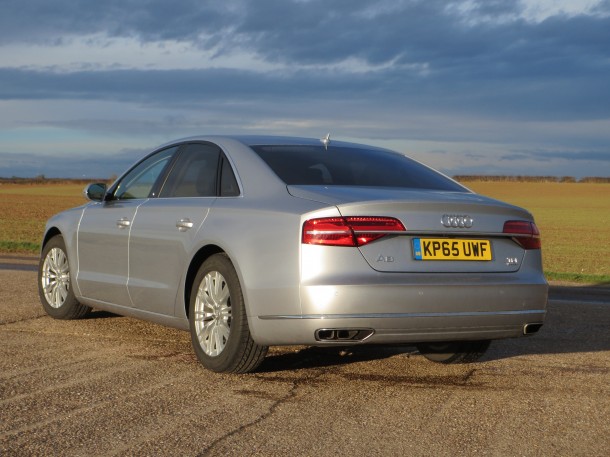 Rating:






THE VITAL STATISTICS
MODEL: Audi A8 3.0 TDI quattro SE Executive 262PS tiptronic
ENGINE: 2967cc, 262PS six-cylinder diesel engine, driving four wheels through 8-speed manual gearbox.
PERFORMANCE: Top speed 155mph. 0-62mph in 5.9 secs.
ECONOMY: City: 39.2mpg.
Country: 58.9mpg.
Combined: 49.6mpg.
Wheel World test average: 34.1 mpg
CO2 EMISSIONS: 149g/km.
FUEL TANK: 82 litres.
INSURANCE: Group 43
PRICE: £63,370 (£76,970 as tested)
WARRANTY: 3 years/60,000 miles.
WEBSITE: www.audi.co.uk
• All data correct at time of publication.