Mazda CX-3 1.5 105ps 2WD Sport Nav Diesel road test report and review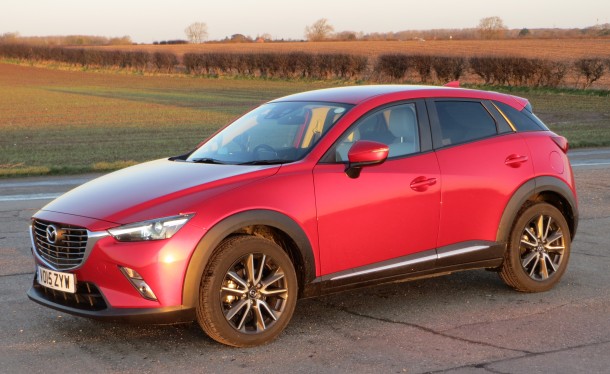 Mazda CX-3 1.5 105ps 2WD Sport Nav Diesel road test report and review: The Mazda CX-3 is the latest of the Mini SUV genre. DAVID HOOPER has been finding out what all the fuss is about.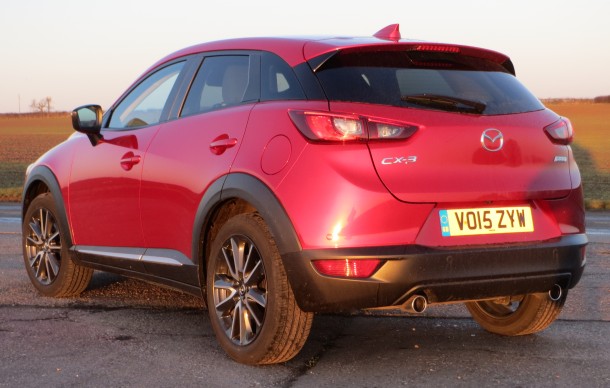 THE Mazda CX-3 looks like the baby brother to the CX-5 we tested last year and liked very much. This latest addition to the Mazda garage sits in the Mini SUV class, which is an increasingly packed corner of the market and includes the popular Nissan Juke and Renault Captur.
The Mazda CX-3 features the carmaker's Kodo design language which ties the current range together and can easily be mistaken on the road for its big brother, the CX-5. It would have been an interesting comparison in size to stand the two models next to each other, but I didn't find a parked CX-5 during my few days with the car! The CX-3 is obviously smaller, but it doesn't feel cramped inside the car, although rear leg room for six-footers can be a tad challenging and the boot is compact in dimensions, although the rear seats can be folded down.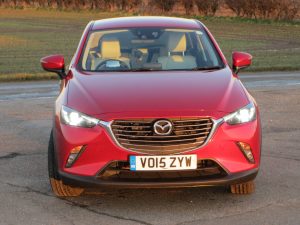 Most CX-3s come with front wheel drive, like our test car, although an All Wheel Drive system is available on a handful of models. All CX-3s feature Mazda's excellent SkyActiv engines, our test car came with a the 1.5-litre diesel option, which boasts a very low 105g/km C02 figure. Other engine options include 120 and 150PS petrol engines, but this isn't a cheap car, with the entry-level model costing £17,595 on the road.
Our CX-3 comes with a price tag of £23,355 on the road, including a few nice extras. The seats looked particularly good clad in half cream and black leather which is an £800 option. The gorgeous Soul Red Metallic is another £660 but worth every penny in my opinion. Standard kit included the 18in Gunmetal alloy wheels, LED headlights which featured adaptive front lighting so you can see around corners, well, bends at least. A reversing camera helps you park, although in the winter months you do have to keep cleaning the camera lens or all you can see is a blur thanks to the accumulation of road dirt.
Keyless entry and even a head-up display on the windscreen all contribute to ensuring the Mazda CX-3 is to live with on a day to day basis, and a Premium Bose surround sound system with seven speakers makes a fantastic noise – great for drowning out whingeing kids on the school run!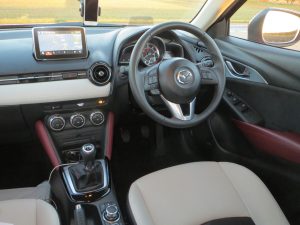 The 1.5-litre diesel engine isn't the quietest I've come across, particularly at start-up or at low speed, but once on the move it quietens down. It pulls well enough and cruises quietly and will get the car from rest to 62mph in just 10.1 seconds and has a potential top speed of an adequate 110mph, but in the mid-range provides plenty of punch to allow easy overtakes. The gear shift is beautifully precise and a delight to use, Mazda really has got this spot on, but the car's handling doesn't feel quite as poised as that of the Mazda3 thanks to its increased ride height (40mm) and its relatively soft damping set-up. Braking performance is assured, but the tyres do transmit quite a bit of road noise into the cabin on anything other than the smoothest of road surfaces.
The CX-3 looks good inside and out and the raised ride height is right on trend at the moment, which combined with the quality look and feel of the interior and good equipment levels, especially in this Sport Nav model, will attract customers and tempt them to part with their cash.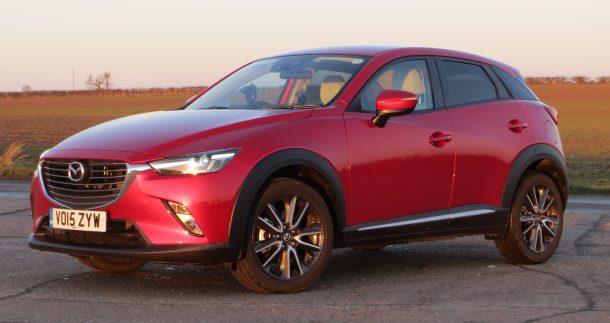 Rating:





If you like this, read our review on the larger Mazda CX-5
THE VITAL STATISTICS
MODEL: Mazda CX-3 1.5 105ps 2WD Sport Nav Diesel.
ENGINE: 1,499cc, 105PS four-cylinder diesel engine, driving front wheels through 6-speed manual gearbox.
PERFORMANCE: Top speed 110mph. 0-62mph in 10.1 secs.
ECONOMY: City: 64.2mpg.
Country: 74.3mpg.
Combined: 70.6mpg.
CO2 EMISSIONS: 105g/km.
FUEL TANK: 48 litres.
PRICE: £21,895 (£23,355 as tested).
INSURANCE GROUP: 15
WARRANTY: 3 years/60,000 miles.
WEBSITE: www.mazda.co.uk
• All data correct at time of publication.