Mazda2 SE-L Nav 90PS 1.5 five-door hatch road test report review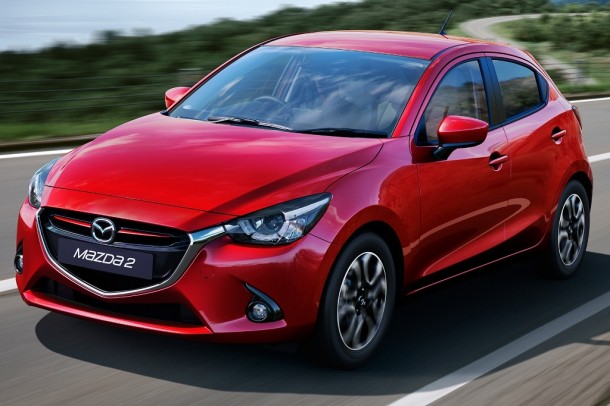 Mazda2  SE-L Nav 90PS 1.5 five-door hatch road test report review: The latest Mazda2 is longer but does it benefit? Keith Ward runs his rule over the compact motor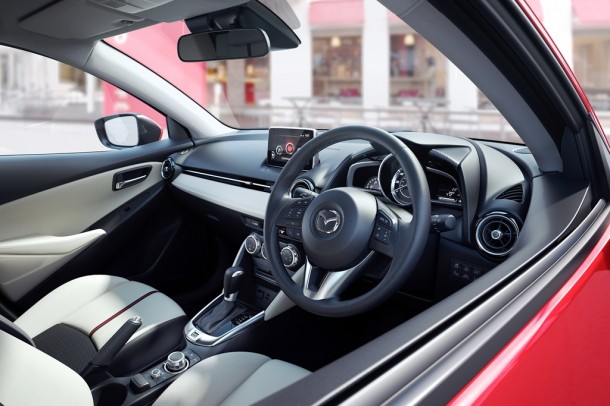 THE VITAL STATISTICS
Model: Mazda2 SE-L Nav 90PS 1.5 five-door hatch
Price: £14,395; as tested £14,925              
MAZDA sales here have grown by 20 per cent a year since 2012, far outpacing the overall market, to get back to their hey-day level of 50,000 customers annually.  Now in what UK boss Jeremy Thomson calls Mazda's "most intense period of activity ever", five new models are set for launch here during the next six months.
They include a new Mazda 6, plus a CX-5 and CX-3 and latest MX-5.  Come September, the Mazda 3 will be the oldest model in the stable.
But first up is a highly-styled, all-new, five-door Mazda 2 supermini to take on such as the Ford Fiesta, Vauxhall Corsa, VW Polo, Hyundai i20 and the new Skoda Fabia.
This fourth-generation version owes nothing to its predecessor's twinning to the Spanish-built Ford Fiesta and is independently engineered in Japan and built for the European market in Thailand.
The sculpted body, catching the light at many different angles, and onlookers' interest because of it, is longer than the previous model but shows a seven per cent reduction in weight, contributing to official combined figures of between 56.5 and 83.1 mpg.  CO2 emissions are from 89 to 117 g/km.
There is just about legroom enough for four average-height adults while the boot is smaller than average with a high rear sill and, not unusually, there's a hefty step across the extended floor when you drop down the rear seats. But the seats themselves are comfortable, while instruments and controls are well laid out, with switches to hand. We did find a marked reflection of the top of the dash in the windscreen. You can smarten the interior with a range of furnishings.
Included in a £400 optional safety pack, only on the 115PS petrol version, is a head-up display in the windscreen of your speed — a first in this class, claim Mazda.
A 16-strong range perms five levels of trim with a pair of new 1.5-litre four-cylinder engines   stamped with Mazda's respected but curiously named SKYACTIV technology — a petrol producing either 75, 90 or 115 PS, or a 105 PS diesel.
At prices from £11,995, equipment is pretty generous. Even the basic SE (only available with the 75PS petrol engine) gets manual air con, front powered windows, remote central locking, electric mirrors, daytime halogen running lights, height adjustable driver's seat, two-way adjustable steering wheel, four-speaker audio with USB and AUX connection, CD player, traction control, hill hold, six airbags and tyre pressure monitoring.
Most popular is expected to be the £14,395 90PS petrol we tried in mid-range SE-L trim, which bags you alloys, front fogs, folding heated mirrors, leather steering wheel and gearknob, integrated Bluetooth, a seven-inch colour touch-screen with multimedia rotary control and the still-questionable benefit of DAB radio with its patchy reception.
On the road, the 90PS petrol unit needed to be worked by the five-speed box to get the most out of it and you felt through the suspension the worst of Devon's network of high-hedged, narrow and patchworked country lanes included in a Mazda-designated 100-mile route. In bends, the steering tends to vary in weight, so needs getting used to. Given a short stretch of motorway, this engine pulled a more relaxed 2,500 revs in top fifth at 70. It was showing 44.7 mpg, against its official combined rating of 62.8. CO2 of 105g/km  means a first year free of VED, then £20.
Noticeably more spirited through its six-speed gearbox was the 105PS diesel we tried next, with 220 Nm of torque against the petrol's 148, although the actual quoted performance figures were inferior (0-62 in 10.1 against the petrol's 9.4 seconds). However, the recorded mpg was averaging more than 60, against its official 83.1 and CO2 of 89g/km means no VED or — currently — no congestion charge.
The diesels start at £15,995. Ours was dressed as the range-topping Sport Nav at £17,395, to include black (cloth) sports seats, integrated sat-nav, climate control, lane departure warning and smart city traffic self-braking if your attention wanders.
Rating:





THE VITAL STATISTICS
Model: Mazda2 SE-L Nav 90PS 1.5 five-door hatch
Power: 90PS @6,000 rpm; max torque 148 Nm @ 4,000 rpm
Performance: 114 mph; 0-62 in 9.4 seconds
Economy: On test 44.7; official combined 62.8
CO2: 105 g/km; band B; VED Nil then £20 p.a.; BIK 14%
Insurance: Group 15E
Warranty: Three years/60,000 miles
Price: £14,395; as tested £14,925
http://www.mazda.co.uk/cars/2015-mazda2/
 What about something a little larger, such as the Mazda3 2.2D Fastback?