Golf SV GT 1.4 TSI Compact MPV five-door road test report review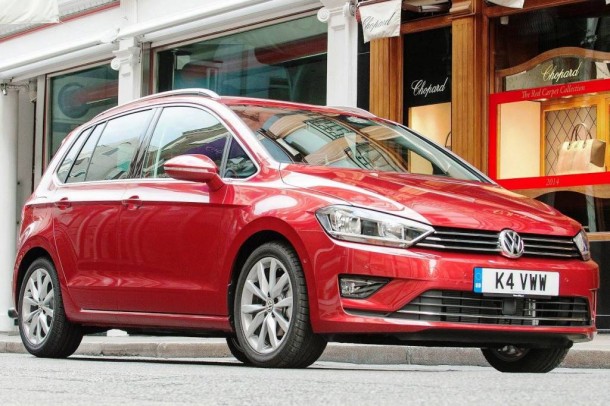 Golf SV GT 1.4 TSi Compact MPV five-door road test report review: Keith Ward takes a look at a Golf variant which adds to the range.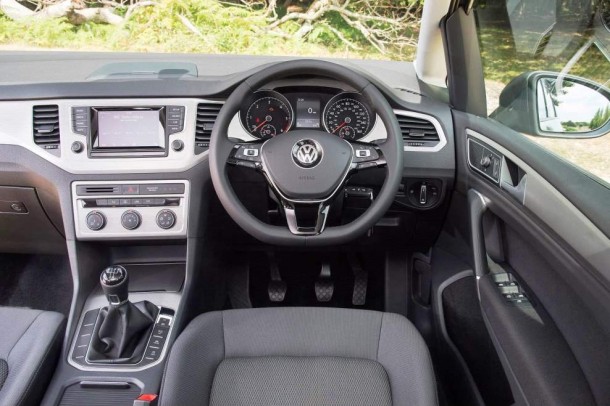 THE VITAL STATISTICS
Model: Golf SV GT 1.4 TSI Compact MPV five-door


Price: £24,895.  As tested, with options £25,580
THE Golf Plus was one version of the renowned VW Golf — 30m global sales in 40 years — which in competition terms never looked like making the cut.
Only ever a slightly bulbous take on the hatchback, the Plus was replaced by this much more definite, bulked-out SV (known unglamorously as a Sports Van in mainland Europe). It  qualifies if you'd prefer as a compact MPV to rival a Ford C-Max or Citroen C4 Picasso.
At just over 4.3 metres, the SV is 134mm longer than the Plus. In the revised Mk VII Golf range it sits between the hatchback, 83mm shorter and 120 litres smaller, and the estate, 224mm longer and 105 litres roomier.
The increased interior space of the SV over the old Plus allows greater flexibility. The fixed bench of the rear three seats can slide back and forth by up to 180mm, in favour of luggage or passengers.  Furthest forward, it virtually eliminates rear legroom, but adds as much as 90 litres to cargo capacity. It is obviously not as flexible as with three individual sliding chairs you get in some rivals.
The folded 60:40 rear seat backs slope up slightly, but fold-out panels thoughtfully bridge any gaps between them and the normal boot. As an optional bonus, the front passenger seat can fold fully forward to help carry objects as long as almost 2.5 metres. Other options are folding picnic tables on the rear of the front seats, roof rails and a height-adjustable boot floor.
From an 11-strong SV range pitched pretty high at between £19,075 and £25,600 we drove the peppy 1.4-litre, 150PS petrol in top GT trim which gets you most of what you'll need if not all you desire at £24,895. For around £500 more you can have the 150PS 2.0-litre diesel giving brisker getaways and pluckier climbing in hilly country.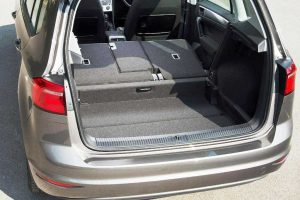 Golf the car is not to be associated with some of those who play golf the game, flashily in tartan trousers and prone to tetchy temperament.  Golf the car is sober in appearance, pleasant to be with, quietly efficient in performance and scores consistently well.
Standard on all SV's are (manual) air-con, DAB digital radio (subject to still-patchy UK coverage), a post-collision automatic braking system to avoid second impacts and a 5.8-inch colour touchscreen with Bluetooth phone and media connection.
GT trim adds City Emergency braking to avoid low-speed urban collisions, comfortable sports seats, automatic lights and wipers, adaptive cruise control, parking sensors, smart Alcantara upholstery, eight-speaker audio and an excellent navigation system.
This guided us on a 400-mile tour of lovely mid-Wales, hesitating not once at tongue-twisting place names we could not have asked the way to intelligibly.  Another time it  actively avoided what turned out to be a huge snarl-up on the M1, to get us home to Yorkshire.
Overall, the SV returned just over 47 mpg, unusually close to its official combined rating. For the extra power in that 150PS engine your CO2 rises to 130g/km, meaning £130 a year excise duty after a free first year.

Rating:






THE VITAL STATISTICS
MODEL: Golf SV GT 1.4 TSI Compact MPV five-door.
ENGINE: Petrol; 1.4-litre turbo; six-speed manual; stop-start.
MAX SPEED: 132 mph.
ECONOMY: On test 47.2; official combined 50.4; tank 50 litres.
CO2 EMISSIONS: 130 g/km.
INSURANCE: Group 19E.
WARRANTY: 36 months/60,000 miles; three years paint; 12 years body; one year breakdown.
PRICE: £24,895.  As tested, with options £25,580.
http://www.volkswagen.co.uk/new/golf-sv/home