Lexus RC 300h F Sport road test report and review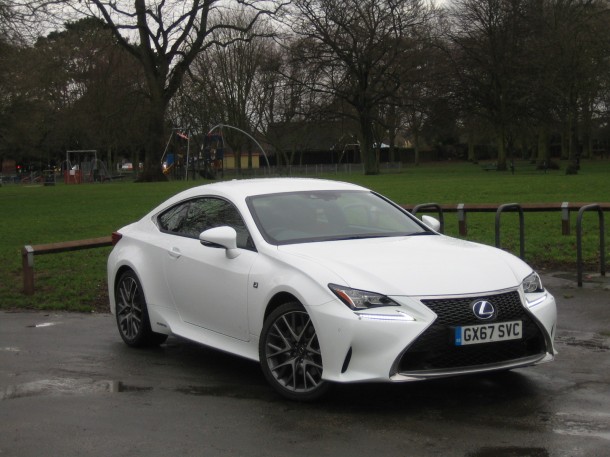 : A proper rear-wheel-drive sports car with hybrid drive technology – DAVID HOOPER has been putting it to the test.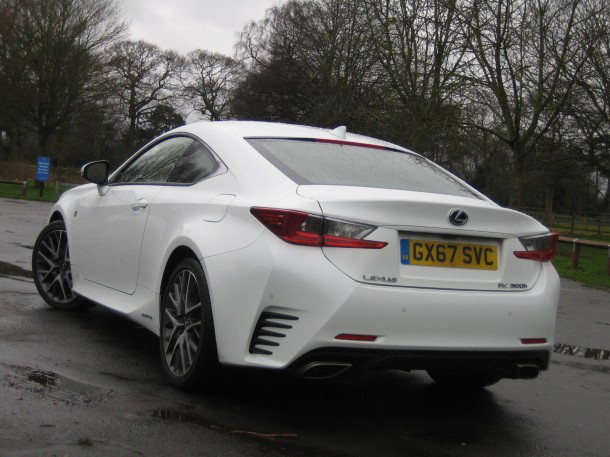 THIS stunning Lexus RC 300h is a modern sports car guaranteed to turn heads, which as I discovered during my few days of driving the car in Northern Lincolnshire, happens with disarming regularity.
In fact, one young lad of around 13 years of age, was so struck by its svelte lines and large eye-catching 19in F Sport alloys that he nearly rode his bike into a lamp-post! Fortunately, my photo shoot at Grimsby's Weelsby Woods didn't end in disaster for him and his bike as he swerved in the nick of time, but it does prove that the Lexus RC 300 styling definitely makes it stand out from the crowd – and appeals to potential customers of the Lexus brand in the future.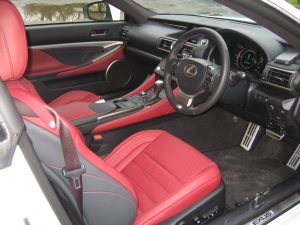 The local dealer, John Roe Motor Group, is top of the class too, having just been awarded the Dealer of the Year 2018 title by Lexus for its operation in Hull, which also covers the Grimsby and Scunthorpe area.
Open the long door and slide into the red leather seats of the cockpit, for that is what sitting in the driver's seat resembles, and you are met by a bank of switches, knobs and controls and a main instrument display which reconfigures itself at the press of a button on the steering wheel. It's a great party trick, as the central circular dial slides to the right and other displays fill the gap it creates.
Twist a switch on the large central console to select Sport and Sport+ modes and the car's main dial becomes a rev counter complete with a needle which the driver can customise to their own preference, changing both the background colour and the needle colour.
All very clever, and it provides hours of fun, but for me the most fascinating display is still the one which shows exactly which power source(s) the hybrid drive system is using at any given moment, or indeed, if the wheels are recharging the hybrid battery. Not only is it fascinating to watch, but if you're in an economical driving mood, it encourages you to lighten your touch on the pedals as you can clearly see that a heavy right is using more engine power than electrical power from the constantly recharging battery. You can also lock the car in electric vehicle mode, which if driven gently may get you half a mile or so, which saves running the petrol engine in slow-moving or stationary traffic.
The full hybrid system works seamlessly, and never needs to be plugged into to your house, but in most driving situations the car mainly relies on its 2.5-litre V6 petrol engine, which resulted in an overall figure during my test of 470 miles of just 39.1 miles to the gallon, which isn't too bad, but isn't that great either, and some way off the official combined figure of 56.5mpg. Its C02 emissions are 116g/km which puts it in VED band C, and for company car drivers it has a BIK rating of 20%.
The Lexus RC300 is a lovely smooth car to drive, and can be hustled along at a respectable pace, with a 0-62mph time of 8.6 seconds and a potential top speed of 118mph from its 178bhp petrol engine and 164kW electric motor which combine to give you 220bhp. The transmission is the CVT type which isn't one of my favourites, but switch it into the Sport or Sport+ modes and it creates some "electronic" gears which can be controlled by flappy paddles on the back of the steering wheel.
Dynamically the rear-wheel-drive RC300 handles very well, turning in nicely thanks to nicely weighted steering, and feeling well balanced through the corners despite the added weight of the battery, and comes complete with a limited slip differential if you fancy a bit of tale-out action. It is easy enough to park too thanks in part to a reversing camera and an array of parking sensors.
At £43,246 it isn't cheap for what is essentially a 2+2, but it looks fab, is good to drive and will keep you out of mischief on a wet weekend finding your way around all the controls and gizmos, whilst listening to the superb Mark Levinson hi-fi system, which is a £1,000 upgrade, but worth every penny in my book – the sound quality is superb. Other extras on our test car included the Premium Navigation system at £1,995 and the F Sport white paint at £625.
Rating: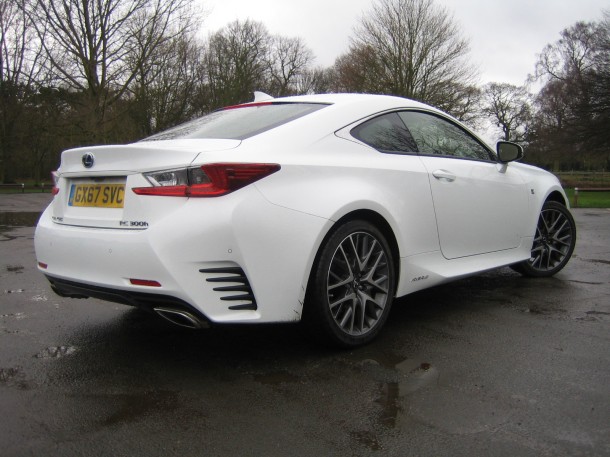 THE VITAL STATISTICS
MODEL: Lexus RC 300h F Sport.
ENGINE: 2494cc, 178bhp V6 petrol engine and 141bhp electric motor, driving rear wheels through electric CVT transmission.
PERFORMANCE: Top speed 118mph. 0-62mph in 8.6 secs.
ECONOMY: City: 55.3mpg.
Country: 56.5mpg.
Combined: 56.5mpg.
Wheel World test average: 39.1mpg
CO2 EMISSIONS: 116g/km.
PRICE: £39,645 (£43,264 as tested).
WARRANTY: 3 years/60,000 miles
WEBSITE: www.lexus.co.uk
• All data correct at time of publication.