Ford Edge ST-Line TDCI road test report review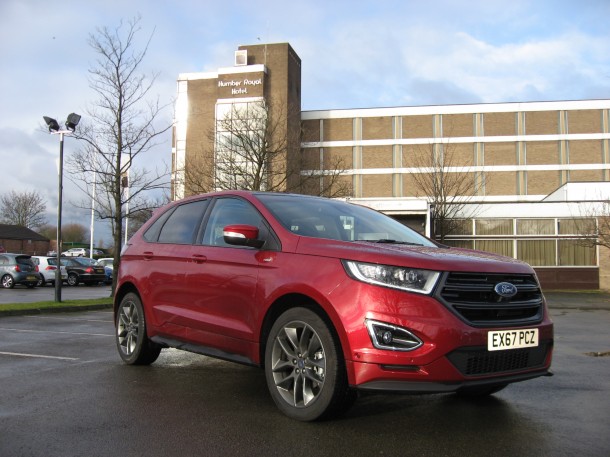 Ford Edge ST-Line TDCI road test report review: DAVID HOOPER drives a large SUV which offers a viable alternative to the established market leaders.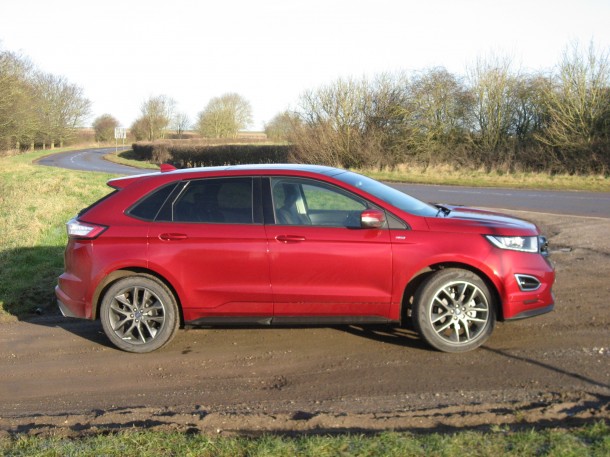 IF you were looking for an upmarket 4×4 and had a budget of around £45,000, you would probably be thinking along the lines of Land Rover, BMW, Audi, Volvo… but Ford? Maybe not, but that's what this well-specced Ford Edge would set you back – the Edge of reason, perhaps? …Or perhaps not! There's nothing wrong with it at all, in fact it's an excellent all-rounder which impressed me considerably, but I do wonder how many Edges Ford will sell, or whether the sales figures will fall off a cliff… Edge? Ok enough of the puns, but it seems a lot of money for a Ford, big as it is.. The Ford Edge range starts from £30,650 on the road and rises to £42,695 for the posh Vignale spec with our smart ST-Line test car sitting near the top of that range. It's a big vehicle, and switching from a family saloon in to this took a little getting used to, but once used to it, I liked it – a lot. The ST-Line styling details add to the Edge's imposing looks, and its smart metallic red paintwork contrasted nicely with its 20in Platinum Grey alloy wheels and shiny black grille. The rear lighting signatures are also very distinctive, with a red strip running across the boot and linking up both rear light clusters.
Sports suspension and alloy pedals come as standard, but our test car was equipped with a detachable tow bar, Blind Spot Info System, Active park Assist, the ST-Line Lux Pack  and a heated steering wheel, lovely  on frosty winter mornings, which all contributed to the invoice price. Inside, luxury rules. There are heated (or cooled) seats, an electrically heated steering wheel and most importantly on cold and frosty February mornings, Ford's excellent heated windscreen which dissolves frost away in seconds and saves you risking cracking your windscreen with a kettle of hot water or spending ages chipping away with an ice scraper. The instrumentation is clear, and the central screen in the middle of the dashboard controls most of the essential functions like the sat nav, interior climate, phones, media and a selection of Apps – essential for the modern motorist, but I loved the self-parking system, which worked perfectly every time I tried it, even with quite tight spaces which took several forwards and backwards manoeuvres to complete. No input from the driver on the steering needed, just control the brake and select Drive or Reverse on the automatic gearbox. All clever stuff, and although I've seen it on various vehicles now, it never fails to impress and amuse in equal measure. Another impressive feature was the panoramic glass panel roof, which had its own screen, but on these dark, grey winter days, I left it open most of the time. It gives your rear seat passengers a great view of the world, and they even have their own heated seats from which to enjoy it. At the back, the car has a huge load area which can be extended still further by dropping down the rear seats, an operation done at the flick of a switch, while access to the boot is gained via an electrically powered tailgate. Under the bonnet lives a 201PS 2.0-litre turbo diesel engine which gives the Edge a 0-62mph time of 9.4 seconds and a top speed of 131mph, so performance for such a big car is, as they say, adequate. There is a sport setting, and paddles on the back of the steering wheel, but I didn't use either very much, it's not that sort of car really. It's big, comfortable, quiet and an excellent long distance cruiser, eating up motorway miles with ease, while returning an average during my test of 39mpg overall. So while the Ford Edge may not be the first car of its type to come to mind for potential buyers, I'm sure that is something Ford will be working to change. It's certainly a viable contender in what has become a competitive market sector and worth considering if you are a potential buyer. Rating: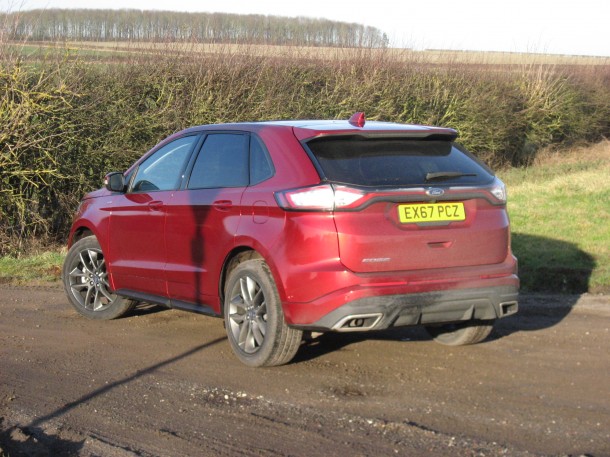 THE VITAL STATISTICS MODEL: Ford Edge ST-Line 2.0 Duratorq 210PS TDCI
ENGINE: 1997cc, 210PS four-cylinder diesel engine, driving four wheels through 6-speed automatic gearbox.
PERFORMANCE: Top speed 131mph. 0-62mph in 9.4 secs.
ECONOMY: City: 43.5mpg. Country: 51.4mpg. Combined: 47.9mpg.
CO2 EMISSIONS: 152g/km.
FUEL TANK: 69 litres.
INSURANCE: Group 31.
PRICE: £40,595 (£44,220 as tested).
WARRANTY: 3 years/60,000 miles
WEBSITE: www.ford .co.uk
• All data correct at time of publication.