Jaguar XE R-Sport 2.0 i4 180PS Auto road test report review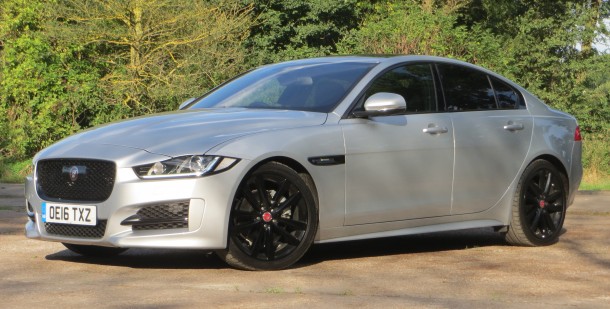 Jaguar XE R-Sport 2.0 i4 180PS Auto road test report review: Some cars just hit the spot, and this lovely Jaguar XE, packed with optional extras and some of the latest tech available, was one of them. DAVID HOOPER has been putting it to the test.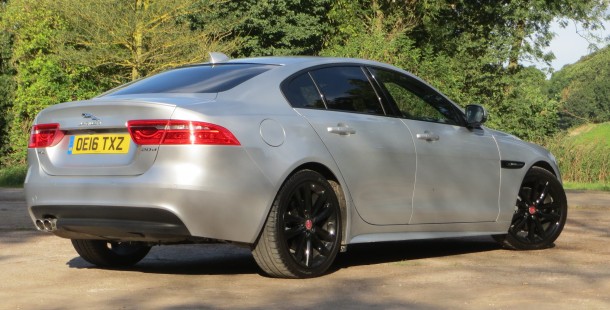 THE Jaguar XE is without question a bit of a head turner and one of the most attractive and desirable cars in its class.
Our test car raises the XE's game further still with the addition of the R-Sport body kit, discreet R-Sport badging on the air vents on wings and a set of 19in Venom twin-spoke wheels with a black finish which add a further £2,200 to the total invoice.
In fact there are an awful lot of optional extras on this car, taking the initial on the road price of £34,775 up to a whopping £48,152, but were I to buy a Jaguar XE, then this is the model I would like . . . please!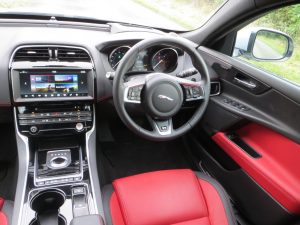 While our Jaguar XE looks smart on the outside, the interior is even more special, thanks to the lovely red and black leather upholstery with highlight red stitching across the dashboard and around the edges of the seats which gives the car a satisfyingly upmarket look and feel every time you open the door and slide into the driver's seat, which is electrically heated, of course!
The standard kit list is also pretty impressive and includes an eight speed automatic transmission, with the now trademark rotary gear selector rising out of the centre console when you press the pulsating red start button. Rotate it clockwise to drive, or better still, sport mode, and you are ready to go and enjoy this impressively smooth executive machine.
The dashboard is dominated by an impressively wide 8in capacitive touchscreen display, which controls all of the car's main features as well as your MP3 player when it is connected. There are two USB ports in the centre console and a 3mm jack as well as a 12V socket so there are plenty of options for charging your various devices and accessories.
Our test car is powered by Jaguars 2.0-litre 180PS Diesel engine which gives a 0-62mph sprint time of 7.8 seconds, although it doesn't feel that quick off the mark. If anything, it feels slightly underpowered for a Jaguar, despite its top speed of 140mph. That said, it is progressive and can be quite nimble in the mid-range area of the power band thanks to a meaty 430Nm of torque at its disposal and is therefore able to dispatch slower moving A-road traffic with consummate ease when the need arises.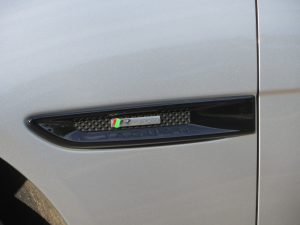 On the road, the Jaguar XE is a lovely car to drive, it's comfortable and capable, although the speed proportional steering was not my favourite feature as it sometimes felt somewhat detached from the goings-on at the front axle and didn't give me the feedback I like and would have expected in this type of car, particularly when I picked up the pace a bit. But I did get more used to it as the miles racked up.
Economy is reasonable, and with a CO2 emissions figure of just 111g/km, our XE managed to return an average mpg figure of around 48mpg on a 350-mile round trip with four adults on board at high motorway speeds.
There are too many extras and systems on this car to talk about all of them, but some of the latest suite of safety aids such as adaptive cruise control, a collision warning system which beeps at you if it thinks you're about to crash, and a head-up display which cost over £1,000 as an extra on its own, are just some of components which come as part of the Highway Technology Pack which costs £2,610.
We managed to get five people in the XE, however it is more suited to four occupants rather than the five, as the middle seat in the rear isn't the most comfortable for a long trip.
I enjoyed driving the XE very much and would quite happily add it to my collection, especially if it came with the excellent Meridian stereo system which packs a 380W punch.
Jaguar had specced this car up to the hills to demonstrate what is possible with a big budget, but were you to pay the basic on the road price for this model, you would still have a nice car which is a bit different to the run of the mill Audi, BMW and Mercedes offerings with which this Jaguar goes head-to-head with in the fiercely-fought battle for customers.
If you like your cars as much as I do, I doubt you would ever tire of seeing this smart Jaguar XE on your drive first thing in the morning.
Rating:





If you like this, read our review on the Jaguar XF
THE VITAL STATISTICS
MODEL: Jaguar XE R-Sport 2.0 i4 180PS Automatic.
ENGINE: 1999cc, 180PS four-cylinder diesel engine, driving rear wheels through 8-speed automatic gearbox.
PERFORMANCE: Top speed 140mph. 0-62mph in 7.8secs.
ECONOMY: City: 55.4mpg.
Country: 76.4mpg.
Combined: 67.4mpg.
Wheel World test average: 48.2mpg
CO2 EMISSIONS: 111g/km.
FUEL TANK: 63 litres.
INSURANCE: Group 27.
PRICE: £34,775 (£48,152)
WARRANTY: 3 years/100,000 miles
WEBSITE: www.jaguar.co.uk
• All data correct at time of publication.