Jaguar XF Sportbrake 2.2 diesel 163PS Luxury road test review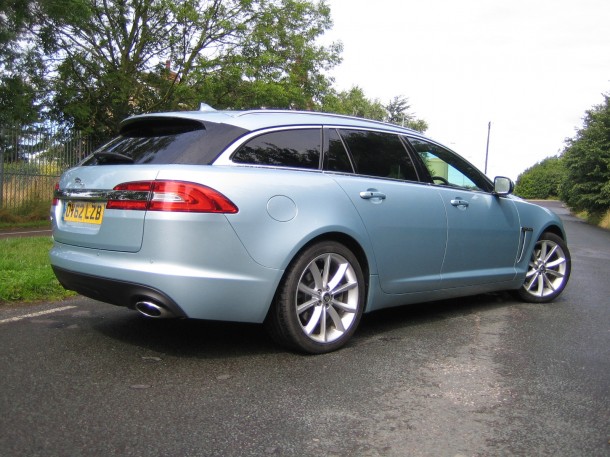 ROAD TEST REPORT AND REVIEW: Jaguar XF Sportbrake 2.2 diesel 163PS Luxury: The lap of luxury now comes with more room – DAVID HOOPER reviews the estate version of Jaguar's popular XF range.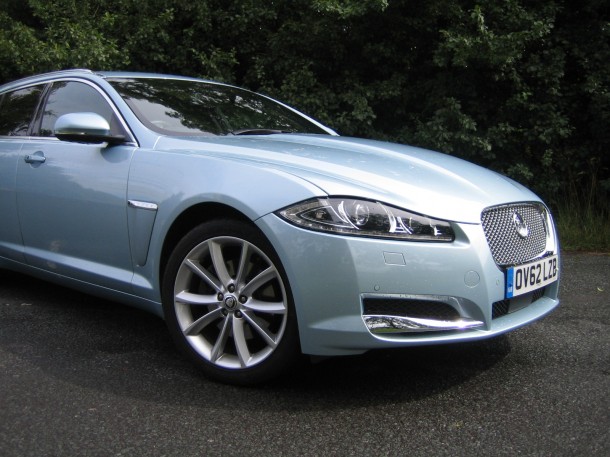 THE much-anticipated estate, or Sportbrake, version of Jaguar's XF finally went on sale this year and what a stunning looking car it is – and surprisingly affordable, with prices starting from just under £32,000.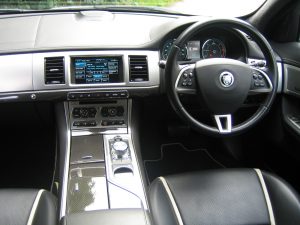 The XF has been a huge success for the now Indian-owned company which seems to be able to do little wrong at the moment, making hay with rapidly growing sales in markets across the world, including the increasingly important China and India.
The XF Sportbrake range features a choice of powerful diesel engines, starting with a 2.2-litre with 163PS, as I've been testing. The same 2.2-litre engine can be specified with 200PS, while the non company car drivers can opt for the 3.0-litre Supercharged V6 petrol engine which is new to the range and replaced the V8.
C02 emissions start from 135g/km thanks to the assistance of a Stop/Start system, with miles per gallon figures of up to 55.4, but in reality, it is unlikely that even the most careful of drivers will ever see such figures. During my test, my car averaged 44.4mpg over a distance of 877 miles, much of which was motorway driving.
All models feature an eight-speed automatic gearbox complete with a sport mode and paddles on the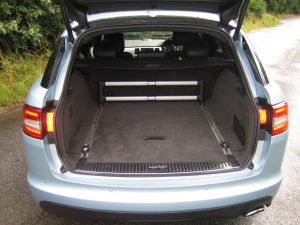 back of the steering wheel for the more enthusiastic drivers. Left to its own devices, the gearbox shifts smoothly and hardly ever draws attention to itself, unlike the engine, which I thought was actually quite noisy at low speeds for a car of this quality aimed at the upper end of the car-buying market. Once on the move though, or while cruising at motorway speeds, it can hardly be heard. In fact, the Jaguar is a great long-distance car which carries its speed effortlessly allowing its passengers to travel big distances and arrive at their destination feeling as fresh as they were when they set off.
The radar cruise control, an option on my test car, was fun to play with and provided plenty of entertainment on my journey as I experimented with the different range settings which can be adjusted by the driver to alter the distance between your car and the one in front. Leave too large a gap though, and someone will pull out and fill it, causing the Jaguar system to brake, quite firmly on occasion, to re-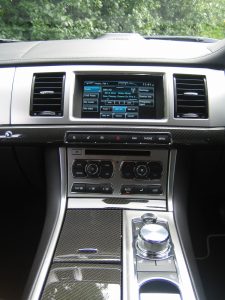 establish the preset gap between the two vehicles. It's very clever, if a little annoying at times because it can't be turned off unless you turn off the entire cruise system. At £1,275 it's not a cheap toy, either!
Another highlight of the range is the new Meridian music system which has replaced the Bowers Wilkins hi-fis. It features a sophisticated amplifier and quality speaker units and sounds superb, especially with the 825W premium system in this particular car with its 12 speakers and a £1,580 price tag!
Perhaps though, the most attention should be given to the rear end of the XF Sportbrake. The tailgate is powered so will open and shut at the press of a button from the car's dash, its keyfob, or the latch itself.
With the rear seats in place, there is 500 litres of luggage space, while with the seats down, that figure more than triples to 1,675 litres. With its ability to carry large loads, perhaps it's just as well that self-levelling air suspension is standard across the Sportbrake range. It will also come in handy when it's towing a trailer and it can pull up to 1,850kg.
The load area also comes equipped with a useful Loadspace Track System with tie downs which allow loose items to be wedged into position, or lashed down if necessary, preventing things rolling around in the back of the car, which can become a distraction.
The XF Sportbrake is a fabulous looking car – and it's not bad to drive either. Several people complimented its pretty Crystal Blue Metallic paintwork which contrasted nicely with the dark-tinted privacy glass rear windows.
All I need now is a Lottery win at the weekend!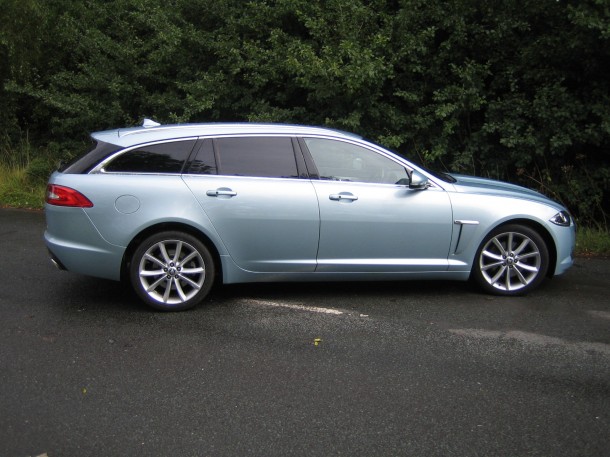 Rating:





THE VITAL STATISTICS
MODEL: Jaguar XF Sportbrake 2.2 diesel 163PS Luxury.
JAGUAR XF SPORTBRAKE RANGE: From 2.2 Diesel SE (163ps) 5dr (£31,945) to 3.0 V6 Diesel S Portfolio 5dr (£51,995).
ENGINE: 2,179cc, 163PS four-cylinder diesel engine, driving rear wheels through 8-speed automatic gearbox.
PERFORMANCE: Top speed 124mph. 0-62mph in 10.0 secs.
ECONOMY: City: 46.3mpg.
Country: 62.8mpg.
Combined: 55.4mpg.
Fuel tank: 70 litres.
CO2 EMISSIONS: 139g/km.
INSURANCE: Group 33.
PRICE: £35,440 exc options.
WARRANTY: 3 years/Unlimited mileage.
WEBSITE: www.jaguar.co.uk
• All data correct at time of publication.