Suzuki Grand Vitara 3-door 2.4 SZ4 road test and review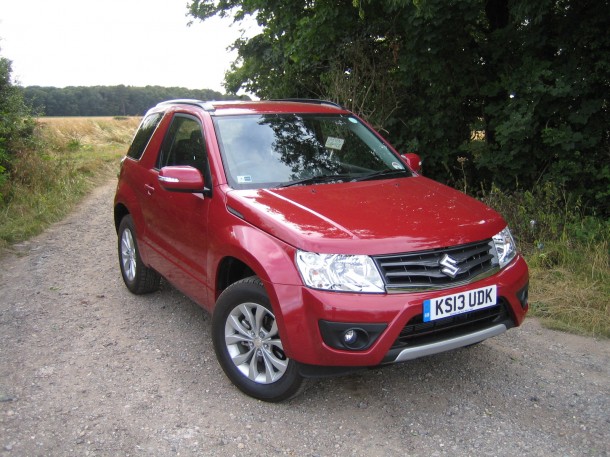 ROAD TEST REPORT AND REVIEW: Suzuki Grand Vitara 3-door 2.4 SZ4 – With a more refined engine, the latest Grand Vitara is a better car than its predecessors, but do customers still want a 2.4-litre petrol engine? DAVID HOOPER puts the three-door version to the test.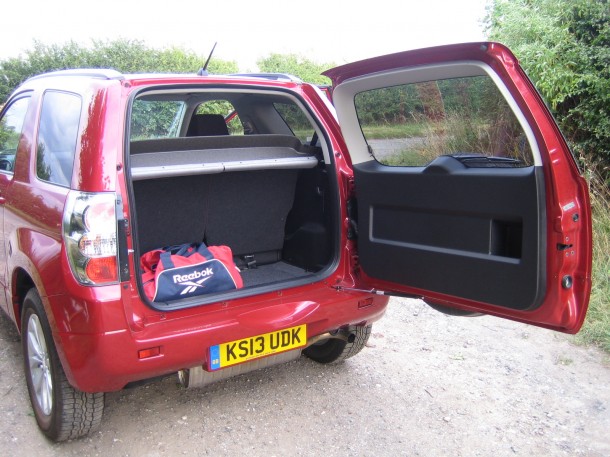 THE Suzuki Grand Vitara is one of those cars which is difficult to pigeon-hole and it certainly gets you thinking.
As manufacturers are striving to reduce C02 emissions and eek out every possible mile per expensive gallon, Suzuki's chooses to put a 2.4-litre petrol engine in its smart looking Grand Vitara, which comes with either five doors, or three doors as per this week's test car.
While a 1.6 petrol engine and a 1.9-litre diesel are available, it's the 2.4 lump which dominates the range.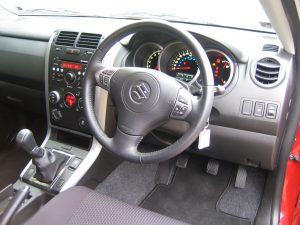 Suzuki have done quite a lot of improvement work on the faithful power plant in this latest version of the engine. It is quieter, smoother and feels refined, with power going to the drivetrain via a five-speed gearbox. Those are the plus points, but there are a few minus points too. I drove it very gently during my few days with the car and managed to achieve an average mpg figure of 32.7. It's C02 emissions are high, which means so is its road tax – it will cost £280 per year to tax it, but it doesn't feel like a 2.4-litre engine – it's actually quite gutless – rev it towards the red line on the rev counter and not much happens really. The rev counter climbs steadily, as does the speed, but it's not going to test your neck muscles. Using third or fourth gear for overtakes on A roads does dig out enough performance to make reasonable progress however, and turn the Suzuki Vitara into a sweeping bend at speed and you get a little bit of body roll before the car settles into the corner in a composed manner.
The ride is at best described as jittery, thanks to the short wheelbase of the three-door model it tends to jiggle around on anything but a billiard-table smooth road surface – and there aren't many of those around at the moment, while the interior consists of mainly hard-wearing plastics which look presentable and are well suited to this sort of car.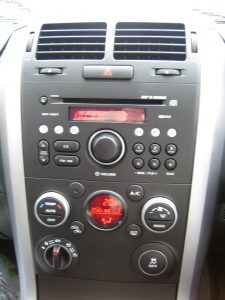 The driving position isn't exactly the best I've come across either, not helped by the fact that the steering column can only be adjusted for rake, not reach.
There are seats for four people but space in the back is cramped with limited rear leg room, and the boot is tiny, not much wider than a small sports bag. The large rear door can also make access tricky in a car park.
What you do get is climate control air conditioning, electric windows and mirrors and a trip computer, but the biggest draw for people looking at this car is that it's a proper 4×4, complete with a low-range gearbox with a differential lock, so it will go just about anywhere you'd want to take your car.
The 4×4 system is operated via a large dial on the centre console, with an equally large button next to it, in fact it's one of the largest I've seen, for turning off the ESP and traction control systems when the going gets sticky.
The Suzuki Grand Vitara looks presentable and comes with a proper 4×4 system. It's also less expensive than some less capable, but similarly styled cars, but if it were my money, I'd go for the 1.9 DDiS diesel engined model which may be the most expensive in the range, but it's also the most economical by far.
However, with prices starting from £16,000 you do get quite a lot of car for your money, and being a Suzuki, you can be certain that will be very reliable and get you where you want to go, whatever the weather.
CLICK HERE and "Like" our Facebook page for regular updates and follow us on Twitter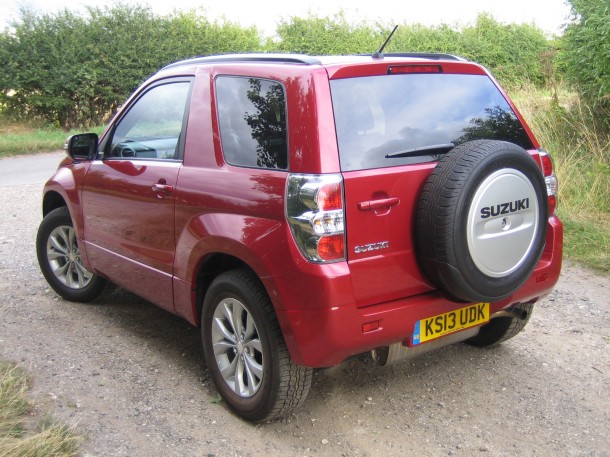 Rating:





THE VITAL STATISTICS
MODEL: Suzuki Grand Vitara 2.4 SZ4 3-door.
SUZUKI GRAND VITARA RANGE: From 1.6 SZ3 3dr (£15,995) to 1.9 DDiS SZ5 5-door (£23,875).
ENGINE: 2393cc, 106PS four-cylinder petrol  engine, driving four wheels through 5-speed manual gearbox.
PERFORMANCE: Top speed 99mph. 0-62mph in 11.2 secs.
ECONOMY: City: 25.7mpg.
Country: 38.2mpg.
Combined: 32.5mpg.
Fuel tank: 55 litres.
CO2 EMISSIONS: 201g/km.
INSURANCE: Group 23.
PRICE: £17,330.
WARRANTY: 3 years/60,000 miles
WEBSITE: www.suzuki.co.uk
• All data correct at time of publication.