Toyota Rav4 Icon 2.2 L road test report and review: Still an Icon?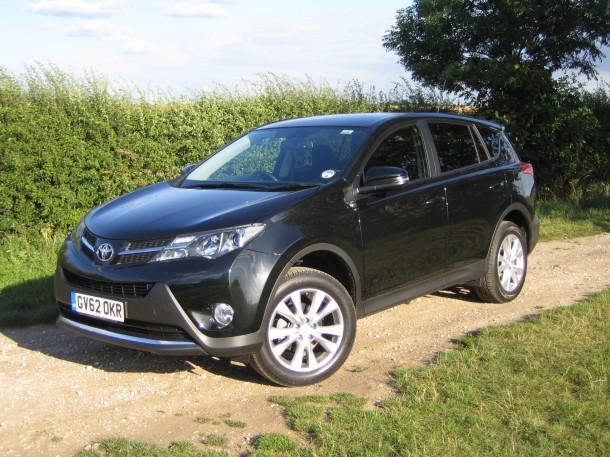 Toyota Rav4 Icon 2.2 road test report and review – The Toyota Rav4 Icon 2.2 is an all-new car – but it has lost its compactness! DAVID HOOPER has a look at the latest range.
THINK of the Toyota RAV4 and I think of a compact 4×4. Some friends of mine once owned one, and although it was not quite pocket size, it wasn't  far off in off-roader terms.
The Rav4 first went on sale back in 1994 and people liked the tough urban styling and almost hot-hatch driving characteristics. It was available with three or five doors, but today customers can only buy five-door versions of this proven formula.
We all know that cars tend to get bigger with each subsequent model, but when the subject of this week's road test arrived, I was genuinely taken-aback by its sheer size. It filled my drive!  The new RAV4 is now comparable in size to the Land Rover Freelander or Mitsubishi Shogun, and dwarfed the Range Rover Evoque I was testing just a few days before.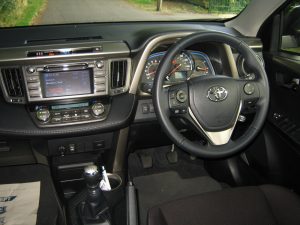 As big as it is, it's styling is not unattractive but it isn't brilliant either. The RAV4's daytime running lights, mounted at radiator level, instead of on the lower edges of the front corners, make it hard to miss on the road. It comes with inspiring names for its trim grades, like Active, Icon and Invincible.
The RAV4 drives well enough. It glides along, and there is very little disturbance from the wind with the excellent stereo turned down at motorway speeds.
Carry a bit of speed into a corner, and the big Rav keeps its composure to a point, with a bit of well-controlled body roll as it settles into the change of direction, but there is nothing untoward to report. The steering is a bit vague, but it suits the car, if that makes sense, but the sporty nature of its predecessors has given way to a more relaxed, grown-up car. The model I tested came with a precise but mechanical-feeling six-speed gearbox, although automatic versions are also available, as are two-wheel drive-models.
I liked the fact that Toyota have stuck with a traditional handbrake on a car like this, while perhaps not a hard-core off-roader, it does have some potential to venture off the beaten track – it even comes with a button which when pressed will lock the centre differential if you find yourself in particularly sticky situations.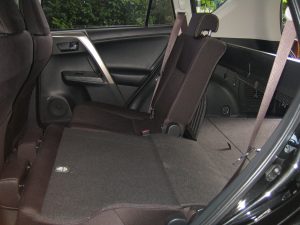 The 2.2-litre diesel engine provides plenty of pull and in fourth gear has bags of power for hauling itself past slower traffic. It's a bit noisy at low speeds, but during my test it returned 38.7mpg overall, not bad for such a big machine, but didn't feature Stop/Start technology which would have helped to lower its C02 emissions figure of 149g/km. Buyers have the option of two-wheel-drive versions if they prefer, and a 2.0-litre diesel and petrol engines are also available.
Equipment levels are good – the RAV4 I roadtested, for example, was equipped with the £1,200 option of Touch & Go sat nav system which doubled as a reversing camera, added Bluetooth connectivity so you can make phone calls or play your music through the car's hi-fi system, as well as a trip computer and electric everything.
The interior of this all-new fourth generation car is very spacious, unlike earlier RAV4s which tended to be a bit on the cramped side. Five people can travel in comfort, with plenty of rear leg room and a reasonable sized boot. The rear seats will fold down to increase the boot space when needed, and there is another large compartment to be found when the boot floor hatch is lifted. The load area is flat and wide, and my car featured the roller cover screen and a cargo net.
The new RAV4 is no longer the trailblazer it once was and now sits amid a raft of similar cars like the Mazda CX-5, Freelander or Kia Sportage – the latter being less expensive than the RAV4. It does come with a five-year warranty which is better than some, but not as good as the seven-year warranty offered by Kia, which really sums this car up.
It's very mid-field.
CLICK HERE and "Like" our Facebook page for regular updates and follow us on Twitter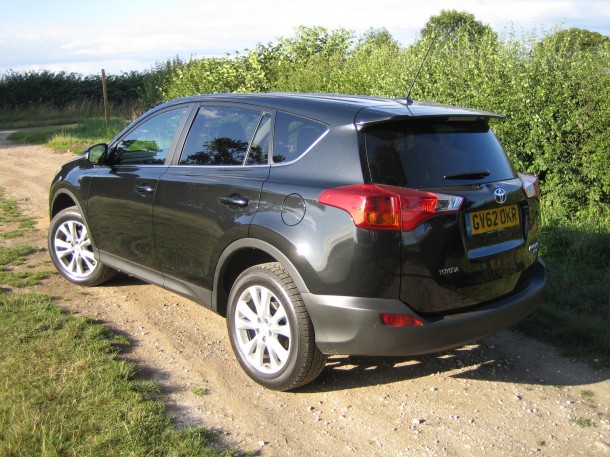 Rating:





THE VITAL STATISTICS
MODEL: Toyota Rav4 Icon 2.2 L.
TOYOTA RAV4 RANGE: From Active 2.0 D-4D 2WD 5dr (£22,595) to Invincible 2.2 D-4D Automatic AWD 5dr (£29,305).
ENGINE: 2,231cc, 148bhp four-cylinder diesel engine, driving four wheels through 6-speed manual gearbox.
PERFORMANCE: Top speed 118mph. 0-62mph in 9.6 secs.
ECONOMY: City: 40.9mpg.
Country: 56.5mpg.
Combined: 49.6mpg.
Fuel tank: 60 litres.
CO2 EMISSIONS: 149g/km.
INSURANCE: Group 29.
PRICE: £28,190.
WARRANTY: 5 years/100,000 miles.
WEBSITE: www.toyota.co.uk
• All data correct at time of publication.