Mercedes-Benz Citan 109 CDI Van Long road test and review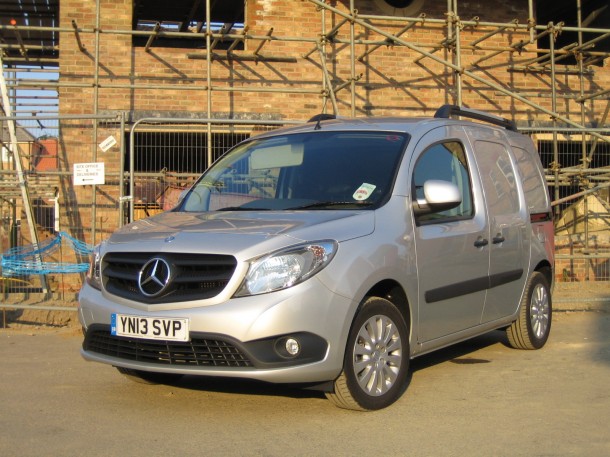 ROAD TEST REPORT AND REVIEW: Mercedes-Benz Citan 109 CDI Van Long – Mercedes-Benz Citan 109 CDI Van Long is the new small van with a three-pointed star. DAVID HOOPER is impressed with the car-like ride and equipment levels.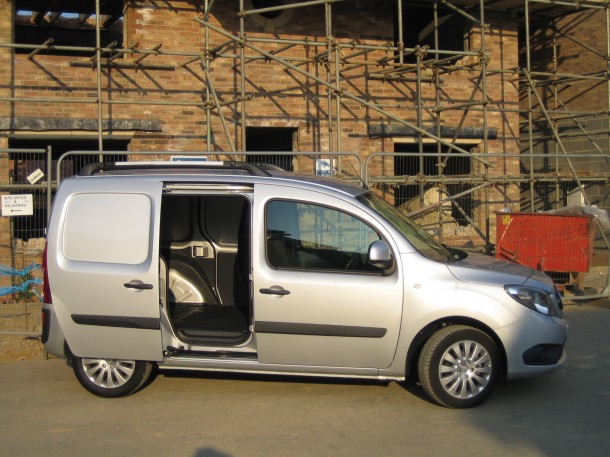 THE Mercedes-Benz Citan is the German manufacturer's new small van. It comes in various guises but competes with the Peugeot Bipper, Citroen Dispatch and Nissan NV200.
Available in a range of colours including this smart and timeless silver, it's actually quite a smart looking machine.
With its big square  nose dominated by the three-pointed star Mercedes badge, the Citan is hard to miss and certainly stands out from the crowd in the small van arena.
The cab looks smart at first glance and those familiar with Mercedes cars will recognise much of the instrumentation and control interfaces. I was surprised to find the same cruise control system the cars have, complete with its speed limiter, surely a boon for any van about town – or motorway.
The seats are comfortable for long trips between jobs and there is a hook on the bulkhead to hang your jacket on.
The instrumentation is fairly basic, but everything you need is there. You even get a trip computer so you can keep an eye on your fuel consumption, trip meter, ambient temperature and how far you can travel before you need to refuel.
During my test, which covered just over 400 miles, the Citan returned an average of 47.1mpg, which is quite good – but of course, if you fill it to the gills with heavy cargo, it will have an adverse effect on the mpg figures. The most I carried were a few bags and a couple of boxes of leaflets during my few days with the car.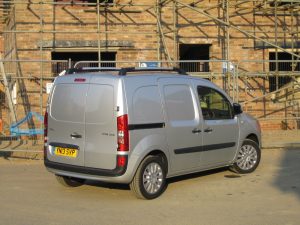 It is comfortable to drive and handles well enough, and its five-speed gearbox provides a good spread of ratios to keep the van going at a decent pace. The ride quality is fine and the air conditioning system was a real bonus during the summer heatwave, and because the cab area is comparatively small, it was very efficient  and effective.
The Citan I tested had a stereo which could be paired to your mobile phone, so there's no excuse for a busy driver wanting to pick up his phone while driving – you still see so many van drivers on the phone, despite the recent increase in fines.
The interior looked quite smart, but closer inspection of the dashboard revealed plastics at the cheaper end of the spectrum, but at least they are tough and no doubt well suited to the world of work, being easy to wipe clean.
There were also a couple of cupholders and a deep central arm rest, but there was no storage area on the top of the dashboard, although an overhead rack would take smallish items – the only snag with that would be finding them again later as you can't see where they are, it would be a case of having a good feel around.
Perhaps the most important bit though, is what's at the back of the van. I liked the fact that you could unlock the driver and passenger doors and leave the cargo area secured – something a van driving friend of mine said can be a real nuisance and security risk with some other manufacturer's vans which don't offer that feature.
Both sides of the van feature sliding doors, which open to provide enough space for someone to get in and out of the van with relative ease, or to gain access without having to go onto the road.
At the back, there are two more doors, each one locking into the open position, so that even if the van is parked on a slight slope, the door will stay wide open.
The load area is nice and flat, so things can slide easily into position and there are some useful lashing points to make sure they stay there.
On the road, the Citan drives very well and I found it a very comfortable vehicle to live with – just as comfortable as any car, really. The lack of a rear-view mirror took a bit of getting used to, but I quickly did.
Manoeuvring wasn't a problem either – the front of the van was easy enough to judge, while the rear came with a set of parking sensors which would definitely help to avoid the almost inevitable bumper scuffs on working vehicles such as this.
Compared to its rivals, it's competitively priced, with the range starting from £13,645 + VAT, but when you consider that some of these vehicles will be clocking up the miles very quickly, its warranty sets it apart from some of its competition and could swing the deal as it covers up to 3 years/Unlimited miles.
CLICK HERE and "Like" our Facebook page for regular updates and follow us on Twitter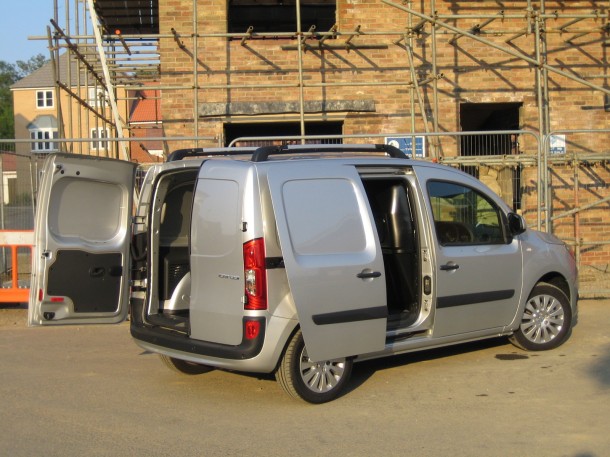 Rating:





THE VITAL STATISTICS
MODEL: Mercedes-Benz Citan 109 CDI Van Long
MERCEDES-BENZ CITAN RANGE: From 109CDI Compact Trade Edition (£13,645) to 109CDI Extra Long BlueEFFICIENCY Dualiner (£16,295).
ENGINE: 1.5-litre, 90bhp four-cylinder diesel engine, driving front wheels through 5-speed manual gearbox.
ECONOMY: City: 54.3mpg.
Country: 67.3mpg.
Combined: 61.4mpg.
Fuel tank: 60 litres.
CO2 EMISSIONS: 130g/km.
PRICE: £14,240 (£16,538 as tested, plus VAT).
WARRANTY: 3 years/Unlimited miles.
WEBSITE: www.citanvan.co.uk
• All data correct at time of publication.