Jaguar F-Pace R-Sport 2.0d 180PS AWD road test report and review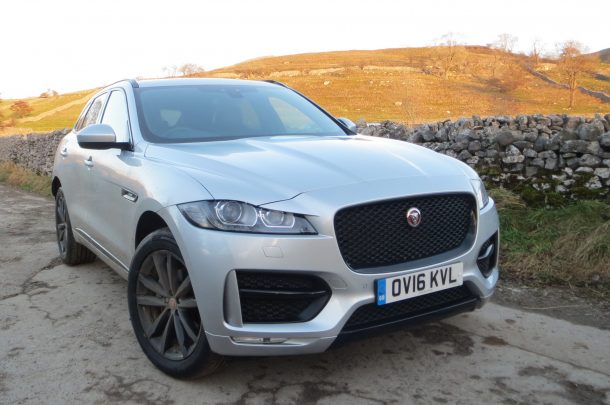 Jaguar F-Pace R-Sport 2.0d 180PS AWD road test report and review: DAVID HOOPER has a look at Jaguar's new SUV, but does it make the grade?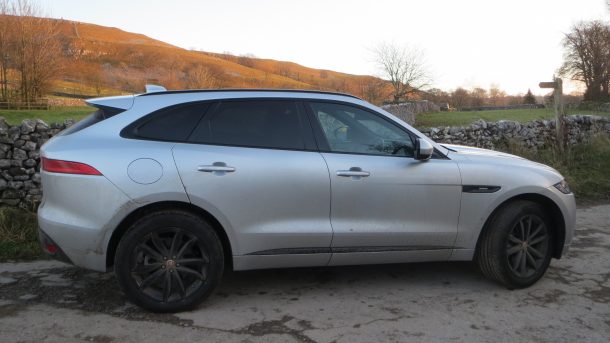 ONCE upon a time, not so long ago, the thought of taking a Jaguar any further off road than a gravelly driveway would have filled most owners with horror, but this new F-Pace is designed to do just that.
So with Jaguar coming over all utilitarian with its latest new model, is this most British of prestige brands heading in the right direction, or has turned up the wrong track? It's a big question, and I guess that if it's good enough for fellow British icon Bentley, which is venturing into the SUV world with its strangely named Bentayga, then there's no reason Jaguar shouldn't go off its traditional piste as well.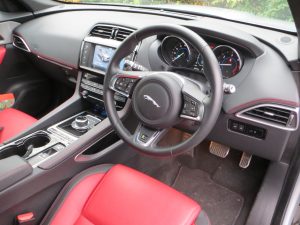 The new F-Pace is certainly an eye-catcher, if only because you don't expect to see this kind of car sporting a Jaguar badge, and I loved the way the styling of the rear lights of the stunning F-Type have been transposed into the design of the F-Pace, it works well and looks great.
As so many manufacturers seem hell-bent on filling every possible niche they can, then it's probably no surprise that Jaguar Land Rover has opted to jump into this particular niche with both wellies, utilising a Land Rover platform to create a new Jaguar, but I think you could argue that the company is almost cutting off its nose to spite its face, as both are now seen as premium brands and will inevitably compete for the same customers, even through the marketeers will insist they attract a different buyer profile, the reality is, their pricing is similar, with F-Pace range starting from £35,000, and the Land Rover Discovery Sport Range starting from £29,000 and climbing to mid-range F-Pace money at £46,500 for a car with the same engine as that in our test car.
My review of this F-Pace coincided with a weekend away in the Yorkshire Dales, to which my cousin brought along his recently purchased XF, which provided the opportunity to compare our two Jags side-by-side. Taking a close look at the F-Pace it's easy to spot its Land Rover heritage, from the clever door seals on the rear doors which make sure water and mud are kept away from the bodywork which might dirty passengers' clothes as they get in or out, and inside, the Terrain Response Control system which is a straight lift from its more rugged sister. And although Jaguar's rising gear selector is correct and present, gone are the signature rotating air vents of the XF which add so much theatre to the car when you press the start button. The premium leather of the XF has given way to something more utilitarian in the F-Pace too.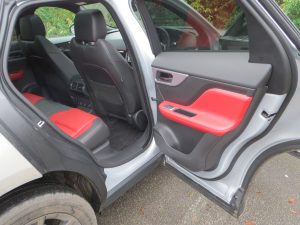 I was also disappointed with the ride quality which, for a luxury car, felt anything but luxurious on a road surface that was less than billiard table smooth. Around town, its large 20in Venom rim and sporty tyre combinations transmitted every bump and road surface imperfection into the cabin which was not what I expected at all.  The response from the electric power steering was also poor at higher speeds, with a large, relatively dead spot on turning in to a corner before the system "caught up" with the inputs at the tiller, which then made the car turn in more sharply than expected, leading to unwinding the steering slightly, all of which combined to unsettle the car and make for an edgy driving experience on flowing twisting A roads. Not good enough I'm afraid.
The interior of our F-Pace looked very smart, with the black leather seats, combined with red squabs and back cushions and red stitching detail. In the back, the rear seats will accommodate four to five adults, although the middle seat wouldn't be the most comfortable. Boot space is quite good though, and perfectly adequate, and the tailgate is powered, so you don't have to dirty your hands when the car is lathered in mud after an off-road session.
Power comes from Jaguar's 2.0-litre 180bhp diesel engine allied to an eight-speed transmission, which gives you the option of paddle shifters on the back of the steering wheel. The 0-62mph time is respectable at 8.7 seconds  and the top speed is just shy of 130mph. During my few days with the car, it returned 36mpg over the full mix of driving conditions and about 430 miles.
Equipment levels are good and it is well priced at £40,360. Our test car cost £44,770 with some added extras which included the aforementioned alloys, a panoramic roof, a Black Pack and privacy glass.
I always look forward to driving a Jaguar (no surprises there I guess), but this much-anticipated F-Pace left me feeling a little disappointed. It's not a bad first effort at an SUV, but it has lost some Jaguarishness and doesn't quite hit the mark for me. From its ride quality to its interior, it just doesn't feel as luxurious and as special as a Jaguar should. If I was writing its school report, it would say "must try harder". And that's a shame.
Rating: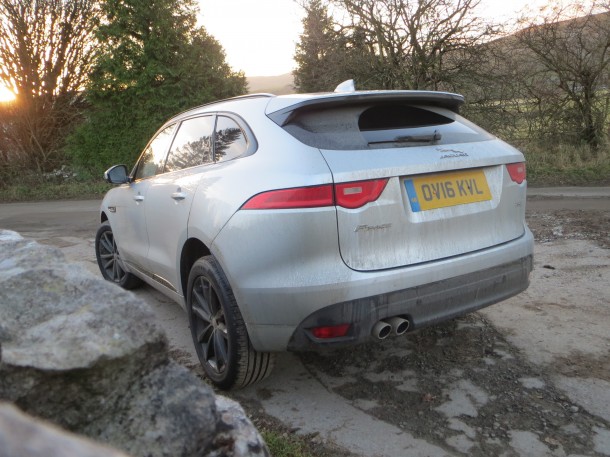 If you like this, read our review on the Jaguar XE we also reviewed recently
THE VITAL STATISTICS
MODEL: Jaguar F-Pace R-Sport 2.0d 180PS AWD
ENGINE: 1999cc, 180PS four-cylinder diesel engine, driving four wheels through 8-speed automatic gearbox.
PERFORMANCE: Top speed 129mph. 0-62mph in 8.7 secs.
ECONOMY: City: 45.6mpg.
Country: 60.1mpg.
Combined: 53.3mpg.
Wheel World test average: 36.6mpg
CO2 EMISSIONS: 139g/km.
FUEL TANK: 60 litres.
INSURANCE: Group 29
PRICE: £40,360 (£44,770 as tested).
WARRANTY: 3 years/100,000 miles.
WEBSITE: www.jaguar.co.uk
• All data correct at time of publication.