Fiat 500X road test report review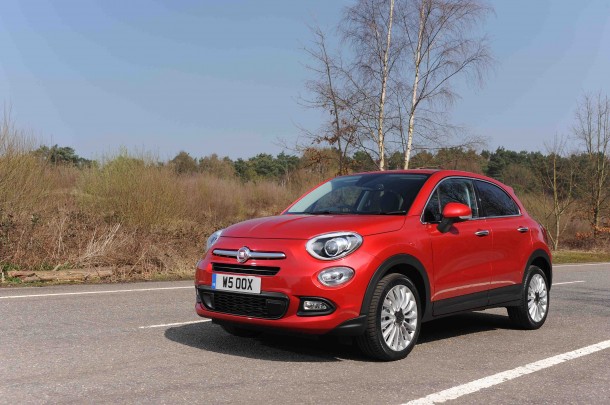 Fiat 500X road test report review: KEITH WARD has a look at this popular Italian Crossover.
HERE are Fiat cashing in further on the huge success of the original little retro-styled three-door 500 model with yet another variant.
Since a 2008 debut, the 500 in its various subsequent forms has sold nearly 218,000 in the UK , hitting a record 44,000 last year and leading a rapidly growing sector which includes the Hyundai i10, VW up!, Ford Ka, Peugeot 108, Citroen C1, Skoda Citigo and Vauxhall Adam.
The new five-door 500X entering showrooms now is dubbed "the Italian Crossover" by Fiat UK marketing director Elena Bernardelli and embodies, in her marketspeak, "spirit, style and engineering".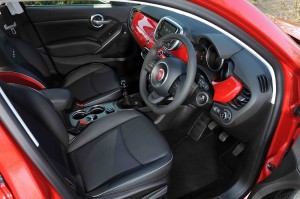 It stands a good 700 mm or 28 inches longer than the original 500 and 115 mm or four and a half inches taller. It is also slightly longer although not quite as tall as the mini-MPV 500L, but shorter as well as lower than the seven-seater MPW. Sort that lot out.
Kate McLaren, head of Brand Fiat UK, says her target customers for the 500X are "stylish adventurers", younger than for the 500L family car. She admits prices starting at £14,595 and topping out at nearly £26,000 are "slightly higher" than mainstream competitors (Mini Countryman, Vauxhall Mokka, Nissan Juke, Renault Captur) but reflect "superior specification". And the 500X is expected by independent trade experts to hold more of its original value after three years or 30,000 miles, surely unexpected in a Fiat (speaking as a former owner).
Bernardelli reckons that, tempted by Fiat's friendly finance deals, 10 per cent of existing owners of the 500, some 3,000 customers, will this year switch to a 500X. As many as 80 per cent of Fiat 500 customers opt for a PCP contract package.
You get the impression that the 500X is aimed primarily at keeping the image of the 500 bubbling in the mind of the buying public rather than offering something radically different.
But it does carry some of the latest techno toys in infotainment and links to mobile phones as well as an interesting nine-speed automatic unique in this class.
Prepare to be bamboozled in the showroom. The 500X range will by September be 25-strong (10 initially) and is billed as "one car, two souls". There's a City Look, with three trim options, and a hunkier Off Road Look (masking both two and four driven wheels) with two trim options. Add three petrol engines (110, 140 or 170 hp) and three diesel (95, 120 or 140 hp) mated to any of four transmissions. Then a dozen body colours and eight packs of optional extras to choose from.
In appearance the 500X is pleasantly chunky, with a distinctive bonnet and headlight assembly. You sit high, even an inch or so higher again in 4WD versions. The dash retains retro echoes of the 500 original, but instrument display, steering wheel and switchgear are new, as is a central touchscreen.
There's seating meant for five, rear passengers enjoying a good six inches of kneeroom given average occupants. The rear backrests divide and fold into an upward-sloping extension of the boot floor to a length exceeding four feet (1,260 mm) on our tape and expanding cargo volume from 350 to 1,000 litres.
On short road routes we tried what are expected to be two of the best sellers, both in second-up Pop Star trim and with This adds 17-inch alloys, automatic climate control, rear parking sensors and front fogs to such as cruise control and all-electric windows from the basic Pop trim.
Familiar and eager Fiat engines, both with smooth six-speed manual gearboxes: First a 140 hp petrol- powered 1.4 MultiAir at £17,595, claiming 0-62 in 9.8 seconds, CO2 of 139 g/km and combined mpg of 47.1. Then a preferred 120 hp diesel MultiJet, slightly less sprightly but emitting 109 g/km for 68.9 combined mpg. However, at £19,345 considerably more expensive.
In a brief off-road foray, in conditions too dry to be a real test, a 2.0-litre, 140 hp diesel MultiJet 4WD with that 9-speed auto dealt well enough with ruts, boulders and slopes and has the pedigree of tenacious little Fiat off-roaders behind it. But in top Cross Plus trim this small car is priced at nearly £26,000. In this case X may mark a painful spot for your pocket.
Rating: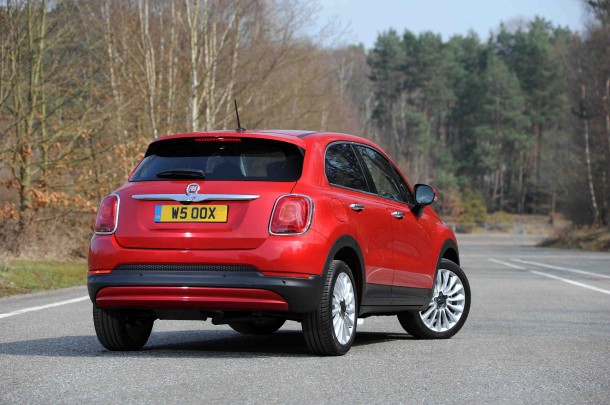 THE VITAL STATISTICS
Model New Fiat 500X
What? Five-seater, high stance Crossover.
Size Length 4,248 mm; height 1,600; width 1,796; min wt 1,320 kg
Style Either City slicker or rugged Country Cousin
Engines Petrol (110, 140 or 170 hp); Diesel (95, 120 or 140 hp)
Gearboxes Five or six-speed manual; six or nine-speed auto; front or 4WD
MPG Combined 47.1 to 68.9
CO2 109 to 144 g/km
PRICE £14,595 TO £25,845