Infiniti Q50 2.2D Sport Tech road test report and review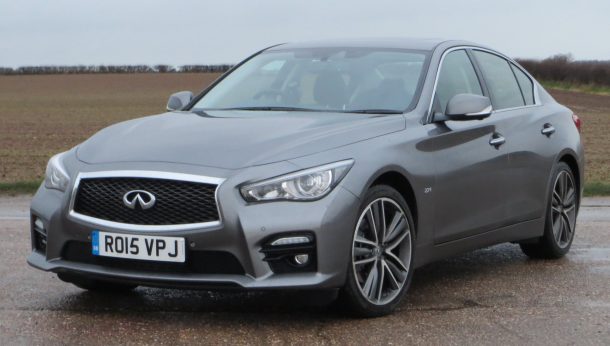 Infiniti Q50 2.2D Sport Tech road test report and review: From modest beginnings, Infiniti is now going beyond initial expectations and becoming a major player in the UK car market. DAVID HOOPER has been reviewing the Q50 2.2D saloon.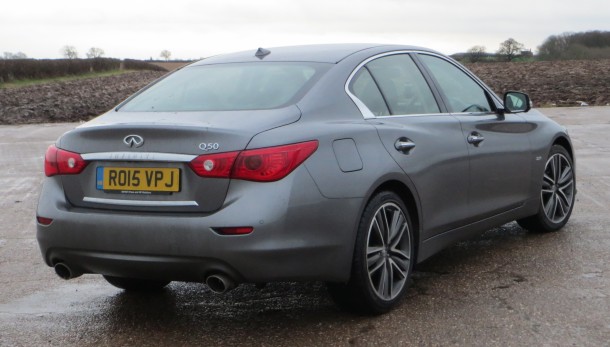 THE Infiniti brand is a relative newcomer to the UK, having launched with one SUV model, the FX with a big thirsty petrol engine, from its only showroom in Reading in October 2009, but since then, things have moved on apace.
There are now 10 Infiniti Centres dotted around the UK. The model range has also grown, with the eagerly anticipated QX30 having just opened its order books with the first examples taking to the roads in the Spring, adding to the choice customers already have of five model lines – Q30, Q50, Q70, QX50, QX70. Many of these also now come with sensible diesel engines and there are even hybrid versions. And in the summer, a smart new Q60 Coupe will join the range.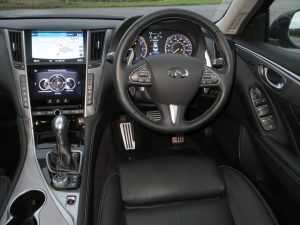 The Infiniti brand, the posh end of Nissan, has quickly developed a loyal following in the British market thanks to some high-profile sponsorship, not least with the Red Bull Formula One team when it dominated the sport and won multiple world championships with Sebastian Vettel at the wheel.
Our test car is the Q50 2.2D Sport Tech with its 2.2-litre diesel engine which is pitched head-to-head with the BMW 4-Series and Mercedes C-Class, but it feels bigger and comes packed with some of the latest in-car tech, like radar cruise control, lane departure warning, adaptive automatic headlights, reversing cameras, and even a birds-eye view camera system which shows what is at the sides of the car, as well as in front and behind.
The styling at the front of the car is quite distinctive, even slightly aggressive, with its aerodynamically-styled front bumper assembly with plenty of detailing to catch the eye. The front end of the Q50 is dominated by the large black grille with the chrome Infiniti badge in its centre. The rear of the car is less inspiring from a design perspective, but the rear lighting does look quite attractive.
The doors shut with a quality clunk, but the boot sounds and feels a bit tinny in comparison. I expected it to open automatically when I pressed the remote, or the release button in the car, but it doesn't, it just unlatches the boot lid which needs quite a bit of effort to open due to the way it is weighted.
Inside, the Infiniti Q50 has a quality feel and looks impressively complicated, but you soon find your way around. The imposing centre console has not one, but two large display screens, with either edge being home to heating and ventilation controls. The top screen hosts the satellite navigation display, while the lower second screen displays all the settings and controls for the car's various systems – if you delve far enough into the menus, you can even find a G-force metre!
The front seats, their lumbar supports and side bolsters are all electrically operated and when you get it all just as you like it, there are three memory settings, so should any little people fiddle, or someone borrows your car, it is easy to get it back just as you like it. The steering column is also electrically adjustable, and when you open the driver's door, it lifts up and the driver's seat slides back to allow easier access.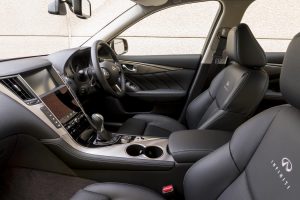 There is a good selection of buttons to play with on the multi-function steering wheel. These include the cruise control, which features a radar system, so once activated, it will maintain a pre-set distance between you and the car in front. If it slows, so do you, right down to a complete halt if necessary, which takes a bit of getting used to, but is great for motorway driving.
Another useful aid is the lane-keeping system, which will actively steer the car back into its lane if an inattentive driver begins to stray, but if the system is on and you forget to signal when you change lanes, the car will actively resist changing lanes which can be a bit disconcerting, but does remind you to signal!
On the road, the Infiniti Q50 is a comfortable, smooth and refined drive. With 170PS and a 0-62mph time of 8.5 seconds, its 2.2-litre diesel engine isn't going to get your pulse racing, but it will make agreeably steady progress, cruise quietly at motorway speeds and during my test, of around 600 miles of all types of driving, return an average of 43.2mpg, according to its trip computer.
The seven-speed automatic gearbox is smooth, and a stop-start system turns the engine off in traffic jams, reducing the car's C02 output which is 128g/km. Paddles on the steering wheel can also be used to optimise gear shifts, especially in the sport setting. The driver can also customise the car's responses with their own personal set-up, which for some owners, will make the car feel more like your own.
The boot is a good size for a saloon car (500 litres), and there is ample legroom fore and aft, so it's easy to live with. A good turning circle makes it easy to park and keyless entry and start avoids juggling January sales shopping when having to look for your keys.
It's competitively priced and well equipped, so will surely tempt traditional buyers of German executive transport with a highly credible alternative.
Rating: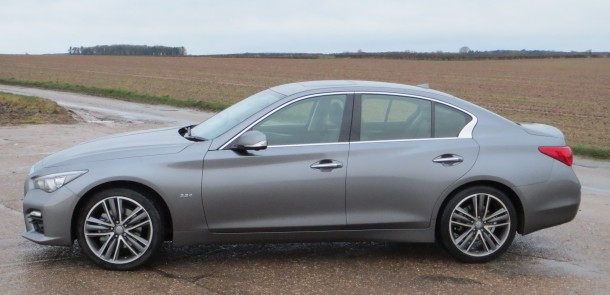 If you like this, read our review on this rather special Infiniti
THE VITAL STATISTICS
MODEL: Infiniti Q50 2.2D Sport Tech.
ENGINE: 2,143cc, 170PS four-cylinder diesel engine, driving rear wheels through 7-speed automatic gearbox.
PERFORMANCE: Top speed 143mph. 0-62mph in 8.5 secs.
ECONOMY: City: 47.1mpg.
Country: 67.3mpg.
Combined: 57.7mpg.
Wheel World test average: 43.2mpg
CO2 EMISSIONS: 128g/km.
FUEL TANK: 74 litres.
PRICE: £41,410.
WARRANTY: 3 years/60,000 miles.
WEBSITE: www.infiniti.co.uk
• All data correct at time of publication.