Honda Civic 2.0 VTEC Turbo Type R road test report and review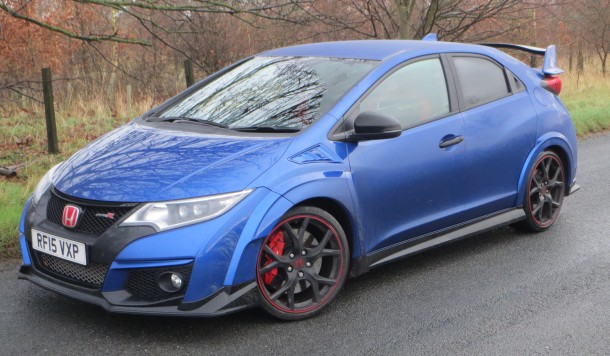 Honda Civic 2.0 VTEC Turbo Type R road test report and review: Aggressively styled, prodigiously fast and superbly confident, DAVID HOOPER drives Honda's latest Civic Type R at Silverstone and on the road.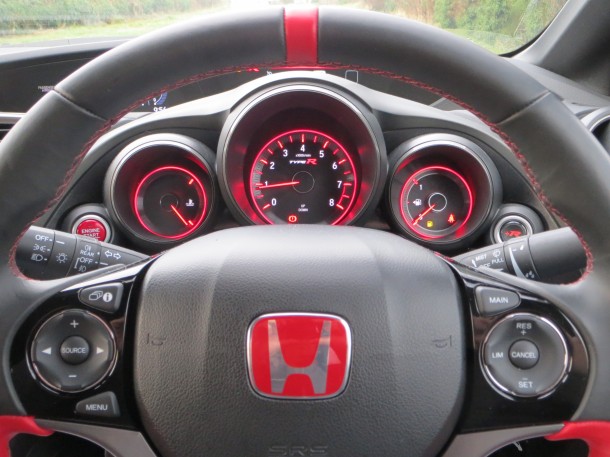 THIS new Honda Civic Type R looks absolutely stunning and is prodigiously fast, in fact it is one of the most complete cars I've ever driven.
You don't need much imagination to realise just how quick this new Honda Civic Type R is when you glance at its performance figures. It "only" has a 2.0-litre engine, but that utilises Honda's VTEC technology and now comes with a turbocharger just to spice things up a bit.
The result is 310bhp, 400Nm torque, a 0-62mph time of 5.7 seconds and a potential top speed of 167 mph – you begin to get the idea! Hardly surprising then that Honda is billing its new hotshot as "a racing car for the road".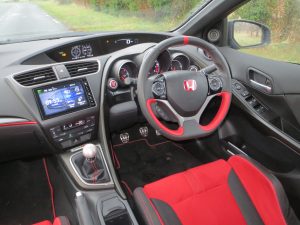 You'll be pleased to know that it stops almost as quickly as it accelerates, thanks to its performance Brembo braking system which comes with an 18 inch ventilated and drilled front disc, paired with a 16in solid rear disk backed by an anti-lock braking system and electronic brake force distribution.
So what about the prickly subject of fuel consumption? Well, on paper at least it's quite economical, with 30.1mpg on the urban cycle 46.3 on the extra urban and 38.7 on the combined cycle with emissions registering at 170g/km of CO2. Drive it gently and you will see a return in the mid 30s with a light right foot, but drive as it is meant to be driven and your consumption plummets as the petrol is virtually poured into the cylinders to feed this high-performance beastie. The on-board computer showed that during the 6,000 miles this car had covered since it left the factory, it had averaged 25.3 mpg, but bear in mind this is a Honda UK press fleet car and it's not had a quiet life so far.
The traction control system works very well, but is actually better when turned down slightly, as I discovered during my test of this car at Silverstone's Stowe Circuit recently where it truly excelled on the smooth surface of the racetrack.
Here then, we basically have a road-going race car, and it was a true delight to see newly crowned 2015 British Touring Car Championship racing driver Gordon Sheddon using his skills to extract a great deal of fun from this car's very capable chassis during his demonstration of the car's handling abilities, particularly when we were chasing triple championship winner Matt Neal in an identical car.
It was here that the clever limited slip differential came into its own, providing an incredible amount of traction through very slippery corners, helping to get the power down with impressively little wheelspin.
A button on the right side of the jet fighter-style dash ignites the Plus R setting, moving things up to another level, putting this fast Honda Civic into full attack mode. The instrumentation turns red, the adaptive dampers increase in stiffness by 30% making the car feel firmer and more agile, sharpening the throttle response, stiffing the steering and backing off the traction control and stability systems, allowing the more enthusiastic drivers to enjoy the car to its full potential.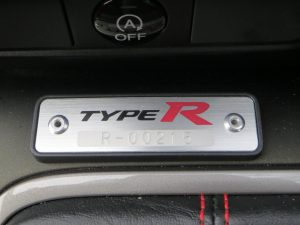 One criticism of previous Type R models was that the suspension was so hard it was uncomfortable for everyday use, but that is not the case with this car. Make no mistake it is still very firm, but I could live with this, whereas some of the previous models I would not have chosen to.
The six-speed gearbox has short throws and close ratios and slots neatly between the gears proving to be an absolute delight to use, and with the pedals ideally placed for a bit of heel and toeing to smooth out the downshifts when driving the car with some intent, it becomes an exhilarating delight.
There are two models of the Type R, the standard car tested here, and the Type R GT, which costs £2,300 more, but adds radar cruise control, reversing cameras and a CD player.
However, both come with a good standard specification which includes Bluetooth telephone and cruise control, but there is no satnav system in either model as standard. The GT version gets extra driver assistance safety systems such as blindspot information, forward collision warning, lane departure warning, automatic headlights and a traffic sign recognition system.
The interior of the Type R is just as impressive as the outside of the car, with body-hugging sports seats designed to take a race harness should your track day exploits get a bit more serious. They look superb with red below and black trim into mixed in a very eye-catching design. This is complimented by red leather sections on the steering wheel and a rally style red band at the top of the steering wheel so you always know when the wheels are pointing straight ahead even if the rest of the car may not be.
So new Type R is fun, incredibly quick, highly competent and a thoroughly engaging car to drive. It is also practical with five full seats and a good sized boot, so is just as adept at family duties, but some of the software could be better, for example pairing a phone proved quite a challenge, possibly because all six places were full, but it wasn't at all intuitive to use. At first I thought it was me, but having eventually succeeded I challenged my son to pair his phone to the car. Far more of a techie than I am he also struggled with the system – which made me feel a whole lot better!
Another niggle was the way the cruise control operates, if you have a preset speed, and disengage the system you cannot then set a lower cruise speed without cancelling the paused setting.
That said, I loved this car, it's brilliant, but we will have to wait and see how it compares to the new Ford Focus RS which is due later this year.
Rating: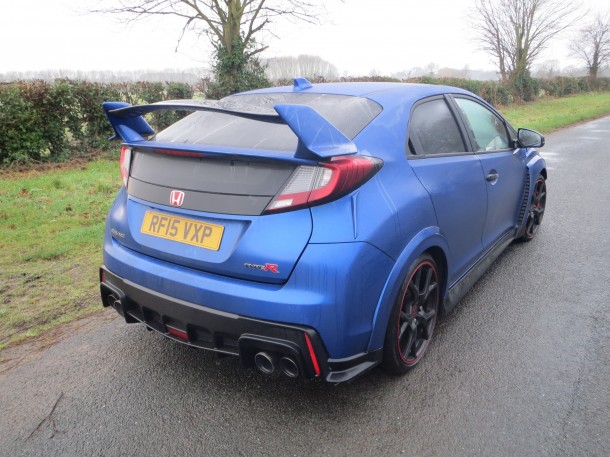 If you like this, read our review on the standard Honda Civic
THE VITAL STATISTICS
MODEL: Honda Civic 2.0 VTec Turbo Type R.
ENGINE: 1996cc, 310bhp four-cylinder petrol engine, driving front wheels through 6-speed manual gearbox.
PERFORMANCE: Top speed 168mph. 0-62mph in 5.7 secs.
ECONOMY: City: 30.1mpg.
Country: 46.3mpg.
Combined: 38,7mpg.
Wheel World test average: 25.3mpg
CO2 EMISSIONS: 170 g/km.
FUEL TANK: 50 litres.
INSURANCE: Group 33
PRICE: £29,995.
WARRANTY: 3 years/90,000 miles
WEBSITE: www.honda.co.uk
• All data correct at time of publication.