Honda VFR1200F road test 'gave me butterflies'
ROAD TEST REPORT AND REVIEW: Honda VFR1200F V4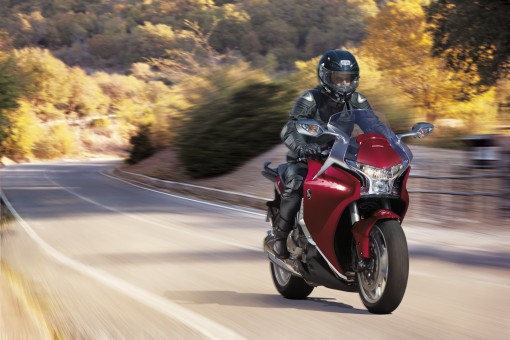 Riding a this Honda VFR1200F made butterflies stir in the stomach of experienced biker SYD TAYLOR when he roadtested this bike in less than perfect conditions in Wales.
RAIN was universal. A thick robe of it drifted in from the west and the December skies let slip all manner of unpleasantness as I rode deeper into Welsh countryside, with its hillsides stippled with cottages and farmhouses. Like flicking through a travel brochure, riding Welsh roads always proves a continual temptation as dramatic vistas beckon in succession.
Scorning the inclement conditions, I travelled for pleasure alone. On Honda's new shaft-drive VFR1200 the rain was just a lively companion as my spirits soared. Ride this bike whatever the weather and the sun always seems to shine through.
Just what is it that makes the new VFR so good and worth the hefty £12,235 price? It's because it offers a combination of virtues which few rivals can approach. Looking wonderful, with perfect paint and an array of cast and forged aluminium parts, it is supremely well engineered. With a slight forward lean to the bars, the riding position is good and everything within the cockpit is worthy of praise, with comprehensive digital instrumentation within efficiently protective bodywork.
Handling is excellent in all conditions. There's agility enough to respond immediately to the slightest inputs, yet the bike tracks as straight as an arrow with rock solid stability – and brakes, with ABS, are so powerful that you think you've hooked onto an arrester cable on the deck of the Nimitz. A perfect equilibrium between stability and agility has been engineered into this Honda.
Regarded by many as one of the best all-round motorcycles in the world, previous VFRs have set standards which are hard to beat, yet the latest version has succeeded admirably in reaching new heights, strengthening the model's secret powers of intoxication. Honda have done it again. So 'why have they changed it?' you ask. The answer must simply be that Honda wisely recognise that every bike can be improved and in their efforts to refine this fine motorcycle it has evolved into an even finer one.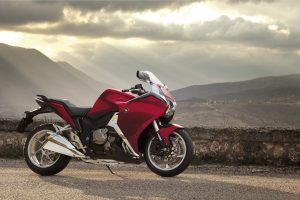 Although the established VFR 800 continues in the range, the big story, of course, is the new liquid cooled 127kW 1200cc V4 engined VFR that has nearly as much power as a Fireblade, but is more 'torquey' – and therefore you don't need to snick up and down the six gears so much. (You can opt for the world's first 'dual clutch' automatic transmission if you want).
I venture to suggest this VFR is quicker than a Blade in the real world. There are no dramas, because it offers docility and dominance totally without ceremony, going through its paces with magnificent ease as traction control does its job if you're too heavy on the throttle. It's mellow if you want, ferocious if you dare and when I hit 4000rpm for the first time, the exhausts intoxicating "howl" caused me to glance over my shoulder, thinking that a Moto Guzzi V8 was about to pass me on the Sulby Straight!
Despite being inscrutably forceful, it is sufficiently civil never to interfere with the inherent enjoyment of the ride – yet there's sharpness enough to invigorate and sweetness enough to inspire. The muted musicality of the V4, with inimitable smoothness, reduces stress – which is, of course, the most consistent barrier to sustained performance.
A VFR 1200 is a bike on which to go very fast for a long way. It's so quick that you leave other traffic for dead. Revelling in the boundless torque, you can – with one contemptuous twist of throttle – so easily despatch churlish sports car drivers who delight in snapping at the heels of a performance bike. It just never has to exert itself to do anything demanded of it, which certainly ratifies its standing as a true aristocrat with effortless superiority. Top speed, for those who love numbers is probably well over 165mph – but since you can't do warp-factor speeds on today's roads, I don't know why I even bother to tell you.
And so as the deserted roads began to dry and the Welsh coast beckoned, I felt a kick. Wham! The engine was at full power as I ascended a long straight incline. The horizon rushed nearer as I sped towards it like an F15 on re-heat.
Butterflies stirred in my stomach and a final few raindrops went 'splat!' onto my visor. As I plunged over the crest my queasiness suddenly vanished. In its place, pure exuberance. I was lost in the alchemy of machine, tarmac and a clearing sky – my soul awash in the freedom, the audacity and the wonder of a VFR 1200 at full stretch. A paragon of all that is good in modern motorcycles, this is the bike that has taken one step nearer the ever receding ultimate.
Don't miss our review of the Honda Crosstourer.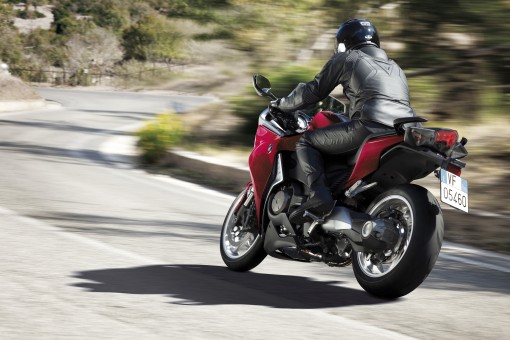 THE VITAL STATISTICS
Model: Honda VFR1200F.
Engine: 127kW 1,237cc V4.
Transmission: 6-speed manual.
Weight: 267kg (kerb) 463kg (loaded)
Seat height: 815mm mm.
Fuel tank: 19 litres.
Price: £12,235 on the road.
Website: www.honda.co.uk
CLICK HERE and "Like" our Facebook page for regular updates and follow us on Twitter