SEAT Exeo ST review proves estate's versatility
ROAD TEST REPORT AND REVIEW: SEAT Exeo ST SE Tech 2.0 TDI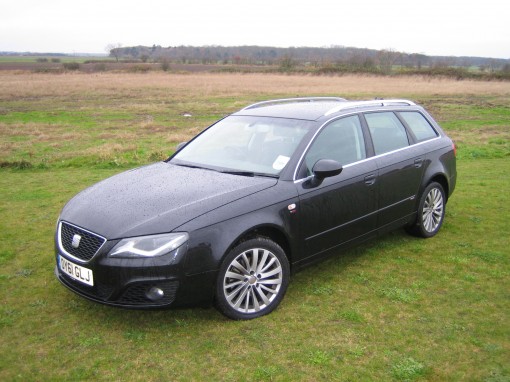 A last-minute change of plan proved the practical virtues of the SEAT Exeo ST during our road test. DAVID HOOPER explains why.
CAR companies come up with all sorts of weird and wonderful slogans, but I have to admit, I like SEAT's latest – Enjoyeering.
The Spanish company has a flair for putting the fun back into motoring, and in the estate, or ST version of the Exeo, you have the space to accommodate all the things you need for a fun day out, whatever your hobbies may be.
We had decided on a day's cycling at Rutland Water, and had planned to attach the bike carrier to the car's roof rails, but when a friend dropped out at the last minute, it meant the rear seats became surplus to requirements.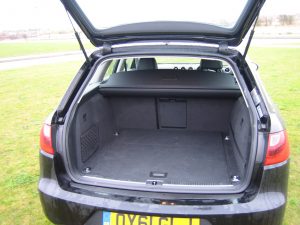 Releasing two catches saw the rear seat backs fold almost flat, and for once, there was no need to remove the luggage screen, which also incorporates a luggage net which hooks into the roof of the car to prevent things falling into the passenger compartment. It was attached to the rear seats and folded down, out of the way, with the seat backs.
A quick rummage in the garage found some plastic sheets which covered the now huge boot floor, and in went two mountain bikes – whole. I didn't even have to remove the front wheels to get them in, although it might have been easier, thanks to pedals and handlebars getting entangled in spokes as we carefully lifted them into the car so as not to damage the interior, which in this case, was finished with black carpeting, so would hide any muddy marks better than some lighter colours.
The other advantage of putting the bikes inside the car instead of on top of it is that you don't pay a hefty fuel penalty thanks to the extra wind resistance caused by the bike carrier and the assorted cycles attached to it. From previous experience, with three bikes on the roof, the effect seems similar to that of an air brake on an aircraft and you can feel the extra drag every time you lift your foot off the throttle pedal, especially at motorway speeds.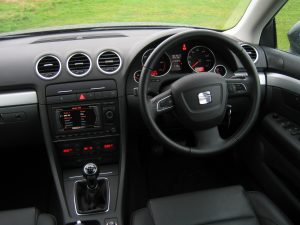 So that proves the Exeo's credentials on the practicality front, two mountain bikes, inside the car, job done. Oh, and there was plenty of room left for the repair kits, stirrup pumps, helmets, dry clothes and a packed lunch!
This particular model of the Exeo was the ST Tech model which looked really nice when it arrived. Its gleaming black paintwork and 17in Elegance spoked alloy wheels contrasted nicely and looked quite classy.
The ST Tech models are based on SE or Sport specifications, but add some premium extra equipment, making these the models to have in my book, with the addition of satellite navigation, black leather upholstery, a Bose sound system and iPod connectivity.
The classy theme continues inside the car, with black leather upholstery and chrome trimmed instruments looking very upmarket, and all at a price which won't break the bank – and one which is considerably cheaper than certain German rivals with which this car more than stands comparison.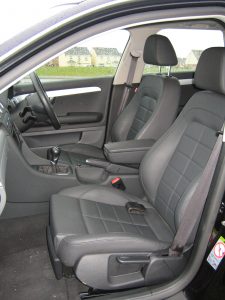 Interestingly, one of the options on my test car was double-glazed side windows, which cost £200 extra, but did shut out most of the din outside.
My test car was powered by the proven 2.0 TDI CR diesel engine, with 143PS, which gets it up to 62mph from a standstill in 9.6 seconds on its way to a potential top speed of 130mph.
The car is good to drive, firm, but comfortably sprung it always feels poised, even when you pick up the pace a bit and make it work through the corners.
The six gear ratios seem quite high, and you have to actually drive the car, using the gears to get the best out of it, especially from low speed corners, but do this, and it responds well, pulling strongly and with plenty of grunt in the mid-range for overtaking slower traffic.
During my test of over 400 miles, the car returned an average of 43.6mpg, which is considerably short of the official combined figure of 56.5mpg, but then those double glazed windows would add weight – worth a thought!
Other standard kit includes dual zone climate control, cruise control, an auto dimming rear view mirror, Bluetooth, automatic lights and wipers, and so on.
The Exeo ST then is a practical, well equipped family car which is as good to drive as it is easy to live with, and with prices starting from just £21,000, whether you are a business or family buyer, the Exeo range is well worth a look if you want some Enjoyeering in your life.
Rating: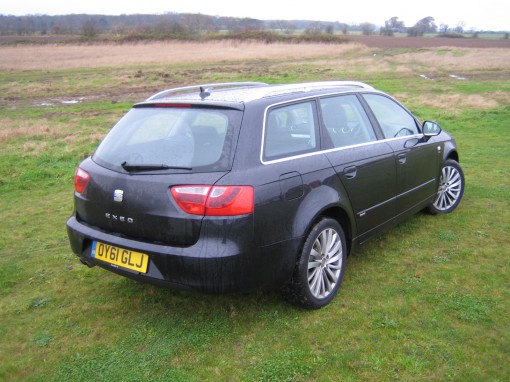 THE VITAL STATISTICS
MODEL: SEAT Exeo ST SE Tech 2.0 TDI.
SEAT EXEO ST RANGE: From S 2.0 TDI CR (120ps) Ecomotive 5dr (£21,095) to Sport Tech 2.0 TDI CR Multitronic 5dr (£26,450).
ENGINE: 1968cc, 143PS four-cylinder diesel engine, driving front wheels through 6-speed manual gearbox.
PERFORMANCE: Top speed 130mph. 0-62mph in 9.6 secs.
ECONOMY: City: 39.8mpg.
Country: 74.3mpg.
Combined: 56.5mpg.
Fuel tank: 70 litres.
CO2 EMISSIONS: 132g/km.
INSURANCE: Group 24E.
PRICE: £23,485.
WARRANTY: 3 years/60,000 miles.
WEBSITE: www.seat.co.uk
• All data correct at time of publication.
CLICK HERE and "Like" our Facebook page for regular updates and follow us on Twitter