Astra Sports Tourer SRI 1.6i 200PS Turbo road test report and review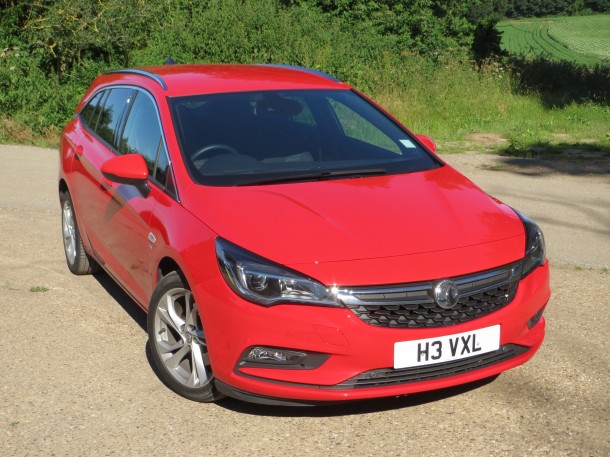 Astra Sports Tourer SRI 1.6i 200PS Turbo road test report and review: DAVID HOOPER drives the latest version of great British favourite.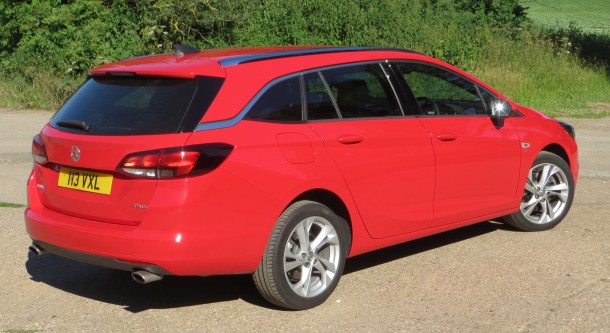 THIS great British favourite since it first went on sale in 1979, the Vauxhall Astra has been deluged with accolades from the motoring press since this latest model went on sale, including the prestigious European Car of the Year title.
The Tourer, or estate version, adds yet more practicality to the ever-popular five-door hatch with its larger load-carrying capacity, while at the same time complements the range with a stylish Tourer bodystyle, or in the case of this week's test car, Sports Tourer, thanks to its SRI specification.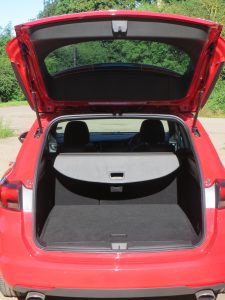 Sitting on smart 18in Bi-Colour alloys, featuring Power Red bodywork and shiny chrome detailing which glints in the summer sun, the Astra's styling is very attractive and hard to find fault with. The front end is identical to its sister hatchback, but from the B post, the higher roof line stretches out to the almost upright tailgate, providing a squarish and therefore more practical boot at the back, finished off with a sporty spoiler sitting atop the tailgate.
Inside, The Astra's latest interior is a match for anything its rivals can throw at it, and is now better than most, both in looks and functionality, and includes Vauxhall's latest OnStar Technology which is your personal connectivity and service assistant, which allows you to control some of your car's functions from your mobile phone. This SRI Nav version, as its name suggests, includes the sat nav system, has Bluetooth connectivity and all the other gadgets you might want, including cruise control, speed limiter, two trip computers as well as an array of other read-outs and information displays.
On the road the car is a pleasure to drive and I loved its combination of performance and practicality. With a 0-62mph time of 7.2 seconds, it would leave many hot hatches of a few years ago trailing in its wake with its potently turbocharged 1.6-litre engine developing 200PS and 300Nm torque, yet driven gently it can return well into the mid-40s to the gallon.

However, with its lively engine always willing you on, it's an enjoyable car to drive, providing plenty of mid-range punch for overtaking and a potential top speed of 146mph. I enjoyed this Astra Tourer very much, and consequently, its average MPG over the week was reduced to 38.2mpg, which is still pretty respectable for a quick car, but is considerably less than the official combined figure of 45.6mpg. At 48 litres, the fuel tank is also quite compact, meaning regular visits to the petrol pumps, and a real world range of around 300 miles in normal use.
The ride quality is compliant and comfortable, and reminded me very much of some similar French models, but I did think that for such a potently quick car, the damping was a little too soft and could have done with being at least 10% stiffer, but then with a vehicle which doubles as a family car, there is always going to be a compromise somewhere. The brakes are also not up to the job and would benefit from some harder wearing pads all round – after a bit of enthusiastic driving with a few high speed braking sessions for corners, there was noticeable brake fade and a soft pedal, which shouldn't be the case in what is after all, a performance car with a top speed approaching 150mph.
With a price tag of £22,425, which in our test car rose to a total invoice price of £24,370 due to a handful of optional extras, like the dark tinted rear windows, parking sensors, climate control, winter pack, and even a fragrance diffuser at £40, I think this Astra represents excellent value for money in my opinion.
This is one my favourite cars of the year so far, with ample performance on tap, a good boot and a comfortable, classy interior, it's not difficult to see why it has won so many awards.
If you think the Vauxhall Astra isn't a posh enough car for you, perhaps it's time you reassessed your opinions and gave it another chance. I very much doubt that you wouldn't be impressed.
Rating:





THE VITAL STATISTICS
MODEL: Astra Sports Tourer SRI Nav 1.6i 200PS Turbo.
ENGINE: 1598cc, 200PS four-cylinder petrol engine, driving front wheels through 6-speed manual gearbox.
PERFORMANCE: Top speed 146mph. 0-62mph in 7.2 secs.
ECONOMY: City: 35.3mpg.
Country: 55.4mpg.
Combined: 45.6mpg.
Wheel World test average: 38.2mpg
CO2 EMISSIONS: 142g/km.
FUEL TANK: 48 litres.
INSURANCE: Group 19.
PRICE: £22,425.
WARRANTY: 3 years/60,000 miles
WEBSITE: www.vauxhall.co.uk
• All data correct at time of publication.