Citroen C4 Cactus Flair PureTech 110 S&S roadtest report review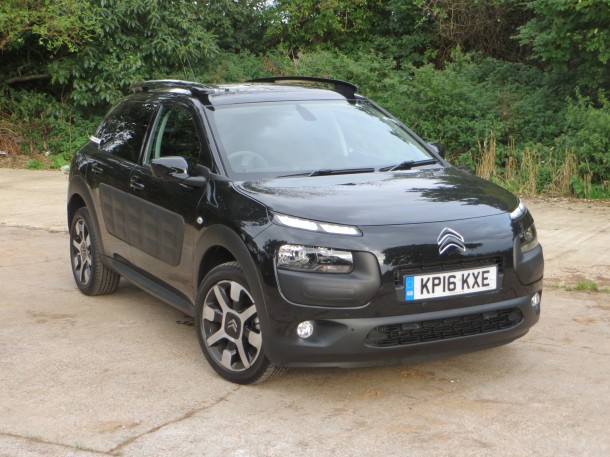 It may be quirky, but as DAVID HOOPER has been finding out, there is always something to talk about when you drive Citroen's C4 Cactus.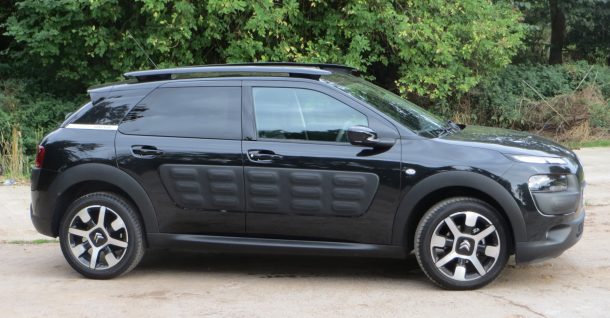 CITROEN'S C4 Cactus has become a familiar sight on our roads now and its trademark bright colours always make me smile and wonder who is buying cars with such garish paintwork.
This week's test car features a discreet black finish, but bright yellow, green, turquoise and orange have all been spotted on our roads. Whichever colour you choose, they all come with body armour as standard, ready to do battle in the car parks and mean streets of our towns and cities.
Shortly after going on sale, the Cactus scooped a Car of the Year gong too, adding to Citroen's tally of awards.
There is an abundance of black trim adorning the Cactus's extremities which makes it perfectly equipped for life in the urban jungle – well protected from those annoying car park dings which are all too common as our cars have got bigger, but our parking spaces have stayed the same size.
The Airbumps, or the rectangular panels on the sides of the car, proved to be quite a talking point among friends and family who admired, or at least commented on the distinctive C4 – and like the car or not, they couldn't resist having a press of the Airbumps – just to make sure they were flexible and impact absorbing!
The Citroen C4 Cactus is available in various trim levels, Touch, Feel, Flair and Rip Curl. Inside, the dashboard top resembles a suitcase with straps and is opened by lifting one of the catches to reveal a deep glove box which is also home to a USB socket and 3mm jack to connect iPods and other accessories, such as mobile phones.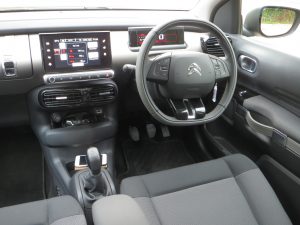 There is an intriguing mix of interior materials ranging from hard wearing plastics on the doors to soft-touch armrests, large door pockets and old-fashioned pull handles to actually close the doors with.
The two front seats are split by a central armrest, while in the back there is room for three passengers. The rear door windows are unusual and feature a catch which opens at the back of the door to allow ventilation. The benefit comes in some weight saving – and a huge rear door pocket because there is no need for a winding mechanism within the rear door to operate a window.
At the back of the car the boot is probably about the most conventional aspect of the Citroen C4 Cactus, but a high lip can make loading bulkier items difficult.
The dashboard consists of a screen about the size of an iPad perched on top of the centre console and this controls all of the car's main functions. On the steering wheel there are controls for the cruise, speed limiter and radio functions, but the rest of the instrumentation is fairly minimalistic and features a fuel gauge and a digital speedometer on a small display visible through the steering wheel.
Our test car also featured a selection of optional extras – metallic paint at £495, a lovely panoramic sunroof which allows the light to flood into the car at £425, the City Park Pack at £325 and the Citroen Connect box at £250.
A brilliant addition for families is the ability to remotely lock the rear doors and activate the child locks so that small people have no means of escape at inopportune moments.
The City Park Pack will automatically reverse you into a parking space so long as you work the pedals and although I've seen similar systems work numerous times before it is still a joy to behold when the steering wheel starts turning all by itself – and the system works well.
This Cactus is powered by a three cylinder 110bhp petrol engine, allied to a five speed gearbox, giving it a maximum speed of 117mph, while the 0-62mph sprint is completed in a steady 9.3 seconds.
The car features a five speed gearbox and although it cruises nicely at motorway speeds and on A-roads, it has to be worked to extract any performance, although progress can be reasonably rapid if you press the throttle pedal hard enough.
During my test, the car returned an average of 43.4mpg over a distance of 310 miles.
The ride is very comfortable, thanks to a soft and supple suspension set-up, but turn the car into a bend at speed, and there is a degree of wallowing which won't be everybody's cup of tea.
Parking sensors fore and aft and a full colour reversing camera make parking the Cactus an easy task, and if you don't fancy it yourself, the car can always do the parking for you.
The Citroen C4 Cactus range starts from just under £13,000.
Rating: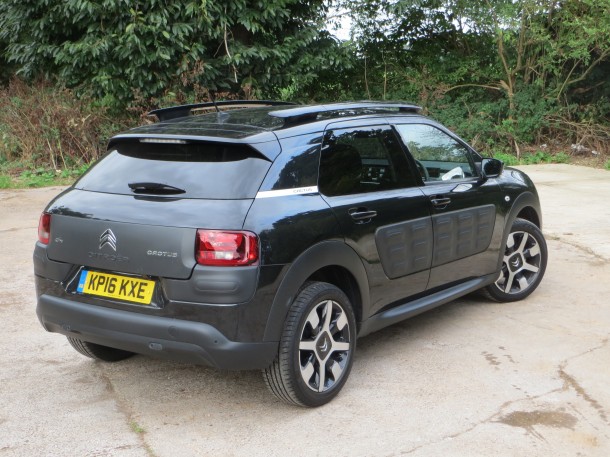 THE VITAL STATISTICS
MODEL: Citroen C4 Cactus Flair PureTech 110 S&S.
ENGINE: 1199cc, 110bhp three-cylinder petrol engine, driving front wheels through 5-speed manual gearbox.
PERFORMANCE: Top speed 117mph. 0-62mph in 9.3 secs.
ECONOMY: City: 48.7mpg.
Country: 70.6mpg.
Combined: 60.1mpg.
Wheel World test average: 43.4mpg
CO2 EMISSIONS: 100g/km.
FUEL TANK: 50 litres.
INSURANCE: Group 16
PRICE: £18,555
WARRANTY: 3 years/60,000 miles
WEBSITE: www.citroen.co.uk
• All data correct at time of publication.