Lexus RC 300h Luxury Premium Navigation road test report and review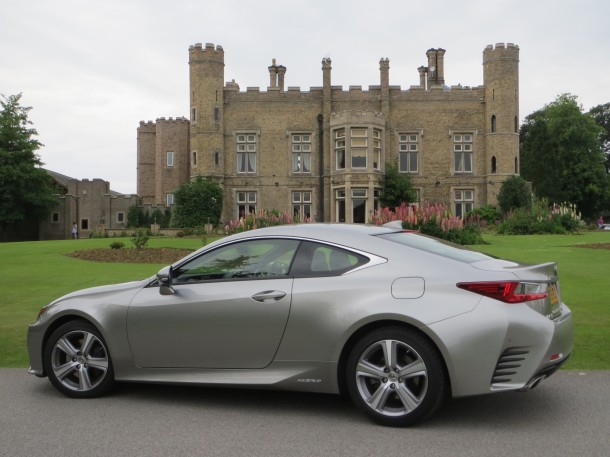 Lexus RC 300h Luxury Premium Navigation road test report and review: DAVID HOOPER reviews the dramatic looking Lexus RC Coupe, but does it cut it as a sports car? We've been finding out.
THE Lexus RC is a dramatic looking sports coupe which won't fail to get you noticed thanks to its sharply-styled front end, sleek lines, and distinctive rear, all finished off with some impressively expensive looking alloy wheels.
This new model with its trademark Lexus spindle grille takes the manufacturer into new territory and is a welcome addition to the Lexus line-up. It's fun to drive character is complemented by a suitably sporting interior design, but perhaps the most eye-catching aspect were the perforated cream leather sports seats, with large side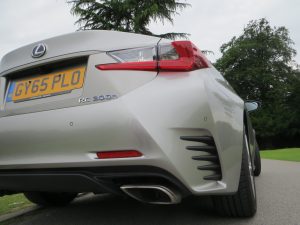 bolsters which just looked so inviting, and were even more comfortable than they looked. The dashboard is also rather striking and is complimented by a large centre console which is home to a touch pad which controls most of the car's main systems via a large central display screen – and the sport dial, which transforms the hybrid system's power monitor to the left of the speedometer into a full-blown rev counter.
You could be forgiven for thinking that a hybrid car and a sports coupe body aren't natural bedfellows, but when you consider the average Lexus buyer, sports coupe or otherwise, is unlikely to be seen wearing reversed baseball caps, then it starts to make more sense. Once you accept the average RC Coupe buyer is likely to be more mature, then it's not such a big leap to realise that they won't be racing around in it with their foot to the floor that often, which is just as well, because when you do that, the noise from the engine caused by the continuously variable transmission trying to catch up with the demanded performance and the resultant racing engine does detract from the traditional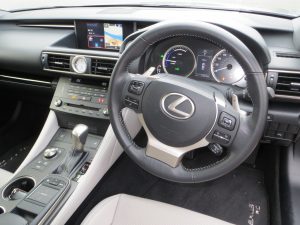 pleasure of driving a sports car and can sound akin to a slipping clutch! The combination of the 2.5-litre V6 petrol engine and the electric motor result in a combined power output of 220bhp which makes for enjoyably quick and acceptably quiet progress in most circumstances, as demonstrated by the benchmark 0-62mph time of 8.6 seconds and a potential top speed of 118 mph, however, if you want out-and-out performance, then the RC200t would be the model to go for – its lighter because it isn't a hybrid so doesn't have a battery (our test car weights in at 1,736kg) and faster. Economy in our test car is also reasonable, and during my test which included the full mix of town, country and city driving, the Lexus RC 300h returned an average of 44mpg.
The ride and handling feels enjoyably poised, featuring a comfortable and supple suspension set up, suited to the business driver who still wants to enjoy their car without risking injury to their backs from over-firm suspension.
It feels like a sports car to drive, too, thanks to the rear wheels pushing things along nicely, leaving the steering up front to just do the steering, instead of having to cope with distributing the power at the same time, which gives the feel and balance preferred by enthusiasts, but in a grown-up way in this case.
Lexus have a produced some impressive performance cars in recent years, and while this may not be the hottest, particularly in this hybrid guise, it looks great, is nice to drive and a pleasure to look at in the mornings.
Rating: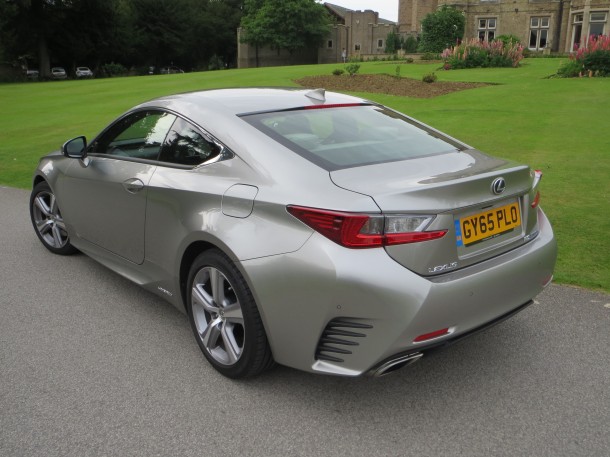 THE VITAL STATISTICS
MODEL: Lexus RC 300h Luxury Premium Navigation.
ENGINE: Lexus Hybrid Drive: 2,494cc petrol engine, 178bhp with 133kW electric motor, driving rear wheels through an electric CVT gearbox.
PERFORMANCE: Top speed 118mph. 0-62mph in 8.6 secs.
ECONOMY: City: 57.6mpg.
Country: 57.6mpg.
Combined: 57.6mpg.
Wheel World test average: 44mpg
CO2 EMISSIONS: 113g/km.
INSURANCE: Group 36.
PRICE: £34,995 (£37,615 as tested).
WARRANTY: 3 years/60,000 miles
WEBSITE: www.lexus.co.uk
• All data correct at time of publication.