Winter tyres 'are the sensible option'
THERE has been a lot of debate in the last few days about winter tyres, and the insurance industry's attitude to them.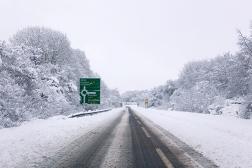 RoadSafe is reminding UK motorists that winter tyres improve grip in wet, cold, icy and snowy conditions.
Winter tyres can be used all year round, but it is in cooler, wetter conditions that they show their real benefit. Tests by the British Tyre Manufacturers Association found that a car braking at 60mph on a wet road at five degrees Celsius stopped five metres shorter, (more than one car length), when fitted with winter tyres.
Unlike studded tyres and snow chains, winter tyres do not damage the road surface.
The main difference between winter tyres and 'standard' tyres is that they contain more natural rubber and advanced silica compounds. This means when temperatures drop below seven degrees Celsius they harden less than standard tyres and provide better grip.
Adrian Walsh, RoadSafe director says: "In winter, these tyres are a legal requirement in some European countries, including Germany and Austria. Road safety and motor groups in Britain, including RoadSafe, TyreSafe and SMMT recommend UK drivers follow the continent's example, and fit them in autumn and winter."