Discos dance to the tune of emergency services
LAND Rover today loaned two of its Discovery 4s to the London Ambulance service, to help its stranded employees get to work.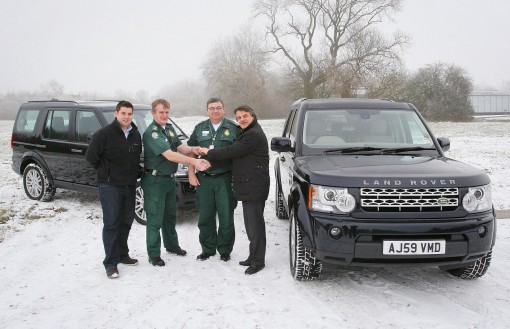 Dr Ralf Speth, CEO of Jaguar Land Rover handed over the Land Rover vehicles, which will be invaluable in helping keep the service operating during one of the busiest times of the year.
Dr Speth, said: "When winter road conditions become treacherous, there is one manufacturer the emergency services turn to – Land Rover. For many years, we have provided local police, ambulance services and recovery agencies with the loan of our vehicles to aid their work when faced with poor driving conditions. Land Rover vehicles offer the best in all terrain capability, making them the ideal vehicles for these winter conditions."
Land Rover has over 60 years of experience developing supremely capable vehicles that boast four-wheel drive and pioneering technology such as Terrain ResponseTM helping to ensure peace of mind when travelling in wet and icy conditions.
Land Rover works with emergency services, police, and ambulance teams across the country. The company supplies a quarter of the global aid agency market and is involved in numerous important conservation programmes worldwide, which are hugely beneficial to local communities. Without the use of Land Rovers, some of their rescue missions or emergency operations would be impossible.