Mantis products put the shine back after winter
With the worst of the winter weather out of the way, DAVID HOOPER, puts a few car care products from the Mantis range to the test.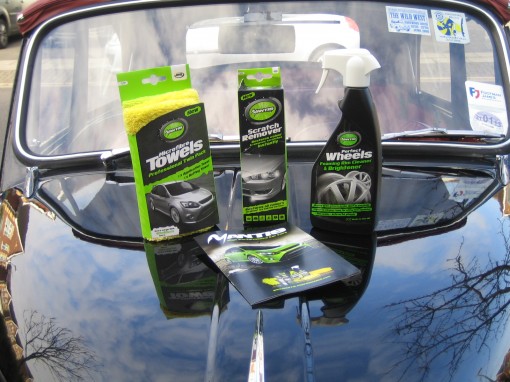 WITH the worst of the winter weather hopefully behind us, there's no better time to get rid of all the damaging salt that has found its way from the gritted roads, onto your car.
Washing the bodywork with a good car shampoo is a great place to start, and the really conscientious among you will be getting stuck into the wheelarches and under the sills.
Your prayers are answered thanks to the Mantis range of High Performance Car Care products to help you do a good job and get your car looking like new again after the ravages of winter.
Mantis Scratch Remover can be used to restore the paintwork's colour and remove light scratches, swirl marks, scuffs, blemishes and over spray to give a glossy finish. Unlike some restorative products, this scratch remover is non-abrasive and works on all paint colours. The manufacturer says it is ideal for cars, motorcycles, bicycles and boats. It costs £9.99.
I tried it on a couple of light scratches on my shiny black classic car, and while it did reduce the marks, I could still see them.
Cleaning alloy wheels can be a fiddly job, but Perfect Wheels can make life easier. The powerful formula has a foaming action which clings firmly onto the wheels and lifts off road grime and brake dust for sparkling results.
Mantis Perfect Wheels is non-acidic so the company says it won't damage your wheels or your driveway and is suitable for all wheel types including chrome, alloy, steel and can even be used on the wheel covers themselves. Perfect Wheels also costs £9.99.
Mantis also offers a twin pack of Microfibre Towels which are ideal for use with the Mantis range of products.
They are colour coded so you know which towel to use for applying the polish, and which one to use for polishing. Green to apply the polish and yellow for the fun polishing bit, then stand back and admire the shine. They cost £4.99 each.
Mantis also carry other products in their range, like the Microfibre Mitt, a wheel brush, and an instant shine which is waterless cleaner and gloss booster, which costs £9.99.
Mantis products are widely advertised on TV and can be found in various supermarkets and good accessory shops. For more details visit ww.mantis-performance.com
Watch this space for further product reviews in the coming months.