Aquabourne radio will never run out of power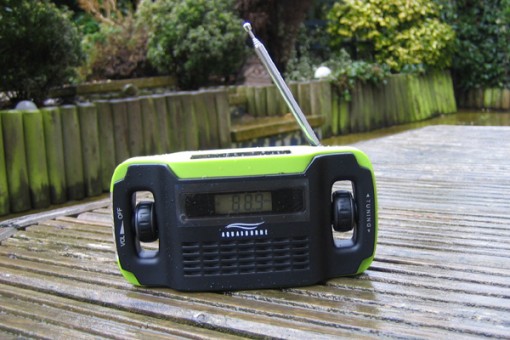 IF you like listening to the radio when you're away, there's nothing worse than the batteries going flat at the most inconvenient of moments.
However, this nifty little gadget could solve those problems, because it's solar powered, can be charged by a USB lead in your car, or failing all that, you can simply wind it up!
The Aquabourne Wind-up and Solar Radio costs from £19.95 and is available from www.GadgetsUK.com
It's a rugged yet fairly compact portable outdoor radio – and it's even showerproof, so it's ideal for the great outdoors.
Aquabourne  say it could have been put together by the A Team, and I reckon they're right – it's a great little gadget which never needs batteries, has three different charging mechanisms, a torch and can even be used to power-up your mobile phone if it runs out of juice.
As it is shower and splash proof it's perfect for  travel, garden, greenhouse, pool, caravan, camping, festival even the bathroom, but the best bit is that it costs less than £20.
The Aquabourne Wind-up and Solar Radio £19.95 from www.GadgetsUK.com
Highlights:
• Shower Proof – Ideal for the garden, bathroom, kitchen, festival etc!
• Never needs batteries – Integrated solar charging panel, compact folding winding handle, also charges by USB- cable supplied.
• Energy efficient use means this will work for a long time on low amounts of energy- highly environmentally friendly and cost effective
• 2 band AM/FM radio, 14 inch extendable and adjustable aerial ensures great reception. Very easy to tune.
• 3 high power LED torch built in.
• Digital LED backlight Alarm clock.
• Headphone output which also allows you to power other devices via hand crank.