F1 British GP at Silverstone hit by exploding tyre dramas
ROUND 8: F1 British Grand Prix Race report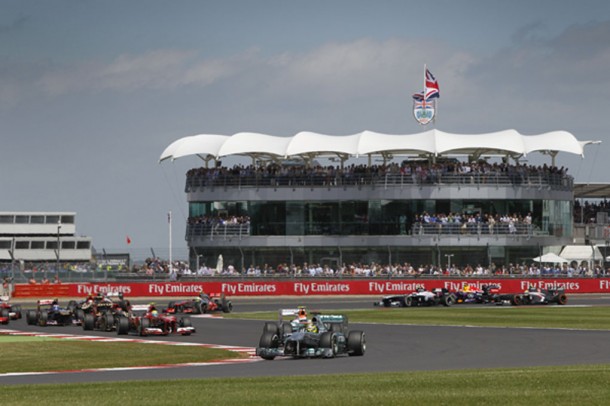 After exploding Pirelli tyres affected the result of the British Grand Prix, the manufacturer has been under pressure to find a solution before the teams take to the track at the Nurburgring this weekend. DAVID HOOPER reports on the latest developments.
AFTER a thrilling end to the British Grand Prix which was dominated by a series of spectacular tyre blow-outs, controversy has been raging this week as we head towards the German Grand Prix this weekend.
There have been threats of a boycott by some drivers concerned by the dangers posed by the "driver killers" as the BBC's F1 pundit David Coulthard called the exploding tyres which affected the result at Silverstone.
Tyre manufacturere Pirelli has been taking a lot of flak and has now announced that it will strengthen its tyres before the teams take to the track again at the Nurburgring, replacing the steel bands which make up part of the structure of the rear tyres, with Kevlar, a much tougher material.
Lewis Hamilton, Sergio Perez, Felipe Massa and Jean-Eric Vergne were among those who suffered blow-outs, and Kimi Raikkonen was lucky not to be hurt when he was hit by the debris from one tyre which exploded right in front of his car.
The exploding tyres led to two safety car periods to allow the marshals to clear the debris from the track, but at the end of a memorable afternoon , it was the resurgent Mercedes team which overtook Ferrari in the manufacturers' championship.
The biggest cheer of the afternoon on the podium was for Mark Webber, a great favourite of the British fans, who had driven brilliantly to recover from a poor start when his car bogged down off the line – again!
And that man Alonso was there once more, having driven from ninth on the grid to make the third step of the podium after his usual determined display of exemplary racecraft.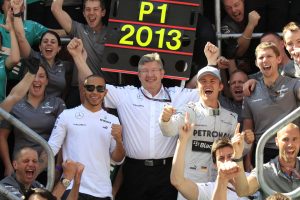 As the lights went out, Hamilton got a great start and led into the first corner. Rosberg got bogged down and dropped a couple of places, while Mark Webber's front wing was damaged in the first corner mayhem, with Grosjean again the prime suspect.
Massa, in his Ferrari, got off to a flyer and shot past Alonso in the sister car, but the Spaniard picked his way through the field and made up a few places.
On the fast, flowing Silverstone circuit, the pack soon settled down, but it wasn't long before the drama started when race leader Lewis Hamilton's rear left tyre exploded.
He had to limp around most the long Silverstone circuit for a new set of tyres and he was lucky to keep most of his bodywork intact.
This was soon followed by two more exploding tyres which led to the safety car being called out to allow the marshals to clear up the debris on lap 16, but questions were again being asked of Pirelli tyres as high-speed blow-outs on F1 cars are incredibly dangerous.
At the restart on lap 22, Vettel got the drop on the field by going early as the safety car came in. Alonso was on the case, but it was the other Red Bull driver, Mark Webber, who was the first to make up a place.
Hamilton was also trying to make progress by finding his way past Guitierrez, eventually finding a way through at Copse in a daring overtake.
Massa, with a fresh set of tyres was now running well but was being held up by Vergne, but he soon found a way past.
Alonso was up into fourth by lap 25 with Raikkonen sitting just behind him in fifth, but Vettel was now looking comfortable out in front.
Hamilton was trying to find his way past Paul di Resta's Force India, and there was close wheel-to-wheel racing, but Paul kept Lewis behind him.
Hamilton's efforts took a lot out of his tyres which left him vulnerable to Kimi Raikkonen's Lotus on fresh tyres. A slight wheelspin gave Kimi the chance he needed and he undertook Hamilton's Mercedes into Copse, and Alonso soon followed him through.
Alonso was then putting pressure on Raikkonen but couldn't find a way past and dropped back, before coming under pressure from Mark Webber, now with a new front wing on his car.
Vettel made his last planned stop on lap 36 for tyres and rejoined the race in the lead.
Hamilton and Di Resta were then having a battle of their own and  traded places several times with some exciting racing, but Paul's tyres were past their best and Lewis eventually picked his spot, applied a touch of kers and made the move stick.
Button had a run on Grosjean, but a late move to the left by Grosjean made sure Button was paying attention.
Daniel Ricciardo was trying to overtake Adrian Sutil and the pair nearly came to grief in Copse as Sutil darted to the left to get on the racing line, nearly collecting the Torro Rosso in the process.
With 10 laps remaining, Vettel was comfortable out in front, but the Mercedes of Rosberg was keeping him  honest, but then Vettel's Red Bull suddenly slowed as it transpired his gearbox had gone as he pulled onto the inside of the circuit.
This brought out the second safety car of the grand prix, as Rosberg took the opportunity to get a fresh set of tyres. Webber also went for a final tyre change as Vettel trudged back to the pits.
So with the pack reformed behind the safety car, it was going to come down to tyres. Webber, in fifth, but with a new set of tyres, was expected to push through for a podium.
The two McLarens were now up into the top 10 after their dismal qualifying performances, but Hamilton's Mercedes was down in ninth place after his costly blow-out.
The safety car came in on lap 45 as Rosberg controlled the field, with Raikkonen behind and Sutil sitting in third place.
Rosberg did a good job of the restart. Webber got passed Ricciardo and Alonso shot past Button  on the old start finish straight.
Then another tyre exploded, this time on the McLaren of Perez, as Massa tried to find a way around Button in the other McLaren. Perez made it back to the pits, as Webber overtook Sutil's Force India.
Alonso was now attacking Ricciardo and was followed through by Hamilton, while up front Webber was trying to get past Raikkonen and made his move stick in a breathtaking attack around Copse.
Alonso and Hamilton were chasing down Sutil and made light work of it as Webber chased down Rosberg for the win, but Alonso and Raikkonen were battling hard for third – a thrilling spectacle with two world champions battling hard for a podium finish, with Hamilton closing in rapidly on the pair of them.
Alonso swept past Raikkonen on Hanger Straight with some help from his DRS, but then Hamilton was also lining up Raikkonen with a couple of laps to go and took fourth place with one lap to go, Kimi paying the penalty for not changing his tyres under the safety car.
Webber was closing in on Rosberg, but just couldn't get the fairy-tale ending to his last F1 race at Silverstone after announcing his retirement from grand prix racing.
Rosberg took the win by 0.7 seconds from Webber, with Alonso's Ferrari crossing the line in third place. Hamilton came home in fourth place with Raikonnen bringing his Lotus home in fifth. The rest of the top 10 was made up of Massa, Sutil, Ricciardo, Di Resta in ninth and Hulkenberg in 10th.
A disappointed Jenson Button finished in a lowly 13th place and Max Chilton, the other Brit, came home in 17th place.
So as the winners took to the podium after a thrilling finale to the British Grand Prix, Lewis Hamilton must have wondered what might have been had his tyre not burst at all, or burst nearer to the pit lane, at least.
So as the teams head for The Ring, let's hope that Pirelli can come up with some tyres that will stay the course.
After all, we don't want to see anyone get hurt taking part in the sport we all love.
Click here for next race and the full F1 calendar