Tiff turns back clock in Formula Ford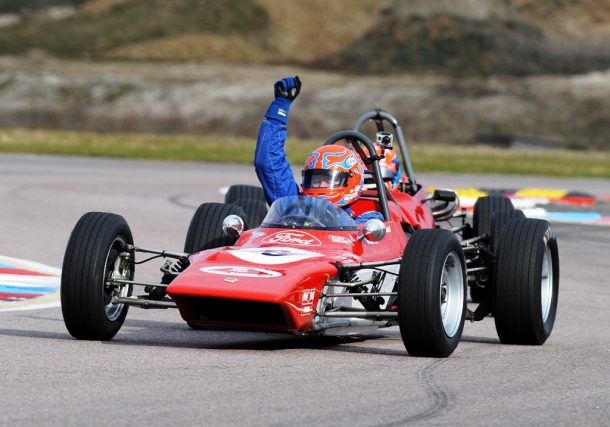 IT truly is a case of going back to his roots for Tiff Needell later this month.
The former Formula One driver turned TV star will be turning back the clock at this year's Silverstone Classic (July 26-28) as part of a capacity 54-car grid of Formula Ford single-seaters. In its 46-year history there has never been a line-up of more than 50 cars in a single race.
"It's going to be crazy," said the 61-year-old,  who once co-presented BBC Top Gear and today fronts the Fifth Gear motoring programme. "Naturally I'm hoping to be out in front at the start and, more importantly, out in front at the finish but with so many cars it's going to be busier than the M25 at rush hour. Whatever the result, though, it will be a fantastic experience for all involved whether they're racing or spectating."
The two record-breaking races will be all the more special for Needell as he will be back behind the wheel of the very Formula Ford car that launched his racing career. It's a profession that took him all the way to the heights of F1 and the podium at Le Mans en route to becoming a familiar face on our TV screens.
"I'm racing the same Lotus 69F that I won in a competition in Autosport magazine in 1971 – without that I'd probably never even been a racing driver," he admitted. "As a special Christmas present to myself, I bought the car back six months ago; I'm thrilled to be reunited with the car and racing it again at Silverstone. It's been almost exactly 40 years since the two of us last raced together at Silverstone in 1973. It's going to be incredible!"
The two races featuring Needell take place on Saturday and Sunday on the full Silverstone Grand Prix circuit as part of a packed 24-race programme featuring the world's biggest gathering of historic racing machinery ranging from priceless Bugattis from the Thirties to 200mph Group C Le Mans prototypes from the Eighties.
Originally introduced in 1967 as an affordable entry-level route into single-seater racing, Formula Ford quickly established around the world as the launch pad for future champions.
Thousands of drivers cut their teeth in series' staged right around the globe and the Formula Ford hall of fame includes the likes of James Hunt, Jody Scheckter, Nigel Mansell, Jenson Button and Michael Schumacher. Now, as emphasised by the capacity grids at the Classic, the HSCC's Historic Formula Ford Championship maintains that popularity offering a very good value for money route into the wonderful world of historic motor racing.
Those wanting to witness Tiff's high-speed trip down memory lane at the Silverstone Classic must buy tickets in advance. In keeping with the popular event's widely acclaimed 'access all areas' policy, tickets include free entrance to all the special classic car displays, both National and Wing racing paddocks and pit complexes, trackside grandstands, live music concerts on Friday and Saturday evenings plus a host of other entertainment for all ages and interests. Adult admittance is from just £35 (plus fees) and considerable savings are on offer for those festival goers spending the full weekend at Silverstone.