Two new off-roaders from Honda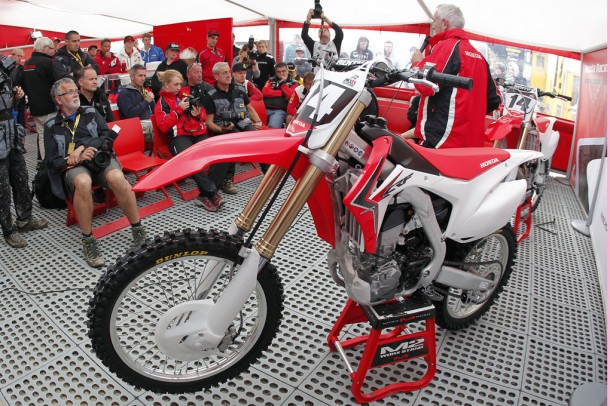 HONDA has unveiled two new motocross machines to the European market place.
The Japanese bike giant revealed new CRF450R and CRF250R models at the World Motocross Grand Prix in Uddevalla, Sweden.
Honda riders Evgeny Bobryshev and Max Nagl helped show off the latest upgrades to the models, which will offer a mixture of power, agility and reliability for professional and hobby riders equally.
The new CRF250R has been given extensive improvements for even greater usability ahead of the 2013-14 season, with a completely new, mass-centralised chassis plus upgrades to the engine and suspension to enhance rider control and feel, both on the ground and in the air.
The flagship CRF450R, meanwhile, has received further engine development for greater torque, throttle feel, top-end power and over-rev. Its 48mm KYB air front fork has also been upgraded for improved oil flow and damping characteristics.
Evgeny Bobryshev commented: "It's great to see the major changes on last year's CRF450R so extensively reflected in the 250. The upgrades will make the bike even more rider-friendly and I'm looking forward to be one of the first guys to try it out after one of the race weekends later in the season."
Max Nagl added: "It's still my first season with Honda, but it's obvious how important the whole CRF range is to Honda, from the 50cc to the Dakar bike. The 250 is clearly following the same trend as the flagship 450, and I'm sure will be a great choice for riders in that category."