Hungry Lewis wins first F1 grand prix for Mercedes
F1 race report: The last race before Formula 1's summer break provided plenty of excitement, but who would be the victor? DAVID HOOPER reviews all the action from the Hungaroring.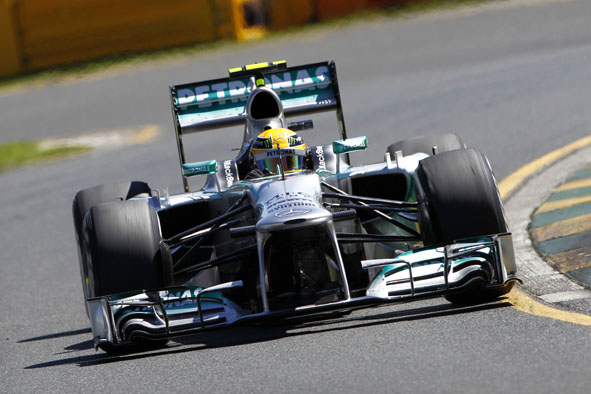 WITH Sebastian Vettel having won his home grand prix last time out at the Nurburgring, the German's spirits were high going into Hungary after a three-week break.
The Red Bulls, well Vettel's car at least, was looking good, but in qualifying at the Hungaroring, young Seb didn't get it all his own way, with Lewis Hamilton taking pole again for Mercedes.
Grosjean had put his Lotus on third, out-performing his highly rated team-mate Raikkonen who was in sixth. Rosberg was in fourth with Fernando Alonso in fifth, while Massa was in seventh. Perez out-qualified Button who was down in 13th to put his car ninth on the grid while Mark Webber was in 10th after car troubles which threatened to spoil his afternoon again.
Tyre wear was going to be an issue for some runners this weekend, with teams having to decide between two and three stops.
As the lights went out, Hamilton got the perfect start, but Vettel was squeezed by Rosberg.
It was a frantic start through the first few corners, with Raikkonen and Massa among the cars going off the track, but Rosberg and Massa touched, braking the Ferrari's end plate on its front wing.
Button made a good start, going from 13th on the grid up to eighth place on the first lap. Di Resta also made a good start from near the back of the grid and Webber also made good progress, moving up to seventh place.
As the drivers settled into the race things calmed down a bit, but the field was still bunched together, with Raikkonen chasing down Massa who was in fifth.
The first pit stops started on only the ninth lap as the tyres started to go off and Hamilton came in from the lead on lap 10 for a new set of medium tyres, rejoining behind his old team-mate Button in his McLaren.
As Vettel started to struggle with his tyres, Grosjean closed the gap and was right on his tail as Vettel peeled off into the pits. A good stop saw him back on track rejoining just behind Button.
Alonso came in on lap 13 and made a good stop, while Massa opted to keep his damaged front wing. Alonso rejoined in seventh place, just ahead of Perez in the second McLaren.
Grosjean made his stop from the lead on lap 14, quickly followed by Raikkonen, while Grosjean rejoined ahead of Alonso, but Raikkonen found himself still behind Massa's Ferrari.
As Vettel remained stuck behind Button, Grosjean was sitting right on his tail and Alonso was hunting down the top group in his Ferrari, but the heat of Hungary was causing  issues for several teams with overheating Kers problems. Grosjean started trying to find a way past Vettel who could not use his Kers and had a damaged front wing on his Red Bull.
The Force India of Adrian Sutil was the first to retire with a hydraulic leak, while Mark Webber, who was now leading the race, was starting to suffer from blistering front tyres, but he came in on lap 24 for another set of medium tyres.
Vettel dived up the inside of Button, and as Grosjean tried to get through, he and Grosjean touched, damaging Buttons McLaren and letting Alonso through as well. Button then pitted for new tyres as Vettel and Grosjean were still engrossed in their own race, with Vettel unable to escape the charging Grosjean who stopped for new tyres on lap 26.
As Massa ran wide, Grosjean made a stunning overtake, dicing with the marbles around the outside of turn four.
Guiterrez was the next to retire in his Sauber as his gearbox gave up the ghost as Rosberg made his next stop on lap 30.
Lewis Hamilton made his second stop on lap 32 from the race lead, and came out of the pits just behind Webber, handing the lead to Vettel. Massa got his new tyres on lap 32 and rejoined in 10th position.
Hamilton made a brilliant move around the outside of Webber, making good use of his new tyres, and then homed in on Alonso, his old rival. Alonso came into the pits on lap 35, just behind Vettel, who rejoined  just behind Button, but Vettel soon put his DRS to good use to make the pass.
Grosjean was then given a drive-through penalty for his overtake because he went all four wheels off the track, which effectively spoiled his race, but the rules are the rules.
Raikkonen came in on lap 43 for a new set of tyres, with Kimi hoping to make it to the end of the race on this set of tyres, having just completed 27 laps on his previous set, so it was certainly possible.
The Williams of Bottas pulled off on lap 48 with a smoking engine, as Grosjean came in for his final stop for tyres, with the Frenchman rejoining just behind Button who proved only a slight hindrance.
Race leader Hamilton made his final stop on lap 51 with a 15 second lead, but rejoined literally next to Webber, but Hamilton was determined, and virtually ran the Red Bull off the track as Hamilton went around the outside in an amazing overtaking move.
Vettel rejoined behind Raikkonen as Webber pitted for his set of soft tyres with 10 laps remaining, rejoining ahead of Alonso, but Rosberg's Mercedes engine blue spectacularly, with flames licking around the back of the car as the German scrambled clear.
In the closing laps, Vettel was right behind Raikkonen, but couldn't quite find a way past, despite taking a lunge and going off the track.
But it was Lewis Hamilton who took his first win for Mercedes win, breaking his longest win draught in Formula 1, as Kimi Raikkonen came home second after holding off a determined Vettel who came home third. Webber finished in fourth after starting from 10th on the grid, with Alonso finishing in fifth, followed by Grosjean, Button, Massa, Perez and Pastor Maldonado completing the top 10 in his Williams.
Formula 1 now heads into its summer break, but will return for the second half of the season, starting with Race 11 in Belgium – Spa!