Original Beetle still puts a big smile on your face
This Beetle is one of the last to be built in Europe and is now part of Volkswagen's heritage fleet. DAVID HOOPER takes it for brief, but delightful drive.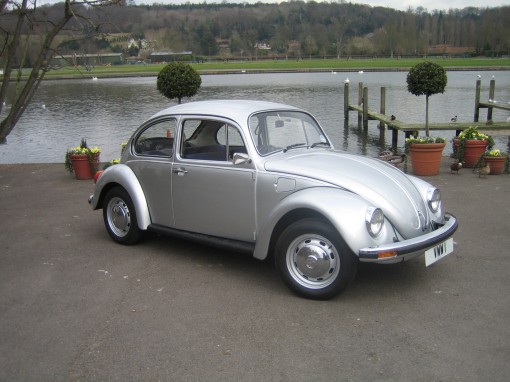 TWO new Volkswagen models could be right up! your street, the new generation of the Beetle, and VW's entertainingly-named city car, the up!. I've driven both of them – as well as this old Volkswagen model, which will no need no introduction.
When it was new, this original Beetle cost a lot less than a new Beetle will cost you today, just £2,626. It has a 1.2-litre engine with 34bhp, will do 34 miles to the gallon and has a top speed of 79mph.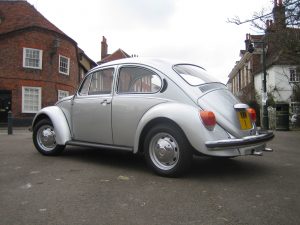 This is one of the last Beetles to be built in Europe and rolled off the production line in Emden, Germany, in December 1977. VW stopped building the Beetle in Germany in January, 1978, but as many readers will know, the Beetle continued to be built in Mexico and Brazil, with production finally coming to an end in July 2003 when the last of the original Beetles was driven off the production line at Volkswagen de Mexico, in Puebla.
This car is finished in Diamond Silver and has blue velour upholstery and sits on cross-ply tyres. Despite having only covered around 2,000 miles from new, it was fully restored in March 2006 and I was allowed to take it out for a drive.
The seating position is very high compared to modern cars, with the curved bonnet sloping steeply out of view and I was always aware of the lovely curves of the wings which cannot be seen from the driving seat.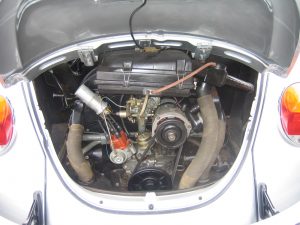 The car was a real treat to drive and it really made my day. Powered by the distinctive air-cooled engine the Beetle drives very well and feels almost like new, with none of the "play" or sloppiness caused by wear and old age that you normally expect to find in the suspension of classic cars.
With no power assistance, the brakes work as you would expect, and the gearbox is easy to find your way around. Being made of metal, the indicator stalk feels substantial, even by today's standards and as with all classics, it puts a smile on your face, and those of the people who spot it driving by.
The finishing touch is the registration plate – VWW 1 – which sets it apart from any number of other nicely looked after Beetles. With millions of them built, almost everyone you speak to has either owned one or been driven in one.
A VW Beetle, with the conical chrome hub caps is the first car I remember my parents owning, before they bought a second Beetle – a bright red one, with the registration number RJV 78H.
I often wonder if it's still about and loved by someone. I suspect it might be – I thought I saw it a few years ago, but didn't see enough of it to be sure.
Let's hope it is.
Read my report on the new Beetle or the well-received VW up!
Rating:






FIRST DRIVE FACTS
MODEL: 1978 Original Beetle
BODY STYLES: Two-door
ENGINE: 1.2-litre, 34bhp
TRIM: Diamond Silver, velour upholstery
PRICE: Priceless
IN THE SHOWROOM: Not any more!
WEBSITE: www.volkswagen.co.uk
• All data correct at time of publishing.
CLICK HERE and "Like" our Facebook page for regular updates and follow us on Twitter