VW's new car revs up! to challenges of Rome
VW up! ROAD TEST
As VW shows off its new city car, motoring writer KEITH WARD takes up! the challenge that is Rome's chaotic traffic.
TO have the Press try out their quirkily-named new city car, the up!, VW flew us to Italy and set us off into the macho traffic scrum that is Rome.
Risky. The up! -shot could have been a massive pile-up! Shades of the old Frankie Howerd farce that was Up Pompeii! There were tempting thoughts of tying a bunch of balloons to our little steeds, emulating the old guy in that Disney film, Up!, and floating above the whole circus.
But, never shy of taking up! a challenge, and with staunch British cries of up! and at 'em, we were off, braving swarms of scooters buzzing up! on the inside and squadrons of Fiats cutting you up! from all sides.
The gladiatorial spirit of the Colosseum survives into the automotive age. But it must be said our rorty 75 bhp version of the newcomer, in top trim with the larger 16-inch wheels, was up! for it, competing briskly, nipping into gaps and slipping into miniscule parking slots along the teeming Via Nazionale. A slick five-speed manual box is standard initially, with auto to come next autumn.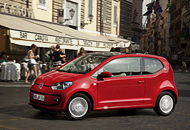 At 3,540mm, the up! is slightly shorter than a Fiat 500, Ford's Ka and the MINI, but longer than the Peugeot 107, Citroen C1 and Toyota Aygo. Conceived four years ago as a rear-drive, rear-engined replacement for the Fox, it was earmarked for a revived Lupo badge. Those ideas were to be up!-staged.
It has finally evolved with front engine, front drive, an all-new, lightweight, snub-nosed body (three-door initially, five later) and a new range of pepped-up! 1-litre, three-cylinder petrol engines.
"This is a real VW", insists suave marketing head Giovanni Perosino. "We think it will bring new customers for the brand, equally among young people and the silver generation, over 50's. We are saying to people, don't compromise – compress."
Of note to Northerners, a full electric version, surely to be dubbed an e-up!, is slated for 2013. And look out for up! equivalents from VW group stablemates Skoda and SEAT.
Inside the up!, we found legroom for four average-height adults and relatively generous headroom. Once you have admitted rear passengers, the driver's seat does not return completely to its pre-set position. Seat height adjustment, only with higher-spec versions, made for a comfy driving position. The steering column adjusts for rake but not reach. Folding down the rear seats leaves a hefty step-up! in the boot floor, unless you opt for a panel to level it. Furnishing is pleasant, but lacks the style of a Fiat 500. There are expanses of unclothed metal across the dash and around the doors, but without a noticeable noise penalty.
Trim choice is at three levels: Take up!, Move up! and High up! with prices starting at just under £8,000, and rising to £11,180 for a couple of special-edition models dubbed up! black and up! white.
High-end gadgetry, either standard or optional depending upon version, includes a removable sat-nav unit, (which gave up! the ghost on several cars, the screens blanking out mid-journey), City Emergency Automatic Braking (proving up! to scratch in our off-road tests), sports suspension and leather upholstery.
Could it be an up! yours? Well, not until it goes on sale in the UK, next March.
Rating:





THE VITAL STATISTICS
Model: VW up!
Type: Three-door, four-seat, front-drive city car
Size: Length 3,540 mm; width 1,641 mm; height 1,478 mm; boot 251 to 951 litres
Kerb wt: 854 kg (base version)
Engines: Petrol; three-cylinder; 999 cc; CO2 105 to 108 g/km; mpg combined 60.1 to 62.8
Power: 60 or 75 bhp; max torque for both 70 lbs ft from 3,000 to 5,000 rpm
Pace: 0-62 mph in 14.4 secs (60 bhp) or 13.2 secs (75 bhp); max 100 mph-plus
Wheels: 14, 15 or 16-inch
Prices: £7,995 to £11,180
CLICK HERE and "Like" our Facebook page and here to follow me on Twitter