Seven seat Zafira Tourer impresses with versatility
VAUXHALL ZAFIRA TOURER ROAD TEST
Vauxhall's Zafira Tourer impresses KEITH WARD when he travels to Germany to try out this eyecatching newcomer.
HEADING to UK showrooms by the New Year will be a new,  longer and roomier "Tourer" version of the Vauxhall.
Zafira seven-seater compact MPV.  How excited should we be?
It will sit alongside, not replace, the current Zafira, which has been no mean performer, selling 2.2-million examples, including 450,000 in the UK, in 12 years and two generations. However, critics point at, among other things, restricted visibility from the driver's seat and the un-versatile bench seat in the middle row.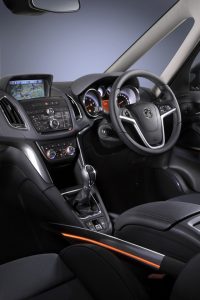 The new Zafira Tourer meets those points head-on. Slimmer screen pillars,  supplemented by quarter-lights, have improved the view. An optional panoramic windscreen, first offered on the Astra GTC back in 2006, extends up and back to above the front seats. A long glass sunroof is also available on certain models, which stretches to the rear of the vehicle. It's more like sitting in a helicopter than a car, or in one of those enclosed pods on a ferris wheel.
That middle row bench seat is replaced by three comfy, individual chairs. Each can be slid, tilted or folded flat at the tug of a strap. Forsaking one of these to give more room for the other two is not new – see first generation Ford C-Max.
But in the new Zafira the centre seat can be folded up to cleverly form an armrest between the outer two, themselves slid inwards for more elbow room. "Executive lounge seating", Vauxhall call this feature, "unique" in this class. They have filed for a patent. The rear pair of seats can drop down equally easily. In all these manoeuvres, no seats leave the vehicle. Make do with the front pair only and you can have a flat, six-foot cargo deck stretching out behind you. And 1,860 litres of storage space – up by 40 on the current model.
Externally, the large, boomerang-look front lighting units are echoed by the tail lights in the new, longer and taller Zafira body, taking cues from the adventurous Ampera. It has also lifted Vauxhall's signature "blade" moulded side panels seen on the latest Astra, Meriva and Insignia sister-models. Inside, there are subdued "mood" lighting strips.
"This car oozes class", enthuses Mark Adams, vice president Opel/Vauxhall Design. "It has a sophistication that was missing from prior vehicles. We wanted to bring premium qualities to the brand."
Expect prices of the new Zafira Tourer to range from £21,000 for the base ES, taking in five trim levels to reach the Elite at £25,000-plus. Fancy optional extras will include an updated front camera system to help prevent collisions,  advanced parking assist, a side blind spot alert and an elaborate, fold-out, rear-end carrier system to take up to four bikes, yet tiltable to allow access to the boot.
Three diesel and two petrol engines are lined up for the Tourer's launch, slated for next January in the UK.  The 2.0 CDTi common-rail turbo diesel will offer power outputs of 110PS, 130PS and 165PS. Petrol engines will be a 1.4-litre turbo and a naturally aspirated 1.8-litre, each producing 140PS.
Shortly after launch here, Vauxhall will also offer a 130 PS diesel ecoFLEX version with a stop-start system, combined mpg of 62.8 and emissions cut to 119 g/km. It is already being hailed by pundits as the only MPV with an annual £30 VED tax.
On recent press preview drives in Germany, we tried the 2.0 CDTi turbo diesel in 110 PS form, expected to be most in demand and sprightly enough to reach 100 kph (62.5 mph) in under 10 seconds. It impressed with its comfort, stability, handling and quietness, indicating a marked improvement on the current model.
There are three selectable settings for the suspension. The rear-axle assembly is adapted from the admired Astra, the front from the successful Insignia. The wheelbase at 2,760 mm is longer by 57 mm, the track wider by up to 96 mm. All of this enhances its stance on the road.   As a breed, MPV's tend to be family workhorses. There's a touch of thoroughbred to the new Zafira Tourer.
Rating:





THE VITAL STATISTICS
Model: Vauxhall  Zafira Tourer
Body: New larger, five-door, seven-seat compact MPV to accompany current Zafira
Size: Length 4,658 mm; width 1,884 mm; height 1,685 mm; boot 140 to 1,832 litres
Engines: Choice from three diesel; two petrol with more to come
Prices: From £21,000 to £25,000; through five trim levels
On sale: January 2012 in the UK
CLICK HERE and "Like" our Facebook page and here to follow me on Twitter