Audi welcomes baby Q3 to its expanding range
ROAD TEST REPORT AND REVIEW: AUDI Q3
Motoring writer KEITH WARD road tests Audi's new baby, the Q3, just in time for winter.
High-flying Audi have boosted their range of models from 17 to 38 in the last 10 years, repeatedly breaking their own sales records and currently nosing ahead of their upmarket arch-rivals BMW and Mercedes in both the UK and Europe.
Omens are good, then, for their latest arrival, the Q3  – following on from the Q7 and Q5 – as a high-riding, compact SUV version of the A3, leaning heavily on its sibling companies in the VW Group.  So it sports the same mechanicals as the VW Tiguan and is built at SEAT's extended Martorell plant in Spain.
The Q3 immediately locks horns with the new baby Range Rover, also offered in two or four-wheel-drive, the Evoque. In five-door guise, this stands 20 mm shorter than the Q3 but 134 mm wider. A BMW X1, the other nominated rival, is larger all-round than both.
Where the Audi scores is in the transverse mounting of its engines which, within its modest footprint, leaves more space for people and packages. The boot of a minimum 460 litres is decently long, if fairly shallow, reportedly to sit above the stereo subwoofer.  The rear seatbacks drop forward into a sloping, extended floor. Rear legroom is generous for this class.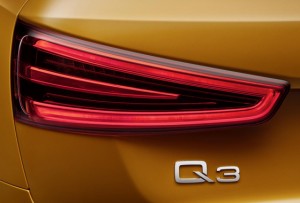 Of two trim levels, the lower SE brings 17-inch alloys, dual zone climate control, "concert" audio with 6.5-inch colour display screen, Bluetooth interface, roof rails, rear parking sensors and automatic lights and wipers. An upgrade to S-line for £2,750 adds 18-inch alloys, styling bits and xenon headlamps with those distinctive daytime running lights and LED tail lamps. Such goodies as self-parking as well as navigation with 3D mapping and Google Earth connection come extra again.
We tried first a 2.0 TDI SE quattro with the 177 PS diesel. Base price is £27,650 but a host of optional extras boosted it to £33,900 as tested. It tackled with aplomb a series of twists, swoops, bumps and bends on a 66-mile route from Whitby around a partly fogbound North York Moors National Park, taking in Sandsend, Castleton, Hutton-le-Hole and Goathland.  It gave us a chance to play with the self-select suspension, from sporty to efficiency to comfort. The sheer stickability of the quattro system should surely countermand the growing lobby for fitting winter tyres in snow-prone Britain.
Changes through the superb seven-speed S-tronic, twin-clutch automatic box proved seamless. In a new development of the S-tronic, the clutch is disengaged during coasting – a freewheel system – to reduce engine drag. This car recorded 34.2 mpg in our hands.
Next, a petrol-driven, 170 PS 2.0-litre TFSI quattro, with this time a silky six-speed manual box, recorded 29.8 mpg.  Finally, a petrol-powered 2.0-litre TFSI, boosted to a hefty 211 PS, mated to the seven-speed S-tronic and capable of 0-62 mph in under seven seconds, returned 25.7 mpg according to its onboard computer. Its base price was boosted to over £40,000 by optional extras.
Audi have taken 2,000 advance orders for the Q3, which starts deliveries this month (November) and is expected to sell upwards of around 8,000 a year, 80 per cent of them diesels.
What next? A 140 PS diesel engine by end of the year, aimed for fuel-saving with front-wheel-drive only in a relatively lightweight 1,445 kg body. A super-sporty Q3 has already been seen with a 300 bhp engine.
Rating:





THE VITAL STATISTICS
Model: New Audi Q3 compact SUV
Body: Five-door; five seats; length 4,385 mm; width 1,831 mm; height 1,60 mm
Boot: Length 880 ext to 1,632 mm; volume 460 ext to 1,365 litres
Engines: All 2.0-litres; initially a 177 PS diesel auto; 170 PS petrol manual; 211 PS petrol auto
Gearbox: Initially all quattro 4WD with either 7-speed S-tronic auto or 6-speed manual
Pace: 0-62 in 6.9 secs (2.0 TFSI quattro) to 9.9 secs (2.0 TDI 2WD)
Max: 126 to 143 mph
CO2: 137 (2.0 TDI 2WD) to 179 g/km (2.0 TFSI quattro). BIK tax 20 to 25 per cent; VED disc £165 to £315
MPG: Official combined 36.7 (2.0 TFS quatro) to 54.3 (2.0 TDI 2WD)
Trim grades: SE or S line
Insurance: Groups 18E to 25E
Running costs: Est 34.73p per mile
Prices: £24,560 to £31,360
CLICK HERE and "Like" our Facebook page and here to follow me on Twitter