Porsche's 911 GTS is a fabulous modern classic
PORSCHE CARRERA 911 GTS ROAD TEST
Few cars have stood the test of time like Porsche's iconic 911. wheelworldreviews editor DAVID HOOPER road tests the rather special GTS and is reminded of just how capable these beautiful cars really are.
ASK anyone to name their top motoring icons, and I would happily bet that Porsche's 911 would be near the top of every list.
It's a timeless classic, an instantly recognisable design which has gently evolved from the original 911s which first appeared in the Sixties, and in many ways, it's a fundamentally flawed design that shouldn't work as a well-balanced performance car.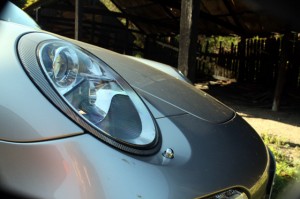 While other manufacturers strive for 50:50 weight distribution, Porsche makes a mockery of it, but have somehow produced a car with phenomenal grip, breathtaking performance and safe, predictable handling, which all add up to a sports car you just want to drive and drive and drive.
The company takes its name from the Austrian engineer Ferdinand Porsche who designed another German icon in the 1930s, the Volkswagen Beetle. While the rear wheel drive, rear-engined comparisons are obvious, the Porsche 911 we know and love today is so much more than a souped-up Beetle!
Today's 911 is a sheer delight in every respect, unless you're made to sit in the back, which I wouldn't really recommend, but a few eager passengers desperate for a ride in this particular test car, put up with the cricked necks, squashed toes and banged knees without complaint.
Thi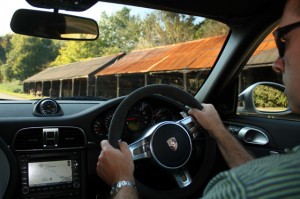 s is the GTS, the most recent addition to the 911 family, which offers performance to rival any supercar, yet it is so easy to drive, it would be quite happy pottering around town, taking the kids to school, or getting the weekly shop, which would just about fit under the bonnet in a surprisingly deep luggage area which can also swallow a couple of weekend bags. It's comfortable, too. Inside, the seats, steering wheel rim and handbrake are covered in black Alcantara, which add to the car's sporty feel.
Show the GTS some empty road and the fun really starts. Its 3.8-litre flat six engine produces 23hp more than the 911 Carrera S, giving a huge 408bhp. Turn the key for the first time and those little hairs on the back of your neck stand up. The GTS feels completely composed, and even on our potholed roads, the ride quality is far superior to many a hot-hatch I could name.
As you leave town and the roads begin to open out, the GTS comes alive. It shares the 44mm wider body of the Carrera 4 models and has a wider rear track to maximise stability. The noise from the exhaust is addictive and the mid-range punch truly exhilarating. The steering response is accurate with just the right amount of feedback letting the driver know what is happening at the sharp end as the car sweeps from bend to bend with consummate pose.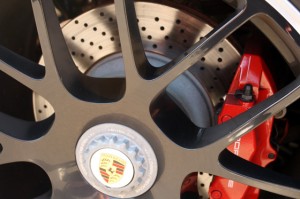 Nothing phases the GTS, be it off-camber corners, poor road surfaces, or nasty mid-bend bumps, its suspension is so well sorted that the Porsche takes them all in its stride. With most of the weight seemingly at the back of the car, every time I drive a Porsche I'm always impressed with the amount of front grip which is available. The car turns in beautifully and precisely, with hardly a hint of understeer on dry roads, unless you take considerable liberties and are really pushing its limits.
When my test car arrived and I noticed it had the 7-speed Porsche Doppelkupplungsgetriebe (PDK) gearbox instead of the six-speed manual which is standard. I have to admit my heart sank, just a little bit. I've never been a fan of auto boxes in sports cars, and didn't really get on with the gear-changing buttons mounted on the centre spokes of the steering wheel on previous Porsches I've driven, where each button could change up or down the gears. Someone, somewhere though has been listening and on this car, it's sorted. There are now two paddles mounted behind the steering wheel, a Minus on the left to change down and a Plus on the right to change up. It works – it's far more intuitive to use and quickly becomes second nature.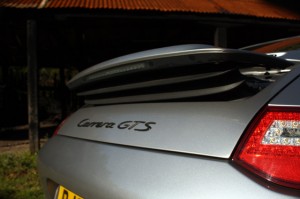 There are other benefits too. The PDK box is a twin clutch affair, which means the next gear is always pre-selected. This allows each gear change to happen in a fraction of a second, so the acceleration is seamless and relentless, bringing the benchmark 0-62mph time down to just 4.2 seconds when the optional Sport Chrono Package Plus is specified, as it was on this model at a cost of £833, on top of the £2,525 for the PDK box. Specifying this pack also means you can time your own laps if you take your car on a track day.
With all the toys on board, there are then two extra buttons to play with, the Sport, which as you might guess, warms things up a bit, and the Sport Plus, which puts the car into full attack mode, keeping the revs up and the gears down for maximum performance. It's brilliant fun, the engine makes a beguiling noise from just behind you when it's on full song, and as you brake, there's a delightful blip of the engine to smooth out the downshifts, which is looked after by the electronics. Pressing another button amplifies the exhaust note which is almost unnecessary as it sounds fantastic anyway.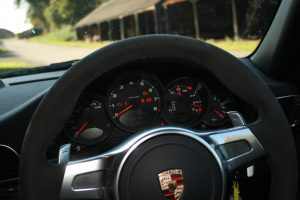 The PDK box is more fuel efficient than the manual and despite its blistering performance potential the GTS can be surprisingly economical. During a steady drive on a long trip home on fairly busy roads where pushing on was pointless, the trip meter's average fuel consumption rose to an excellent 31.7mpg. However, once I got to the quieter roads, this dropped back to around 24.5 overall, which is still good for a car like this.
The GTS is set apart from the rest of the Carrera models by its 19in RS Sypder alloy wheels which are finished with a high-gloss black paint, and attach to the car with one, large central bolt, similar to an F1 car. Its tyres look almost as big, its 305/30 sized rears look enormous.
Other distinguishing features include a SportDesign front apron with a black-edged spoiler, special side skirts and Carrera GTS badging.
The other day a friend of mine announced that he was going to win this week's Lottery jackpot. No more messing about – this week, the jackpot is to be his. We were then debating which car he should buy with his winnings.
After a short ride in my 911 his decision was made.
I've decided I'll drive him to our nearest Porsche dealer next week in the hope that he'll order one for me as well while he's at it. Then, the dealer could utter those immortal words as he waves us both off. "Gentlemen, start your engines".
Rating:






THE VITAL STATISTICS
MODEL: Porsche 911 GTS.
PORSCHE 911 RANGE: From Carrera 3.6 3dr (£67,270) to Turbo S Cabriolet 2dr (£133,533).
ENGINE: 3,800cc, 408bhp six-cylinder engine, driving rear wheels through 7-speed PDK gearbox.
PERFORMANCE: Top speed 188mph. 0-62mph in 4.2 secs.
ECONOMY: City: 18.5mpg.
Country: 39.2mpg.
Combined: 27.7mpg.
Fuel tank: 67 litres.
CO2 EMISSIONS: 240g/km.
PRICE AS TESTED: £84,667.
WARRANTY: 3 years/Unlimited miles.
WEBSITE: www.porsche.co.uk
CLICK HERE and "Like" our Facebook page for regular updates and follow us on Twitter