VW Polo SE 1.2 TSI road test report review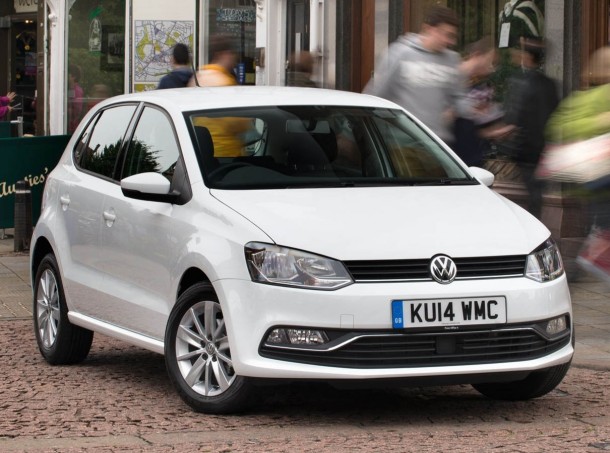 Taste of success with ever-green Polo means VW is minted, but as KEITH WARD has been finding out, now the Polo's… well… just like a Golf!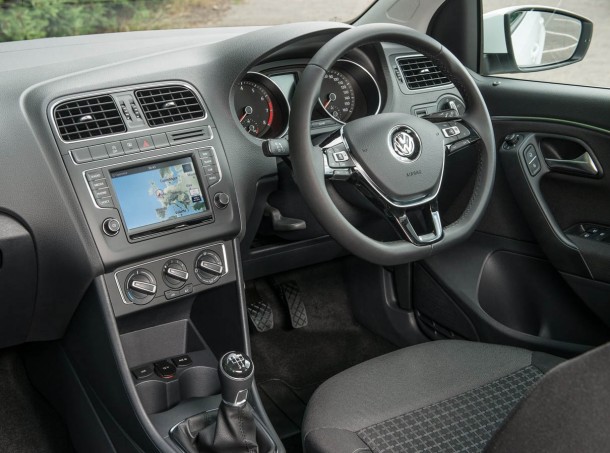 MORE than ever the latest Polo resembles a downsized Golf. And on the road it shows similar virtues to its larger sibling – a sureness in handling, solidity in feel and a spring in the step from even the smallest engines. Both models are established top 10 sellers in the UK and keep their value well.
VW acknowledge the commonality. "A small Golf is exactly what we had in mind with the Polo", says Dr Heinz-Jakob Neusser, who sits on the board of VW Brand Technical Development. "Many technologies in this car are carried over from the Golf".
In 40 years the Polo has sold 14m globally. Standard throughout the latest 26-strong range, at keen prices from £11,250, is the automatic post-collision braking system, a first in this size of car, which operates on first impact to reduce the chance or effect of a second. Also aspects of the company's BlueMotion "green" technology such as brake recharging of the battery and stop-start engines.
And options include big-car gadgets such as driver alert, rear view camera, adaptive cruise control and city emergency braking. Also a push-button stiffer suspension setting for a sportier feel.
There are six trim levels, from basic S to top BlueGT. All versions get a DAB radio, USB socket and Bluetooth. The latest modular "infotainment" system has a colour touchscreen reacting to wiping movements, as on smartphones. A £150 option dubbed MirrorLink displays and controls approved Android smart phone apps on the screen – which was its first use in any VW.
But note that you are left to kit out even your top-priced BlueGT Polo (£18,490) with extras such as navigation, auto lights and wipers, climate control and electric glass sunroof.
Under the bonnet of a three or five-door Polo hatch is a choice of seven engines, some seen in the little up! and latest Golf, giving up to 21 per cent improved mpg and CO2 emissions as low as a claimed class-leading 82 g/km.
We drove the 1.2 TSI in the most popular SE trim, getting you manual air-con, a multi-function onboard computer, body-coloured door handles and electric mirrors, 15-inch alloys, an upgraded media system with a 6.5-inch colour touchscreen and leather trim for the gear lever, handbrake and muli-function steering wheel in a refined cabin.
Extra cost options included the latest "Discover" sat-nav (£700) enabling you to enter an address in a single line instead of scrolling through country, then city, then street. Also at £500 adaptive cruise control with City Emergency Braking to stop the car if you threaten to collide with the vehicle in front.
Legroom is ample for average adults. There are belts for three rear passengers and comfort for two. The boot is not the biggest in class but the floor can be set at two levels and conceals a spare wheel. The divided rear seats flip and fold to extend a flat boot floor we measured at just under four feet.
The 90PS engine responds willingly through a five-speed box, is relatively quiet on the open road and returned almost 54 mpg in a week's varied motoring. Its low CO2 rating of 107 g/km means annual VED initially free, then £20 a year.
Little surprise, then, that the Polo continues to enjoy the sweet taste of success.
Rating: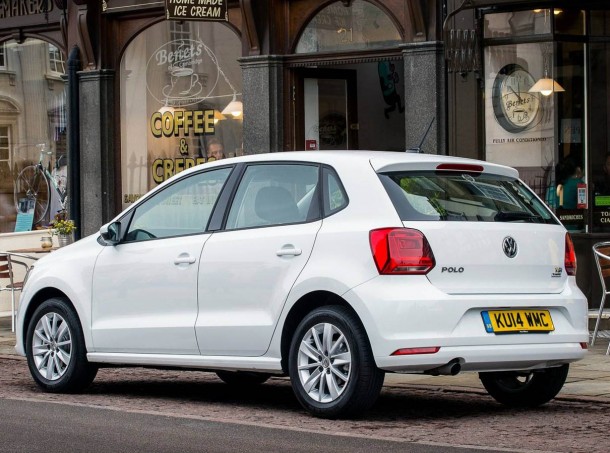 If you like this, read about these other VW models
THE VITAL STATISTICS
Model VW Polo SE 1.2 TSI
Body Five-door; five-seat small hatchback
Size Length 3,972 mm; width 1,682 mm; ht 1,453 mm; wt 1,107 kg
Boot Length 699 ext to 1,371 mm; min width 950; volume 280 to 952 litres
Engine Petrol; 1.2; 4-cyl; 16v; 5-speed manual; stop-start; front wheel drive
Power 90PS @ 4,800 rpm; max torque 118 lbs ft @ 1,400-4,000 rpm
Pace 114 mph; 0-62 in 10.8 secs
MPG On test 53.9; official combined 60.1; tank 45 litres
CO2 107 g/km; tax band B; Annual VED Nil first yr then £20
Insurance Group 14E
Warranty 36 mths/60,000 miles; paint 36 mths; body 12 yrs; breakdown 12 mths
PRICE £14,360; as tested incl options (sat-nav, cruise; auto braking) £15,820
Website: www.volkswagen.co.uk