Kia Picanto 1.25 4 ISG road test report and review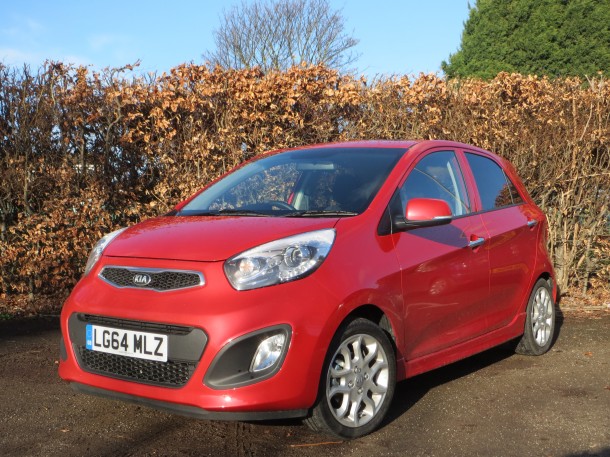 It may be small, but it's perfectly formed. DAVID HOOPER was surprised to find luxuries which are usually the preserve of larger, more expensive models.
AN electrically heated steering wheel, climate control air conditioning, heated seats… usually the preserve of high-end luxury saloons, so to find these luxuries in such an affordable car as this Kia Picanto is a rare treat.
It also clearly demonstrates how far some manufacturers are going to accommodate the downsizers, people going for economical small cars with low C02 emissions, rather than their more traditional choice of mid-range saloons and estates. It does make me wonder what effect the recent drop in the oil price and subsequent reduction in fuel costs will have, with some commentators wasting no time in predicting the return of the gas guzzler. We'll see.
A gas guzzler this little Pica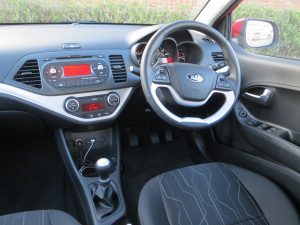 nto certainly isn't, but it is a lot more fun than I expected it would be to drive, proving itself to be engagingly nippy around town and fun to drive out of it, with its tiny 1.25cc engine being an impressively willing performer.
Those hell-bent on economy may prefer to go for the smaller 1.0-litre three-cylinder engine.
Our test car was fitted with the ISG stop start system which turns the engine off in traffic, helping to keep the CO2 emissions down and saving precious fuel. It is quite surprising just how much engine running time you can save in traffic jams in a busy town or city and although it may only be 10 or 20 seconds at a time at the most, it can quickly add up over a week, or a month, with the fuel savings soon totting up correspondingly.

Press the loud pedal and although it will never damage your hearing, as the revs climb the Picanto pulls well through the gears and is quite a lively little car.
It also handles well and offers ample grip and demonstrates good road manners, coping well with the increasing number of potholes that are appearing after the frosty winter weather has wreaked its usual havoc with our road surfaces.
The interior of the Kia Picanto is surprisingly comfortable, even after longer periods at the wheel, and with the heated seats any aches can be easily soothed away!
While the materials used may not be of the highest quality that you would find in some similarly sized models, they are more than passable and the car feels well put together with no rattles or squeaks in evidence.
The boot is what you'd expect in a car of this size, but there is room inside for up to five people and if the back seats Aren't needed they can be folded down to increase the boot space and the car's carrying capacity.
Quality is key for Kia and if you have any doubts about that, you only have to look at the warranty the company is prepared to offer on its products – seven years – which is still the best to be found anywhere in the industry. But it's even better than that, because the warranty can be transferred to subsequent owners which means that second, third or even fourth owners will have the benefit of a proper manufacturer backed warranty which can make the Picanto an even more attractive proposition as a used car on the second-hand market.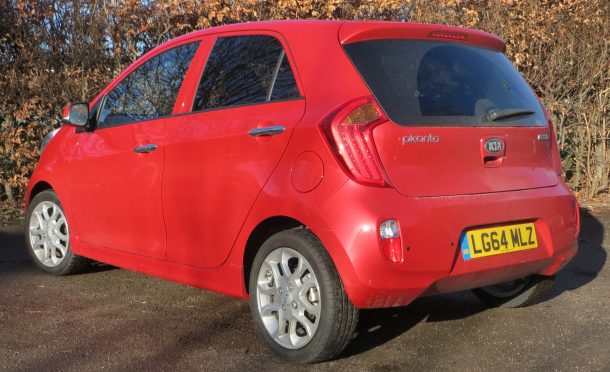 Rating:





THE VITAL STATISTICS
MODEL: Kia Picanto 1.25 4 ISG.
KIA PICANTO RANGE: From Picanto 1.0 1 (£8,1,45) to Quantum 1.25 auto (£12,595).
ENGINE: 1248cc, 84PS four-cylinder petrol engine, driving front wheels through 5-speed manual gearbox.
PERFORMANCE: Top speed 106mph. 0-62mph in 11.4 secs.
ECONOMY: City: 51.4mpg.
Country: 72.4mpg.
Combined: 62.8mpg.
CO2 EMISSIONS: 106g/km.
FUEL TANK: 35 litres.
PRICE: £12,095.
WARRANTY: Seven years/100,000 miles.
WEBSITE: www.kia.co.uk
• All data correct at time of publication.