Revamped, but unmistakeably a Polo
At first glance, the latest VW Polo doesn't look radically different. Motoring writer Keith Ward finds out if the Polo is still cool.
NOT much looks different at first sight of the new VW Polo, which arrived in UK showrooms this July.
Revised headlights and bigger lower air intake at the front, redesigned rear lights and that's about it. Unless you count six of the 10 alloy wheel designs and eight of the 15 body colours being new.
But under the bonnet and new to the model will be a complete seven-strong range of re-worked engines, some seen already in the little up! and latest Golf, giving up to 21 per cent improved mpg and CO2 emissions as low as a claimed class-leading 82g/km.
And there's a raft of techie toys and safety features cascading down from other VW models.  So it's a pleasant surprise to see prices up only slightly, starting at £11,100 for the new 1.0-litre petrol three-door in basic S trim, compared to £10,650 for the current 1.2 with a similar 60PS output.
More than ever the Polo resembles a downsized Golf.
"A small Golf is exactly what we had in mind", said Dr Heinz-Jakob Neusser, introducing the new Polo at its media launch in Austria, in Sound of Music territory.  He sits on the board of VW Brand Technical Development. "Many technologies in this car are carried over from the Golf".
Standard throughout an eventual  34-strong Polo range will be the automatic post-collision braking system, new to this segment, which operates on first impact to reduce the chance or effect of a second.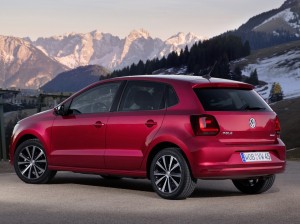 Extra cost options will include big-car gadgets such as driver alert, rear view camera, adaptive cruise control, electric glass sunroof and city emergency braking. Also a push-button stiffer suspension setting for a sportier feel.
There are six trim levels, from basic S to top BlueGT.  All versions get a DAB radio, USB socket and Bluetooth. The latest modular "infotainment" system has a colour touchscreen reacting to wiping movements, as on smartphones. A £150 option dubbed MirrorLink displays and controls approved Android smart phone apps on the screen – its first use in any VW.
The latest "Discover" sat-nav has a simple one-shot system enabling you to enter an address in a single line instead of scrolling through country, then city, then street.  As a first in this class, LED headlights will be available in the second half of 2014.
We tried what is expected to be the best-selling Polo — the 1.0-litre 60PS five-door in SE trim at £13,065.  It comes with air con, body-coloured door handles and electric mirrors, leather for the gear lever, handbrake and muli-function steering wheel, 15-inch alloys and a bigger 6.5-inch colour touchscreen in a pleasantly furnished cabin.
At its heart was the remarkable little three-cylinder 1.0-litre petrol engine, made by Skoda originally for the VW Group triplets — VW up!, Seat Mii and Skoda Citigo. It was impressively quiet and smooth on the flat, only starting to run out of breath on encountering the first Alpine slopes. The hills were alive with the sound of downward gearchanges from a convoy of Polos.
Nevertheless, it returned over 54mpg against its official combined figure of 60.1.  Next, a gruffer but livelier 1.4 diesel, priced from £15,745, was recording 72.4mpg against its official 83.1 figure.
Established virtues of the Polo remain, such as its divided rear seats which fold in two easy stages into a flat floor.  If not the roomiest interior, it's classy and comfortable.  These days assembled in VW Group plants in Spain and South Africa, it has sold 14m globally in its 38-year history, and 42,600 last year in the UK.
To come by the end of 2014: Two three-cylinder BlueMotion versions of the Polo – a 75 PS 1.4 diesel rated at a combined 91.1 mpg and ultra-low CO2 of 82 g/km. and a 95 PS 1.0 petrol. Plus a Polo GTI and a Polo Blue GT with cylinder deactivation.
And elsewhere in the VW range, both hybrid and all-electrical versions of the Golf and an all-new Passat, due in the autumn.
THE VITAL STATISTICS
MODEL: VW new Polo 1.0 SE 60PS BlueMotion five-door hatch.
BODY STYLE: Length 3,972mm; width 1,682mm; height 1,453mm; weight 1,055kg.
BOOT: Length 699mm ext to 1,371mm; volume 280 to 952 litres.
ENGINE: Petrol; three-cyl; 12-valve; 999 cc; five-speed manual; stop-start.
POWER: 60PS @ 5,000-6,000rpm; max torque 95Nm @ 3,000-4,000rpm.
PERFORMANCE: 100 mph; 0-62 in 15.5 seconds.
MPG: On test 54.3; official combined 60.1; tank 45 litres.
CO2: 106g/km; band B.
PRICE: £13,065;  Range £11,100 to £19,715.