Volvo V40 D2 SE Nav road test: Luxury and economy!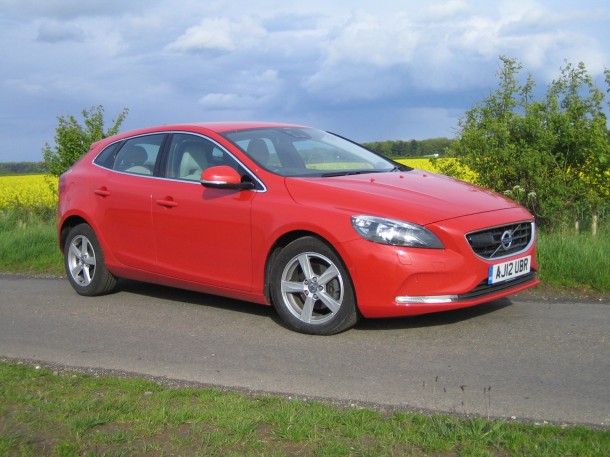 ROAD TEST REPORT AND REVIEW: VOLVO V40 D2 SE Nav: With more than 58 miles to the gallon in real world driving conditions, DAVID HOOPER says this Volvo V40 is as good as anything on the market at the moment.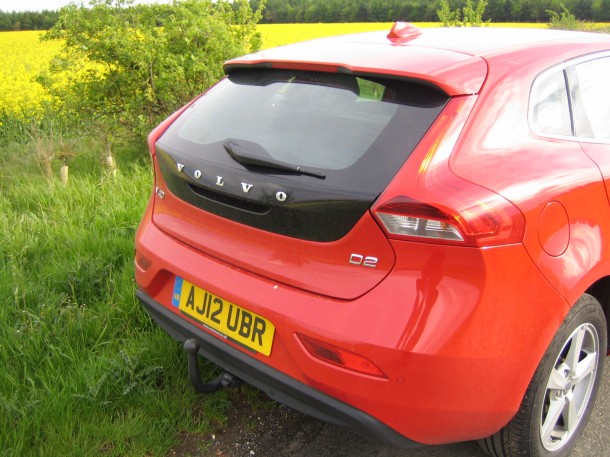 CAR design is a very subjective thing, some people will love the way a car looks, while others will hate it, but for me, Volvo's latest model range looks fantastic.
I have always been a fan of the brand. Its traditional chunky styling, solid build quality designed to withstand harsh Scandinavian winters, and enough buttons and dials inside the car to make you believe you were in the cockpit of an aircraft, rather than sitting behind the steering wheel of a car, have always hit the right spot with me.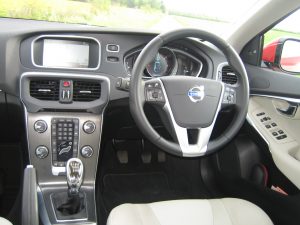 Volvo has also attracted an eclectic mix of fans, too, everything from the fabled antique dealer, to the police pursuit driver – all have utilised the Swedish carmaker's ability to build robust, reliable cars. The Volvo 850 estate even became a star of the country's race tracks for a while, when it raised a few eyebrows in the British Touring Car Championship.
Now though, the focus is on economy and this V40 model I've been driving is a match for just about anything I've tested so far, with the possible exception of the BMW 320i I reviewed a couple of weeks ago which was nearly as economical, but considerably more powerful than this week's test car.
This is the D2, with a 1.6-litre diesel engine. With only 115bhp, a top speed of 118mph and 0-62mph time of 11.7 seconds, it's not going to set the world on fire, but glance at the mpg figures Volvo claim for this car and you would be forgiven for thinking there were some misprints in front of you. 83.1mpg on the extra urban cycle, 70.6mpg around town and a combined figure of 78.5 miles per gallon overall, may seem unrealistic from a four-cylinder engined car with all the kit you could possibly want. We're not talking a light-weight three-door hatch with a three-pot engine.
While it is true that the way the official figures are obtained aren't really representative, during my test of this car, which over a heavy week on the road saw me tot up 800 miles, the car averaged 58.8mpg over that distance. Now I think that is excellent, because I made absolutely no effort over and above the way I normally drive to obtain a good mpg return. I just drove normally. Obviously, to do that number of miles in a week, there was a lot of motorway work, but I wasn't driving at 56mph, I was travelling at my normal motorways speeds, admittedly using the cruise control where I could, but I do that anyway.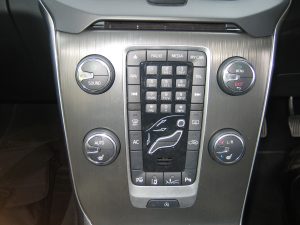 Impressive stuff – even more so when you consider that, with a C02 emissions figure of just 94g/km, you won't have to pay any road tax either, so the V40 in this guise makes a compelling argument for a company car buyer.
In one day alone, I notched up over 400 miles, which demonstrated another of Volvo's talents – building comfortable seats. Despite spending far too many hours at the wheel, neither me or my travelling companion were uncomfortable, achy or seized up when we reached our destination, which is another testament to Volvo's design and safety credentials.
The ride quality was excellent, and although on paper this isn't a quick car, it can still make good progress when driven properly and overtakes are done with a degree of planning.
The interior of the V40 is as smart as any you will find. It feels classier and more upmarket than a Ford Focus or a Vauxhall Astra in my view.
My test car came with the Driver's Support Pack, a £1,850 option which adds the City Safe system to help prevent low speed collisions by intervening and applying the brakes. It will also flash red lights and beep at you if it thinks you are about to crash, which was a bit disconcerting as I accelerated off a roundabout, letting the car drift across into the second lane and the system thought I was about to hit the car I was passing. It was all to do with the angles, but better safe than sorry, I suppose.
The car's well screwed together, and my test car's attractive mix of cream upholstery and door panels contrasted nicely with the black dash and door cappings, while the floating centre console, finished in a smart brushed aluminium looking plastic, really set it off.
The electric driver's seat with memory settings was a nice option, but I'm not sure I'd fork out £600 for it, and I didn't use the Park Assist Pilot, which costs £850, but can park the car for you.
The V40 not only looks great, it drives well, and in this D2 SE guise, is as good as anything on the market at the moment. If I were looking to buy a new car in this class, it would be very near the top of my shopping list, I can promise you.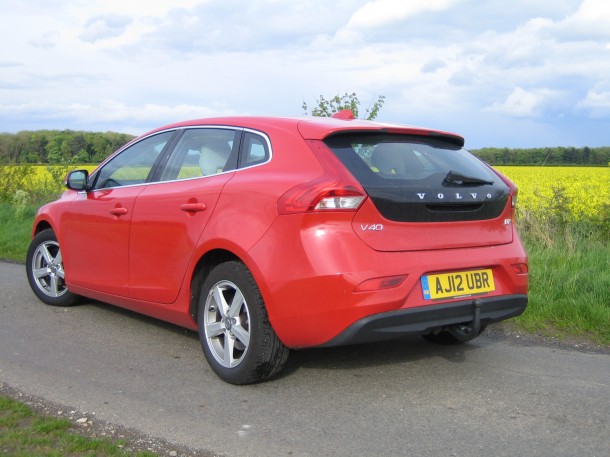 CLICK HERE and "Like" our Facebook page for regular updates and follow us on Twitter
Rating:





THE VITAL STATISTICS
MODEL: VOLVO V40 D2 SE Nav.
VOLVO V40 RANGE: From D2 ES 5dr (£19,995) to T5 Cross Country Lux Geartronic 5dr (£33,875).
ENGINE: 1560cc, 115bhp four-cylinder diesel engine, driving front wheels through 6-speed manual gearbox.
PERFORMANCE: Top speed 118mph. 0-62mph in 11.7 secs.
ECONOMY: City: 70.6mpg.
Country: 83.1mpg.
Combined: 78.5mpg.
Fuel tank: 52 litres.
CO2 EMISSIONS: 94g/km.
INSURANCE: Group n/a
PRICE: £22,545.
WARRANTY: 3 years/60,000 miles
WEBSITE: www.volvo.co.uk
• All data correct at time of publication.