Subaru BRZ road test: Proper fun, rear drive sports car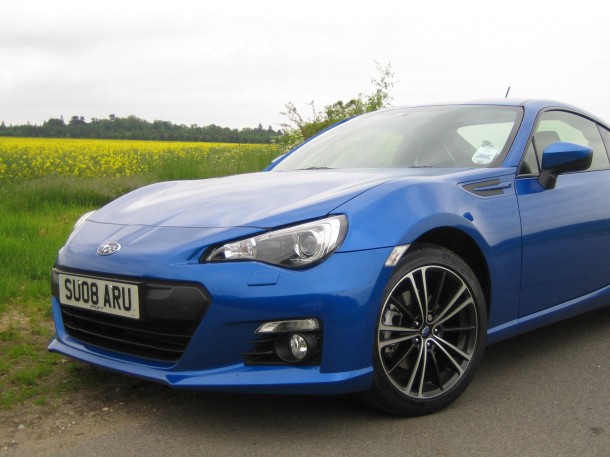 ROAD TEST REPORT AND REVIEW: Subaru BRZ SE Lux – With improved supply in the UK and new performance upgrades on the way, DAVID HOOPER drives the stunning Subaru BRZ.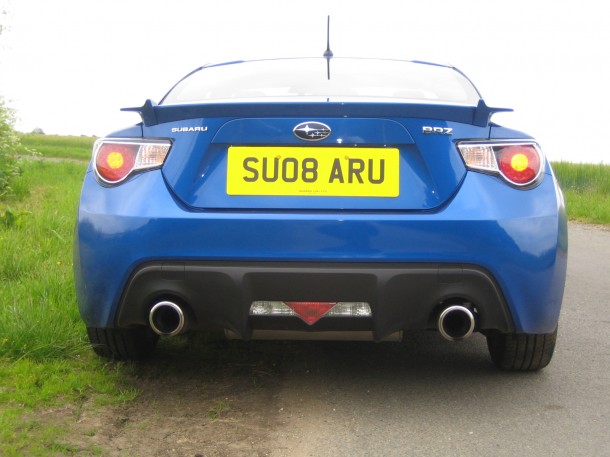 SUBARU has something of a reputation for building desirable performance cars, and the stunning new BRZ is no exception.
Our Subaru BRZ road test model, very different to the high-powered Imprezas, is a sister car to the Toyota GT86, is proved so popular that Subaru UK has had to increase its quota of cars to meet the demand for it in the UK.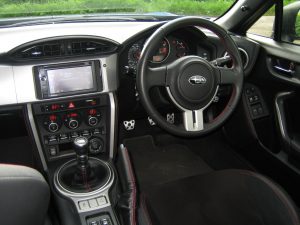 The company has also announced a number of Subaru UK-approved BRZ performance, handling and styling modifications, courtesy of Pro-R, which will soon be available for the UK market through the dealer network.
The BRZ was launched in spring of 2012 and its limited initial supply meant high levels of demand from British buyers couldn't be met by the brand's Gunma factory in Ota-city, Japan.
In most cases, buyers will now be able to take delivery of a new BRZ within two to six weeks of placing an order, depending on final spec and colour choice – and who wouldn't want one?
Not only does it look fantastic, but with a starting price of less than £25,000 for the standard car, I believe it represents incredible value for money. An automatic version is also available.
My road test car arrived sporting the iconic Subaru blue paintwork on the outside, while inside, a 6.1in touchscreen incorporating sat nav, Bluetooth and a nice audio system meant I was about to have a good time with this car.
With its sportingly sleek coupe styling and contoured bodywork, the Subaru BRZ really looks the part – and that's before you have a look around the back and find two large bean can exhausts, an aero-dynamic rear splitter and a boot-mounted spoiler.
For such a stylish car, I thought initially that the interior design was a something of a disappointment. with little to catch your eye, and the orange illumination on the dials makes it look quite old-fashioned, but it's all there. Climate control, cruise control, heated seats an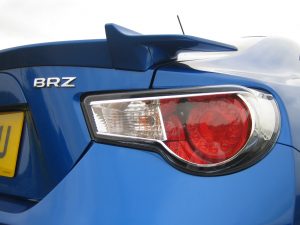 d so on.
After living with the car for a while though, I just accepted it for what it is – and it is a driver's car.
Under the bonnet is 2.0-litre four-cylinder engine, but in the Boxer, horizontally-opposed layout shared with its sister car, the Toyota GT86 which is almost its identical twin!
Producing just shy of 200bhp, the benchmark 0-62mph sprint is despatched in a reasonable 7.6 seconds and there's a potential top speed of 140mph – and all without a turbocharger in sight.
Not the quickest sports car on the market off the line maybe, but it's no slouch, and once it's up and running it is hugely involving to drive.
With the maximum torque of 151lb ft  being found above 6,400rpm, and the maximum power coming on stream at 7,000rpm, the BRZ is quite lazy and sedate at low speeds and it needs to be revved hard to tap into its true performance potential. Do this and it flies, with a red light at the top of the speedo flashing vigorously prompting the driver to change up before hitting the rev limiter. The precise gear change is a delight, and the engine note addictive.
The comfortable suspension set-up employs MacPherson struts at the front, and double wishbones at the rear. In true sports car style,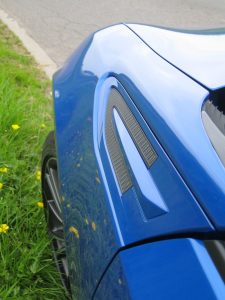 power is transmitted to the rear wheels, which leaves the front pair to do the steering without being corrupted by the engine's torque trying to pull them in different directions. The result is precise steering, firmly weighted in the BRZ, which responds to the driver's inputs at the wheel with commendable accuracy.
The Subaru BRZ can be a bit tail happy on wet roundabouts for example, but the two-stage traction and stability control keeps the back end in check. Turn off the first phase, and it allows the driver a bit more freedom to explore the car's limits before the safety systems will intervene. This made the BRZ much more entertaining, allowing me to balance it on the throttle, right on the edge of the available grip, making the rear end of the car tuck in nicely on the exit of corners.
The flat four boxer engine gives the BRZ a low centre of gravity, and on dry roads you can really exploit its excellent handling characteristics. The bottom line is, it's fun to drive in any conditions!
On the motorway, I saw an average of 39mpg on its trip computer, and it averaged 36.4mpg over a distance of some 500 miles, so it's not too thirsty to live with.
The Subaru BRZ is really a 2+2 – there is room for four inside, just, with a modest boot at the back.
It comes with a five-year, 100,000 mile warranty as standard for added piece of mind and I think the BRZ offers good value for money for those looking for a proper, rear-wheel-drive sports car which is also very affordable.
It's also that bit rarer than the Toyota GT86 and therefore a tad more exclusive!
CLICK HERE and "Like" our Facebook page for regular updates and follow us on Twitter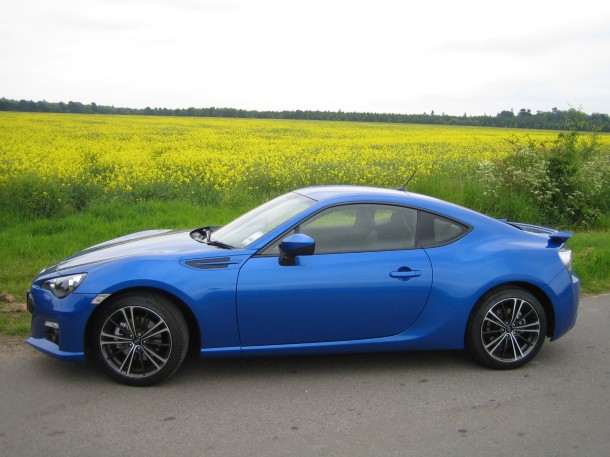 Rating:





THE VITAL STATISTICS
MODEL: Subaru BRZ SE Lux.
SUBARU BRZ RANGE: From 2.0i SE 2dr (£24,995) to 2.0i SE Lux Auto 2dr (£27,995).
ENGINE: 1998cc, 197bhp four-cylinder petrol engine, driving rear wheels through 6-speed manual gearbox.
PERFORMANCE: Top speed 140mph. 0-62mph in 7.6 secs.
ECONOMY: City: 27.2mpg.
Country: 44.1mpg.
Combined: 36.2mpg.
Fuel tank: 50 litres.
CO2 EMISSIONS: 181g/km.
INSURANCE: Group 31.
PRICE: £26,495.
WARRANTY: 5 years/100,000 miles.
WEBSITE: www.subaru.co.uk
• All data correct at time of publication.