Porsche Boxster road test reveals its hidden talents in a traffic jam!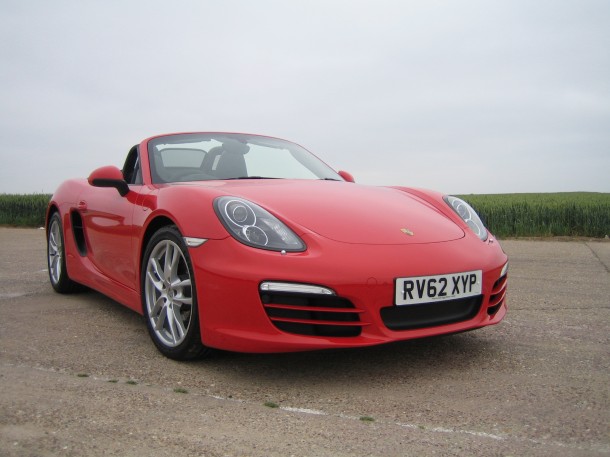 ROAD TEST REPORT AND REVIEW: Porsche Boxster 2.7 manual – Sitting in a traffic jam revealed one of the Boxster's more unlikely talents – fuel economy. DAVID HOOPER explains.
SITTING in a traffic jam on a nice sunny day with the top down during my Porsche Boxster road test may not have been ideal – but it could have been worse!
But it got me thinking – how many people realise that if you buy a Porsche today, it comes with Stop/Start technology, just like the greenest of cars you can buy. Take the car out of gear and your foot off the clutch, and the engine cuts out, restarting the instant the clutch pedal is pressed again ready to move off.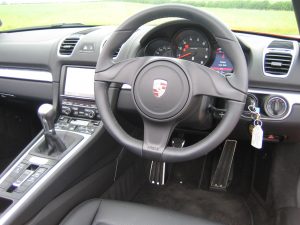 Every little helps, as they say, but this entry-level Boxster still has a C02 emissions figure of 192g/km, but turning the straight six engine off when the car is stationary does help it to achieve respectable miles per gallon figures – so long as you drive it gently.
On a return trip across the country to Chester, I achieved 35mpg one way, and 37.5mpg the other driving at steady motorway speeds. A cruise control system may have helped to improve this still further, but for a car with 265bhp on tap, a 0-62mph time of 5.8 seconds and a top speed in excess of 160mph, it's really not too shabby.
Tap into that performance, however, and the mpg average tumbles to well below 20mpg, which at today's prices can be a bit scary, but then if you afford to spend the best part of £50k on a car, the chances are that you won't care much about the cost of a gallon.
The Boxster is one of my all-time favourite cars and this latest model has become much more angular – and looks all the better for it, in my opinion. On the road it's beautifully balanced, makes a wonderful noise – especially when you activate the sports exhaust system which comes as a £1,473 option. It burbles away on the over-run as the car slows down – and is simply a delight to drive – although the clutch can be a bit heavy in traffic!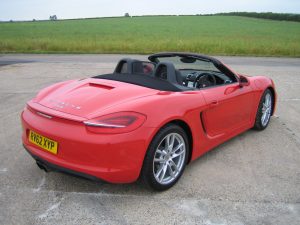 Pressing one button will fold the roof up or down, an operation which can be done with the car on the move at low speeds, and opens up the world of proper sports car driving.
Driving a Porsche attracts an "interesting" mix of behaviours and I reckon I must have experienced the lot this week. First, you get the people who want to race you, or will overtake you and then drive at the same speed in front – just so they can tell their mates that they have overtaken a Porsche. Not that I cared. If I had, they wouldn't have overtaken a Porsche!
Then there are those who shout comments at you. The boy racers gathered in a group, I wonder what the collective noun for them might be? No matter, they thought the car was "boring" compared to their lowered and body-kit bedecked Saxos. Really?
Then there was the lorry driver who peered down from his cab to discuss the merits of the Boxster at the traffic lights from his lofty position many feet above me. At least he had a better view than me, I told him.
Then there were those less agreeable drivers who decided I was a "posing b*****d" and a "chav" despite the obvious lack of a back-to-front baseball cap. There were also a couple of other choice descriptions which are unprintable.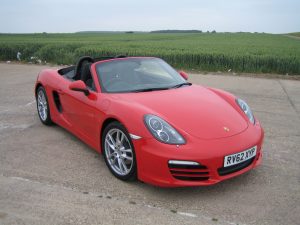 All, I would say are untrue, but to be honest, I really don't care. I was happy, with my shades on and I certainly improved my tan during my few days with the car which coincided with one of the best weeks of the year so far – which was a real bonus for me as it usually rains when I've got a convertible on test.
This Boxster costs £38,237, but naturally, my test car featured a few choice extras like the 19in Boxster S alloys which cost nearly £1,000, the Sports Exhaust system which costs £1,473, and the £2,141 Porsche Communication Management System which adds sat nav, Bluetooth telephone connectivity and iPod control.
It's surprisingly practical, too, with plenty of space under the bonnet, which amazed my nephews when they asked to see the engine. Much fun! They were even more confused when they looked in the boot, declaring it a "magic car".
I wouldn't really disagree with that. As usual when I test a Porsche, I didn't want to hand it back, but when it was time for it to go, my bank card breathed a sigh of relief – even this standard car has quite a drinking habit when you "enjoy" its performance.
With sharper styling, better economy and that near perfect Porsche driving experience, the Boxster remains one of the best cars you can buy – at any price.
CLICK HERE and "Like" our Facebook page for regular updates and follow us on Twitter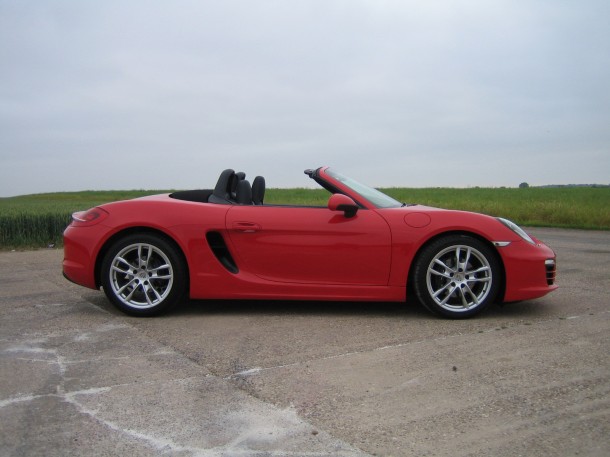 Rating:






THE VITAL STATISTICS
MODEL: Porsche Boxster.
PORSCHE BOXSTER RANGE: From 2.7 litre (£38,237) to 2.7 litre PDK (£40,159).
ENGINE: 2,706cc, 265bhp six-cylinder petrol  engine, driving rear wheels through 6-speed manual gearbox.
PERFORMANCE: Top speed 164mph. 0-62mph in 5.8 secs.
ECONOMY: City: 25.0 mpg.
Country: 45.0 mpg.
Combined: 34.4 mpg.
Fuel tank: 64 litres.
CO2 EMISSIONS: 192g/km.
PRICE: £38,237 (£47,045 as tested).
WARRANTY: 3 years/Unlimited miles.
WEBSITE: www.porsche.co.uk
• All data correct at time of publication.