Volt interest meter hits 2,500 potential customers
ROAD TEST REPORT AND REVIEW: Chevrolet Volt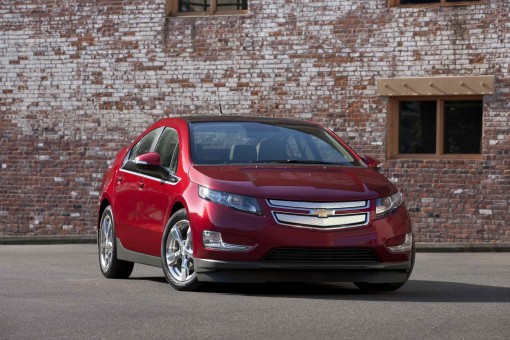 As Chevrolet surges onto the electric car scene, KEITH WARD has a look at its new Volt.
According to Chevrolet, around 2,500 UK motorists have expressed "interest", as distinct from placing orders, in their new electric Volt.
However, with only about three dozen launch cars in the country at the moment and with only two specialist sales dealers yet appointed, in Cambridge and Wimbledon, it is going to be a slow build-up.
Promised eventually is a national network of  28 technically equipped and trained service dealers with a ferrying facility to get your car to and from.
The Volt arrives here garlanded with awards but burdened, like its recently launched GM sibling the Vauxhall Ampera, with a huge price tag. The North American Car of the Year, 2011 Green Car of the Year, World Green Car and European Car of the Year, roughly the size of a five-door Astra, costs £29,545.  And that is after deducting the £5,000 grant for electric vehicles currently awarded by the UK government, and subject to review by 2015.
In only one trim, it equates to the most basic of the three Ampera choices, itself not due he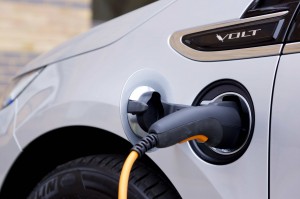 re until later this year.
The Volt and Ampera come down the same General Motors assembly line in Detroit, built in right hand drive form for the UK. These are the plug-in twins from Motown, USA. Identical under the skin, they differ only in dress – grille, headlights, tail lights, bonnet badge of course, and cabin furnishing.
The interior of the Volt, with its black leather seats (four only, set around the central spine of the concealed T-shaped battery) and a tall, gleaming-white central control pillar, is certainly snazzy compared to the sombre Ampera.
This is not a hybrid. Under the skin, as well as the heavy lithium-ion battery, are two motors: A 150 PS electric traction motor or "master engine" which powers the front wheels at all times through a planetary auto gearbox. And a "range extender" unit:  A generator which doubles as a 73PS electric motor and, as back-up, a 1.4-litre, 86 PS petrol "slave" engine,  to drive the generator.
Volt and Ampera sport the same razzmatazz dashboard layout, pure Las Vegas. Two multi-coloured, seven-inch touch-screens are aglow with a constantly moving display of graphics, numbers and diagrams as you drive along, an avalanche of information. For maximum efficiency, you keep a rotating coloured ball balanced halfway up a tube, akin to a performing seal. If you can be fined for munching an apple at the wheel, what price visually imbibing this statistical feast ?
The Volt drives smoothly and almost silently, with a fair enough spring in its step to match some GT models. There's a choice of four driving style settings. While the Ampera suspension has been Europeanised, the V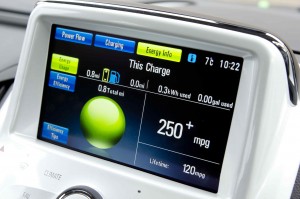 olt's remains a softer-sprung US spec. Most noise comes from the tyres. The weight of that 198kg battery, being so low-slung, seems not to affect handling. Fully charged from plugging into your household supply overnight or workplace by day, it has a claimed "typical commuting" range of 25 to 50 miles.
Pennine hills would be more of a drain. On the flatlands around Cambridge chosen by Chevrolet for its debut, our Volt managed 32.1 miles, having used 10.3 kWh (these statistics get to you) before calling upon its "slave" petrol engine to generate back-up power.  The switch-over could have passed unnoticed but for the tell-tale dashboard graphics, which promised an extended range of 291 miles.
In its lifetime the Volt's computer was claiming an average 131 miles travelled for every gallon of back-up petrol called upon. Not quite the same as 131 mpg on petrol alone. The realistic figure in our car was around 40 mpg, so inferior to the latest conventional eco-tuned cars.
The Ampera, earmarked for Europe, targets 5,000 annual UK sales; the Volt 500. But globally the Volt, destined for the rest of the world, aims for 50,000, which would outsell the Ampera by around five to one. All that must be set against a recent report that in 2011 fewer than 50,000 battery electric vehicles were sold in the world, equivalent to a market share of just 0.1 per cent.
Rating:






THE VITAL STATISTICS
Model: Chevrolet Volt with permanent electric propulsion
Body: Five-door hatch; four seats; cargo space 310 to 1,005 litres
Size: Length 4,498 mm; width 2,126; ht 1,439; kerb wt 1,732 kg
Power: 16 KWh lithium-ion battery; electric traction motor; generator driven with backup from a 1.4-litre, 86 PS petrol engine.
Output: 150 PS; torque 370 Nm
Pace: 99 mph; 0-60 in 8.7 secs
CO2: 27 g/km; VED nil; BIK 5% rising to 13% in 2015
Wheels: 17-inch; low rolling resistance tyres
Warranty: On the battery 8 years/100,000 miles
PRICE: £29,545 (after deducting £5,000 government grant)