Superb estate swallows mountain bikes whole!
ROAD TEST REPORT AND REVIEW: Skoda Superb Estate 2.0 TDI 4×4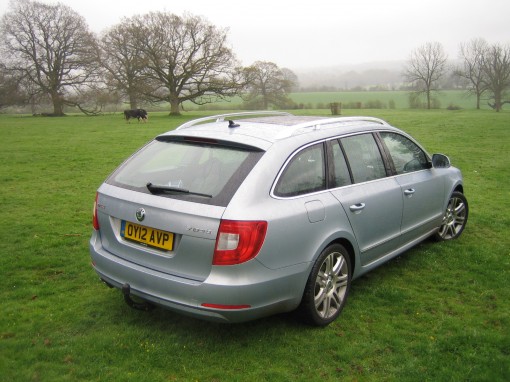 With cavernous amounts of space, Skoda's Superb Estate is a useful addition to any family on the go. Motoring Journalist DAVID HOOPER, editor of wheelworldreviews.co.uk, is impressed with its refined practicality.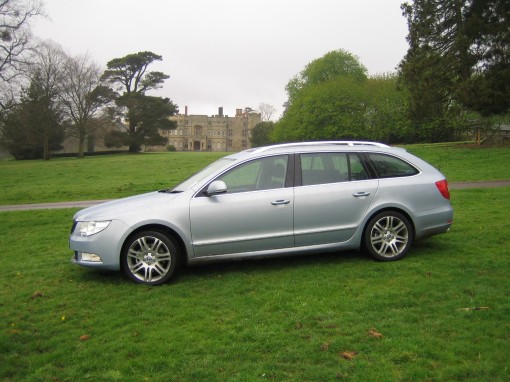 ONCE upon a time, if you wanted a bit more space than your family saloon or hatchback could provide, you would buy an estate car.
The choice was simple and load carrying versions of popular family cars were often no more than an elongated roof section rather unceremoniously tacked onto the back of a hatchback (think Renault Laguna).
They weren't always pretty, but they were reasonably effective – and spacious.
But then the designers got their teeth into the subject of estate cars and before very long they were becoming mobile demonstrations of form over function, with designer tailgates, angled rear windows – and crucially, less interior space.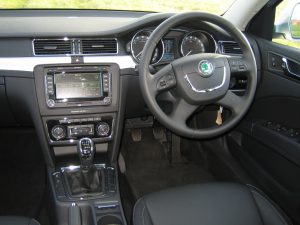 They were also given trendy names to add to their appeal. Audi went with Avant, others opted for Sports Tourers, Sports Wagons, Station Wagons and so on.
Good looking they may be, but practical? In truth, some were more so than others, but try sticking an old wardrobe in the back and few but the big old Volvo, the antique dealers' weapon of choice, could carry off the goods in its wide, flat load area.
Today, there are few "proper" estate cars on the market, but Skoda's gargantuan, yet unpretentious Superb estate offers more room than most. With the rear seats in place, there is a generously large boot, but fold them down, which is done quickly and easily, and a six-footer could easily sleep in the back of the car if the rain got too heavy for camping during the drought season!
If any car should carry the "versatile" tag, it should be this one. With stylish rails running the length of the elongated roof, it's easy to attach a roof rack bike carrier, but then you have to risk spraining your spring to lift said bikes onto the roof rack.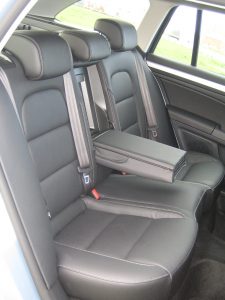 We found the rear seats of our test car becoming unexpectedly redundant when our teenage son decided he would not be joining us on a family trip away, so rather than pay the fuel consumption penalty of having a bike carrier which acts like a wind break stuck to the roof, we decided to see if they would fit inside the car.
So with the rear seats folded down and some protective covers in place, we carefully slid a full-size mountain bike into the back of the car. It swallowed it whole, without requiring the removal of front wheels or lowering of saddles. A second quickly followed, carefully positioned on top, then a large suitcase, assorted helmets, puncture kits and stirrup pumps.
It was easy. We virtually chucked everything in and off we went.
Up front we were treated to all the mod cons, air conditioning, sat-nav, heated leather seats, a comfortable driving position and impressive fuel economy of around 45mpg, despite the fact that this was the 4×4 version of the Superb estate, with its off-roading ability providing reassurance on roads which at times resembled rivers due to the heavy rain.
Another bonus of having a large estate car meant that the bikes weren't exposed to the elements any more than they had to be.
At our destination, with the bikes securely locked in a shed, the car quickly converted back into a luxury estate, with so much room in the back that you almost needed walkie talkies to communicate with your rear-seat passengers.
Yet, despite its spacious interior proportions, the Skoda Superb isn't a difficult car to drive. It's seems to almost mould itself around you and doesn't feel too big, even on narrow country roads.
With the help of parking sensors and a rear view camera, manoeuvring and parking is simplicity itself – in fact, there is very little to dislike about this car.
Practicality personified, it does everything well – and won't cost the earth to buy or run. With prices starting from just under £19,000, it represents tremendous value for money.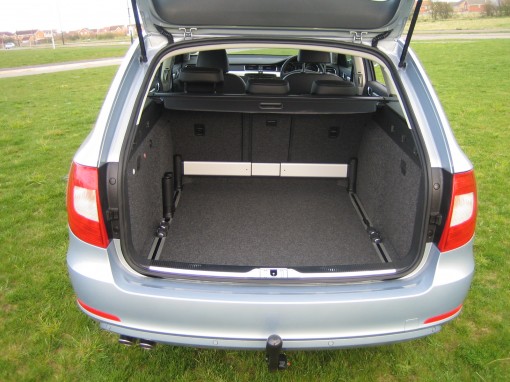 Rating:






THE VITAL STATISTICS
MODEL: Elegance 2.0 TDI CR 4×4 5dr.
SKODA SUPERB ESTATE RANGE: From S 1.4 TSI 5dr (£18,915) to Elegance 3.6 V6 4×4 5dr (£30,910).
ENGINE: 1968cc, 170bhp four-cylinder engine, driving four wheels through 6-speed manual gearbox.
PERFORMANCE: Top speed 135mph.
0-62mph in 9.1 secs.
ECONOMY: City: 35.3mpg.
Country: 53.3mpg.
Combined: 44.8mpg.
Fuel tank: 60 litres.
CO2 EMISSIONS: 165g/km.
INSURANCE: Group 22.
PRICE: £27,475.
WARRANTY: 3 years/60,000 miles.
WEBSITE: www.skoda.co.uk
• All data correct at time of publication.
CLICK HERE and "Like" our Facebook page for regular updates and follow us on Twitter