Mazda CX-5 SKYACTIV 'makes good all-rounder'
Mazda CX-5 road test and review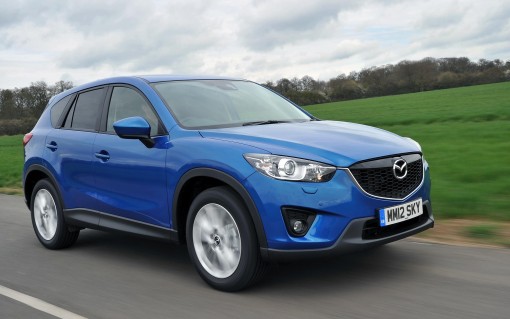 TOM SCANLAN tests three versions of Mazda's all-new compact crossover, the Mazda CX-5 SKYACTIV
Mazda's CX-5 is a good all-rounder – whichever version you fancy.
There are two 2.2-litre diesel engines, a150PS and a 175 PS; and a 165 PS 2-litre petrol engine.
There is a manual and an automatic, and two and four-wheel-drive versions; also various equipment specifications; in all, there are 18 versions to choose from. But what about 'SKYACTIV'?
This nomenclature refers to Mazda's brand-new development of various technologies that all add up to improved fuel-efficiency and exhaust emissions. Briefly, the three key areas, in Mazda's own words are: 'sophisticated lightweight chassis technology, advanced engines with world-beating compression ratios and highly-efficient six-speed manual and automatic transmissions'. 'World-beating' compression ratios: a clever idea, both diesel and petrol engines are at 14:1 (low for diesels, high for petrol combustion). This helps in production costs and the high compression for petrol assists on the CX-5's unique, quick and smooth stop-start system (i-Stop).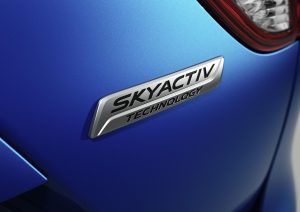 Fuel consumption is good on all models with official combined cycle fuel consumption figures as high as 61.4mpg in the 2.2 150PS manuals; the petrol version's figure is 47.1 mpg. I wasn't able to check these figures, but the trip computer in the petrol test car recorded an overall 39mpg on my drive and 43mpg in the auto 150PS diesel (official 53.3 mpg). These returns, if accurate, were quite good for the driving and traffic conditions.
Mazda is keen to point out that there is none of the compromise against driving enjoyment that can accompany the drive for high efficiency in the economy sense, and that the CX-5 is still a car that is dynamic and fun to drive.
I would agree. The test routes in northern Scotland provided a chance to experience the car's straight-line performance and its handling of some very beautiful up-and-down and twisty roads.
It handled the lot with aplomb.
The steering is precise and nicely-weighted, the ride is comfortable and both types of gearbox were a pleasure to use. Mazda aimed to make the CX-5 manual gear-change up to the high standard of their sporty MX-5's and I reckon they've pretty well done it. It is quick and accurate.
The automatic is smooth and its manual mode (no paddles, by the way) could be useful in some conditions as an alternative.
While the 175PS diesel is of course noticeably livelier than the 150PS, enabling the car to reach 62mph in 8.8 seconds in the Sport manual version (9.4 seconds for the auto), the lower-powered unit will be brisk-enough for most drivers; the slowest of these gets to 62 mph in 10 seconds. There is, too, the usual pulling power at low revs that is the hallmark of diesel engines. It all adds up to a smooth flexibility that is part of the attraction of the CX-5.
The braking was well up to the mark.
The cars were all quiet and it was impossible to feel any less refinement in the diesel-engined cars measured against the petrol version; in fact, in some circumstances, the petrol car seemed slightly noisier.
The interior of these all-new Mazdas is impressive. The quality of materials seems high and their variety has resulted in a smart, if a touch dark and sombre, cabin.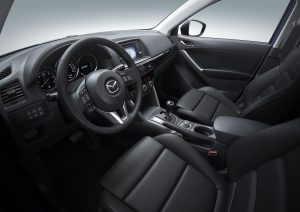 The seats proved to be very comfortable; I was not the slightest bit stiff after sitting in the car for reasonably long stretches. Standard equipment includes dual-zone air-conditioning, integrated Bluetooth, cruise control and Mazda's Multimedia Commander (for selecting anything under the IT umbrella. Also amongst the standard features is automatic braking at speeds up to 19 mph; Mazda call this 'Smart City Brake Support' and it operates should the driver fail to spot an emergency situation in time.
The cars were equipped with a good TomTom-based satellite navigation system. For an initial period, this will be a free addition on new cars, before eventually being a feature costing extra. A point worth making about most satnavs, not just this one in the Mazda, concerns their day time/night-time lighting: if you want to use your headlights during the day, the screen goes dark so that you can't make out what's on it. If you manage to fiddle about and find the night-time setting – which is dangerous while driving – then that setting becomes far too bright if kept on after dark. It would be a real boon if a simple on-screen button was ever-present to deal with this.
Mazda says that diesels will account for 85% of sales and manuals will outsell autos by 73/27%.
Prices start at £21,395 for the 2.0 SE-L petrol version and range up to £28,795 for the 2.2 Sport Nav Auto 175ps. The all-important running costs stand up well against the competition, and beat many of them, according to Mazda's figures, including residual values after three years. Emissions range from 119g/km to 144g/km keeping the annual road tax to low levels for this type of car. Insurance rates from 17E to 23E.
Put on the spot, I'd go for the 150PS diesel manual.