Big cat has more toys than Blackpool pleasure beach!
ROAD TEST REPORT AND REVIEW: JAGUAR XF S 3.0D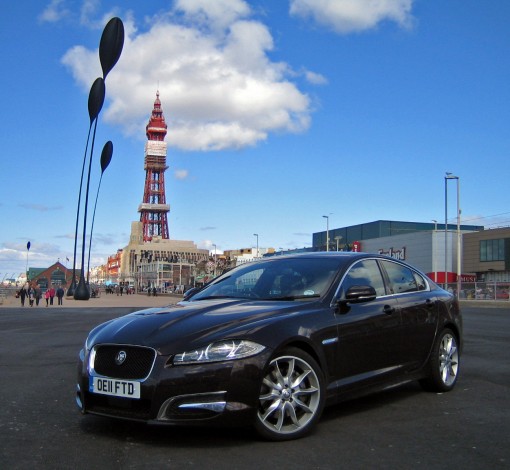 Packed with more attractions than Blackpool's Pleasure Beach, DAVID HOOPER says Jaguar's XFS is a superb all-rounder which proved to be surprisingly economical.
IF you think big, powerful cars are thirsty, then think again. They don't come very much bigger than this Jaguar XF, yet on a trip to Blackpool for the Northern Group of Motoring Writers' annual dinner weekend, its trip computer reported an average fuel consumption of 44.2mpg.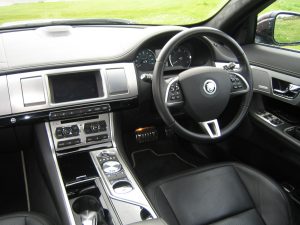 At first glance, this may not appear to be anything out of the ordinary these days, but to put it into some kind of perspective, a Fiat 500 TwinAir I tested recently on a motorway trip to the opposite end of the country, only managed to return 44mpg on average, and it only has two cylinders, four less than this Jaguar, and is supposed to be super-economical.
Two completely different cars costing vastly different amounts of money, but it's a good illustration of just how economical the Jaguar is. A less powerful 2.2-litre diesel has recently joined the range and should be particularly attractive to company car or fleet drivers.
To achieve that figure, I didn't drive it gently at all, in fact, I probably drove it more quickly than most cars, as I set off later than planned.
Proof then, if proof were needed, that big engines can be highly economical. The engine in this particular car is Jaguar's latest 3.0-litre diesel. It packs a 275PS punch and has 442N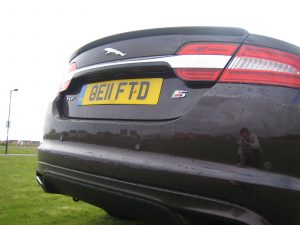 m torque, a top speed limited to 155mph and will get from rest to the benchmark 62mph in just 5.9 seconds.
Those are impressive figures even by hot-hatch standards, but the big XF is just about as refined as they come. It cruises almost silently on the motorway, cosseting up to five occupants in big, comfy seats, while soaking up even the most severe indiscretions of the road surfaces with hardly a rumble.
It's an effortless car to drive and would make a fantastic long-distance cruiser, whether you're travelling up and down the UK's congested roads, or making longer, cross-Europe trips to ski resorts or summer holiday destinations in the south of France, perhaps.
Its eight-speed gearbox shifts almost seamlessly up and down the gears, although paddles on the back of the steering wheel allow the driver to take charge should they wish to. Choosing "Sport" mode on the gear selector which rises out of the centre console, sharpens up the big cat's responses slightly, most notably adjusting the gearbox so that it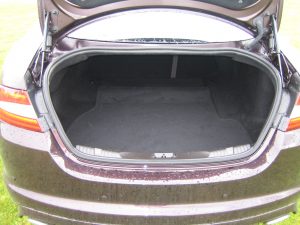 hangs onto gears a bit longer, and downshifts earlier, giving the car a more sporting feel.
In this mode, when you want or need to press on, the car feels impressively agile, despite its size, and although it's not as nimble as a hot-hatch through the bends, it certainly wouldn't be far behind.
In reality, the XF is more about luxury than out-and-out performance, and in this area, it excels, especially in the top level Portfolio spec of this test car. I still love the pulsing red start button and rotating air vents, and this XF was equipped with adaptive cruise control, which "sees" cars in front of you and slows you down as you catch them up on the motorway, A roads, or even in town. When the vehicle moves out of the way, the Jag will accelerate back to its preset speed. It's a great system, but an expensive toy at £1,275.
Another great toy, especially if you get stuck in a long motorway jam, is 7in TV, complete with digital channels, which you can listen to via the car's Bowers and Wilkins 1200W sound system which includes an incredible 17 speakers and a subwoofer. It sounds amazing, whether you are listening to your favourite TV programme or music tracks.
With space for five, the XF is a brilliant all-rounder that stands out from its German rivals as something a bit different, yet in my book, is just as good to drive and to live with.
Rating: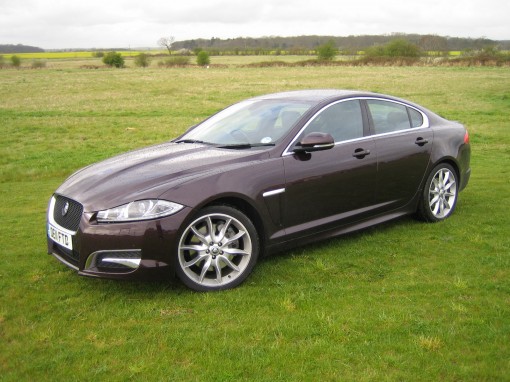 THE VITAL STATISTICS
MODEL: Jaguar XF S 3.0 diesel Portfolio.
JAGUAR XF RANGE: From 2.2 Diesel SE (163ps) 4dr (£29,950) to 5.0 V8 Portfolio 4dr (£52,100).
ENGINE: 2993cc, V6 275PS four-cylinder engine, driving rear wheels through 8-speed auto gearbox.
PERFORMANCE: Top speed 155mph.
0-62mph in 5.9 secs.
ECONOMY: City: 32.5mpg.
Country: 56.5mpg.
Combined: 44.8mpg.
Fuel tank: 69.5 litres.
CO2 EMISSIONS: 169g/km.
INSURANCE: Group 45.
PRICE: £49,100.
WARRANTY: 3 years/Unlimited mileage.
WEBSITE: www.jaguar.co.uk
• All data correct at time of publication.
CLICK HERE and "Like" our Facebook page for regular updates and follow us on Twitter