Beautiful Giulietta boasts classic Alfa Romeo styling
ROAD TEST REPORT AND REVIEW: Alfa Romeo Giulietta Veloce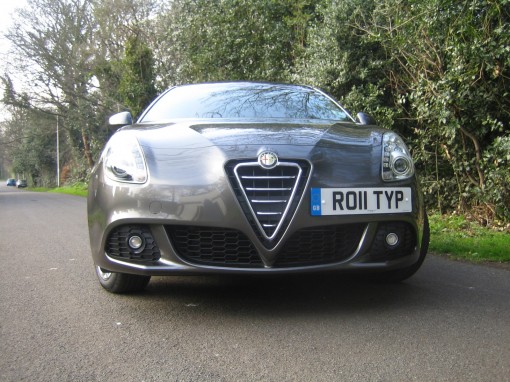 With gorgeous, curvy styling DAVID HOOPER says the Alfa Romeo Giulietta is one of the best looking hatchbacks on sale today.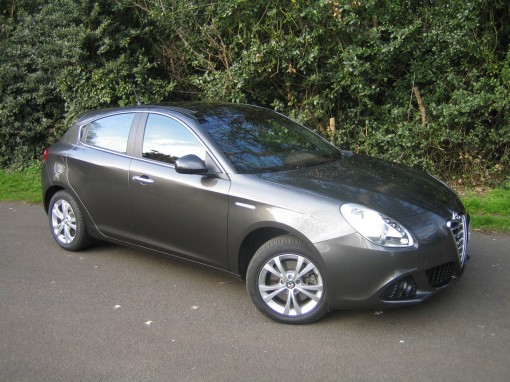 THERE'S no denying that Alfa Romeo make some beautiful cars. It's only a five-door hatchback, but the Giulietta is a real stunner.
With hardly a straight panel in sight and with the back door handles cleverly concealed in the rear windows to give the car a coupe look, this masterpiece of style makes its rivals look very old hat. Italian styling at its best!
Open the door of this week's test car and you are met by sumptuous tan leather upholstery, or natural woven leather as the brochures call it, which contrasts perfectly with the Anthracite Grey paintwork, which continues across the dashboard with a colour-coded panel.

The interior has modern, clean, uncluttered lines, yet all the equipment you need is there and is intuitive to find your way around. I particularly liked what Alfa have done with the controls for the air conditioning. Controlled by three large dials, it's similar to those used in numerous other cars, but somehow, just better.
This car is the Veloce spec, sitting above the entry-level Turismo and Lusso models, and below the impressively sporty Cloverleaf.
It comes with a generous array of equipment and detailing which includes darkened headlights, chrome trimmings, sports suspension, side skirts, cruise control, Blue&Me hands-free system with voice recognition, dual-zone climate control and 17in alloy wheels – and of course, on a sporty model like this, two chrome-finished exhausts sticking out of either side of the car at the rear.
The Veloce spec is available with several engine choices, but this car was powered by a 2.0-litre 170bhp diesel engine which was equipped with a Stop/Start system to minimise fuel consumption when in traffic by cutting the engine when the car comes to halt and the driver takes their foot off the clutch, instantly restarting it again when the clutch pedal is depressed.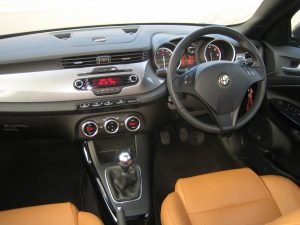 With a 0-62mph time of exactly eight seconds, it's a quick car, which pulls strongly through the gears thanks to a healthy helping of torque. Unlike some diesels, it also has a good spread of power, meaning the gear lever doesn't have to be moved as often as is the case in some cars. A gear-change indicator helps to improve economy when you are taking things at a leisurely pace by suggesting the optimum time to move up or down the gearbox, and in sixth gear, the car cruises quietly at speed.
The sports suspension gives a nice balance, not being too firm, but I would have liked a bit more feel from the power steering.
As with many Fiat Group vehicles these days, my Guilietta had a DNA switch (Dynamic,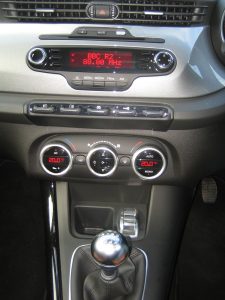 Normal, All-weather), which can change the character of the car at the flick of said switch. The Normal mode is fine most of the time, but it has a setting for bad weather, and a dynamic setting, which sharpens the throttle and steering responses.
My Giulietta was fitted with an optional Bose sound system, which I have to say is superb, and the connection for your iPod was located inside the glovebox, so it is out of sight. Why all manufacturers don't put the iPod connections out of sight, I really don't know. I think it's crackers putting it on the centre console, where it is so easy to forget to disconnect your MP3 player and leave it on view, which is obviously asking for trouble.
With a five star Ncap rating for occupant protection, the Giulietta is not only a good-looking car, it's a safe one, too. Combine that with Alfa Romeo's unlimited mileage warranty for the first three years and finding a reason not to buy one becomes all the more challenging.
Rating: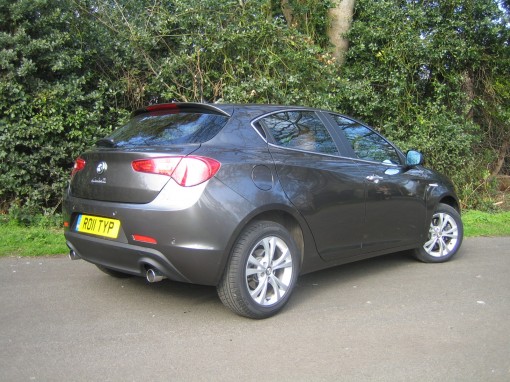 THE VITAL STATISTICS
MODEL: Alfa Giulietta JTDm 170bhp Veloce 6-speed manual.
ALFA ROMEO GIULIETTA RANGE: From 1.4 TB Turismo 5dr (£17,755) to 2.0 JTDm-2 Veloce 170 bhp TCT 5dr (£24,800).
ENGINE: 1956cc, 170bhp four-cylinder engine, driving front wheels through 6-speed manual gearbox.
PERFORMANCE: Top speed 135mph.
0-62mph in 8.0 secs.
ECONOMY: City: 48.7mpg.
Country: 68.9mpg.
Combined: 60.1mpg.
Fuel tank: 60 litres.
CO2 EMISSIONS: 124g/km.
INSURANCE: Group 25.
PRICE: £23,450.
WARRANTY: 3 years/Unlimited miles.
WEBSITE: www.alfaromeo.co.uk
• All data correct at time of publication.