Hyundai's spacious i40 is a comfortable grand Tourer
ROAD TEST REPORT AND REVIEW: Hyundai i40 Tourer
Comfortable, good looking and spacious, DAVID HOOPER puts Hyundai's i40 Tourer through its paces.
CAR buyers looking for a smart new estate car may not put their nearest Hyundai retailer at the top of their list of dealers to visit, but for those who do, they are likely to be pleasantly surprised.
The new i40 estate is pitched against established players like the Mondeo and Insignia, but with pricing to tempt the tightest of bargain hunters, an excellent five year unlimited mileage warranty and good levels of specification, Hyundai is beginning to hit the big boys where it hurts. Adding further to the i40's appeal are its low BIK ratings making it an attractive proposition for fleets or company car drivers.
There are three trim levels to choose from, Active, Style and Premium which can be combined with one of three engines and either a manual or automatic gearbox.
All of the i40's Active models come with Hyundai's Blue Drive technologies which include the Intelligent Stop & Go system which switches the engine off at traffic lights, or in traffic. Move up the range to the mid-spec Style model I've been testing and you also get the Blue Drive technology in the form of the 1.7 CRDi 136PS engine which emits only 119g/km C02 and as I discovered, offers perfectly reasonable performance.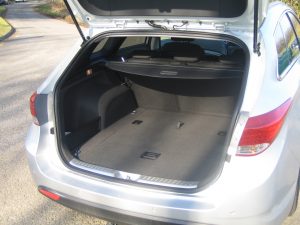 The i40 Tourer is a good looking car, sleeker than many of its rivals, yet offering ample and comfortable accommodation for up to five passengers, with plenty of boot space to spare, more if you fold down the rear seats to create a generous luggage area.
The interior is nicely designed, the model I tested featuring piano black trim instead of the silver bordering the centre console, which although making the interior slightly darker in appearance, does give it a quality feel.
On the road, the car drives very smoothly, with its long wheelbase and compliant suspension set-up giving a supple ride which cushions all but the worst of the bumps.
Its chunky A pillars at the sides of the windscreen were a bit of an issue at some angles, especially on roundabouts, where bikes, and sometimes even other cars seemed to disappear into them, but this is a trend in many new cars today to improve their crash worthiness.
The engine pulls very well – the 136PS power output providing a nice balance between power and economy, with the benchmark 0-62mph time taking 10.6 seconds. Although it won't worry a hot hatch from a standing start at the traffic lights, once on the move, the car pulls well through the gears and can comfortably dispatch slower cars and lorries on A roads without any dramas.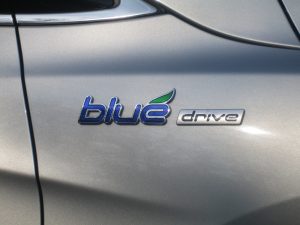 As part of the Blue Drive technology, the car is equipped with low rolling resistance tyres. Made from harder rubber compounds they reduce friction, but the harder rubber also has an effect on the amount of available grip. On a fairly quick cross-country trip using mainly B roads which were still damp and a bit on the greasy side, there was noticeably less grip than in last week's test car on the same road in similar conditions, but on standard tyres and I could feel the car moving around. This prompted the traction control system to intervene more than was necessary, showing it to be a little over-sensitive. On dry roads, none of these issues were noticeable and the grip levels were as you would expect on standard tyres.
In normal use, however, the car does drive very well and is a comfortable long-distance cruiser, which comes with a colour sat-nav system as standard. You can connect your phone via Bluetooth and control it with your voice and also connect your MP3 player, for once in a concealed compartment so it's out of sight.
Other standard equipment includes 16in alloy wheels, dual zone climate control and a rear view camera, which is handy for parking as the sloping roof-line does reduce the view out of the back of the car, and rear three-quarter vision is not as good as it could be. With its sloping bonnet, the parking sensors are a welcome addition to the inventory.
During my substantial test of around 500 miles of very mixed driving, the car returned just under 49mpg overall. The very economy conscious should be able to top 50mpg with a more delicate right foot, but it's still a long way short of the official 62.8 combined mpg figure.
The i40 Tourer is a good-looking, practical car which can carry people and luggage long distances in comfort. The good equipment levels, low running costs and an excellent warranty mean it's definitely worth putting on your shopping list next time you change your car.
Rating: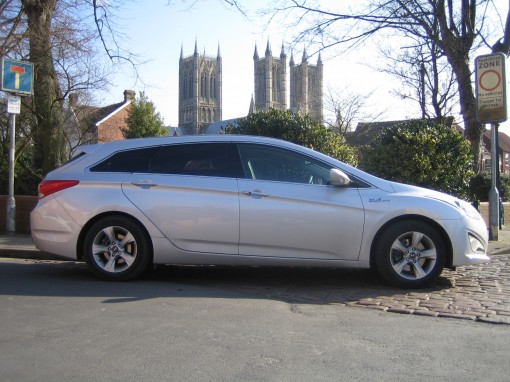 THE VITAL STATISTICS
MODEL: Hyundai i40 Tourer Style 1.7 CRDi.
HYUNDAI i40 RANGE: From 1.6 GDi Blue Drive Active 5dr (£18,395) to 1.7 CRDi (136ps) Premium Auto 5dr (£25,895).
ENGINE: 1685cc, 136PS four-cylinder engine, driving front wheels through 6-speed manual gearbox.
PERFORMANCE: Top speed 124mph.
0-62mph in 10.6 secs.
ECONOMY: City: 53.3mpg.
Country: 68.9mpg.
Combined: 62.8mpg.
Fuel tank: 70 litres.
CO2 EMISSIONS: 119g/km.
INSURANCE: Group 16.
PRICE: £22,295.
WARRANTY: 5 years, unlimited mileage.
WEBSITE: www.hyundai.co.uk
• All data correct at time of publication.
CLICK HERE and "Like" our Facebook page for regular updates and follow us on Twitter