Vauxhall Mokka Tech Line 1.4 turbo 140PS Start/Stop 4×4 road test report and review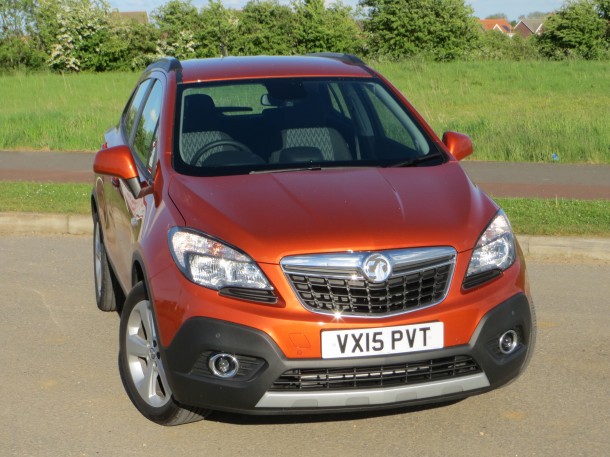 Vauxhall Mokka Tech Line 1.4 turbo 140PS Start/Stop 4×4 road test report and review – DAVID HOOPER puts this smart mini-SUV through its paces.
THE Vauxhall Mokka is a smart looking mini-SUV and has become a common sight on our roads thanks to its good value offering.
It's popular with a cross-section of buyers, from those young trendy people with an outdoor lifestyle who appreciate the built-in cycle carrier cleverly concealed in the rear bumper, which my test car should have featured, but didn't thanks to Vauxhall sending me the wrong car, to those of a certain age who find the raised ride height much easier to cope with when getting in and out of the car.
The Vauxhall Mokka is attractively styled, and I particularly liked the bright Orange Rock paint work of this week's test car which I think looks brilliant on the pictures.
Practicality is aided by the black wheel arch protectors and side skirts which protect the flanks of the Vauxhall Mokka from car park damage – how often do you see people fling their doors open and hit other cars.
Inside there are seats for five with a split folding rear bench to aid practicality when the extra carrying/luggage space is required, complementing the well-proportioned boot.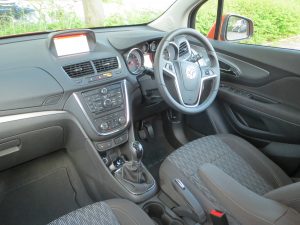 Upfront the dashboard in the Vauxhall Mokka is functional and attractively designed, with the silver trims which connect the dashboard and door cards on both sides of the car looking particularly good.
Equipment levels are generous for the price, with a touchscreen display dominating the centre of the dash and controlling most of the car's main features, such as Bluetooth phone connectivity, satellite navigation, radio and MP3 controls.
The multifunction steering wheel is home to the cruise control system and telephone answering buttons so that you can talk safely and legally while on the move.
There are also two trip computers which monitor the car's fuel consumption and help you eek out the most mpg possible with the aid of gear-change indicators and economy gauges.
There is also a stop start system which worked perfectly during my time with this Vauxhall Mokka, turning the engine off in stationary traffic and instantly restarting it when the clutch pedal is pressed prior to moving off again.
Once on the move, the car drives well, with the suspension and steering having been tuned specifically for the UK's roads. The 1,364cc engine is a willing little performer, and its 140PS will whisk it along rapidly enough for most drivers. The 0-62mph sprint takes just 9.3 seconds, with a potential top speed of 118mph, with 200Nm torque providing plenty of mid-range power through the gears. Driven normally, the Mokka in this guise returns an acceptable 42.2mpg on the combined figure, with C02 emissions of 149g/km, which means road tax will cost you £180 per year.
The Mokka in this spec comes with an All Wheel Drive system operates on an "on demand" basis, so the car runs in two wheel drive most of the time, only bringing the rear wheels into play when those wheels start to lose traction. It can divert up to 50% of the drive to the rear wheels and help extricate yourself from the a muddy campsite, or negoatiate green lanes, but for anything more challenging, you might be well advised to invest in something heavier duty, although the extra grip can offer extra safety, and traction, on the those few snow days in the winter months.
I liked the Mokka, it looks good and is easy to live with and practical.
Rating: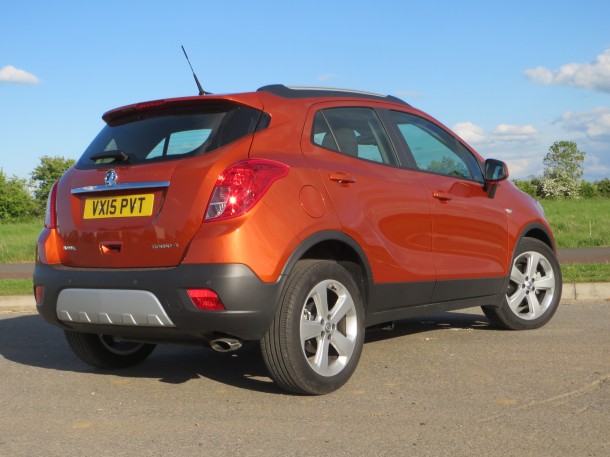 If you like this, read our review on the Vauxhall Corsa
THE VITAL STATISTICS
MODEL: Vauxhall Mokka Tech Line 1.4 turbo 140PS Start/Stop 4×4.
ENGINE: 1364cc, 140PS four-cylinder petrol engine, driving four wheels through a 6-speed manual gearbox.
PERFORMANCE: Top speed 118mph. 0-62mph in 9.3 secs.
ECONOMY: City: 34mpg.
Country: 49.6mpg.
Combined: 42.2mpg.
CO2 EMISSIONS: 149g/km.
FUEL TANK: 52 litres.
INSURANCE: Group 11.
PRICE: £18,499 (£18,594 as tested).
WARRANTY: 3 years/60,000 miles.
WEBSITE: www.vauxhall.co.uk
• All data correct at time of publication.