Nissan Juke Nismo RS road test report and review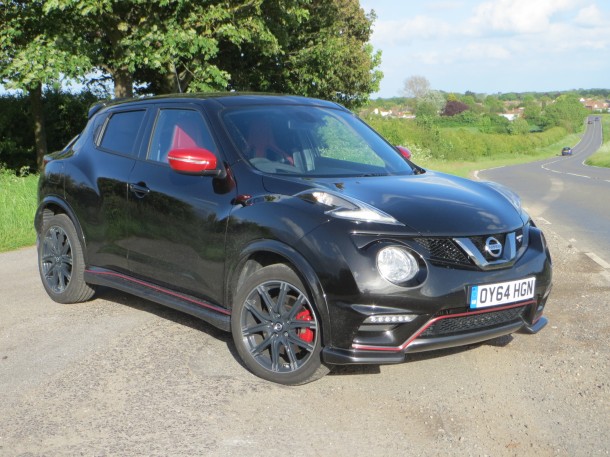 The Juke Nismo RS has been beefed up and refined and is now a much better car than the original Juke Nismo. DAVID HOOPER has been putting it through its paces.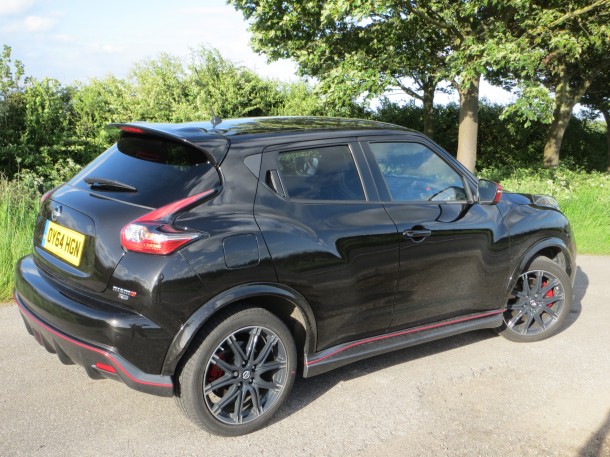 Nissan Juke Nismo RS road test report and review
THE Nissan Juke Nismo RS is the latest performance version of the popular little cross-over model built at the Japanese manufacturer's huge facility in Sunderland. This is the top-of-the-range Nismo RS which took over from the Nismo I tested last year, and now features more focused and sharper handling, something I criticised the original model for.
It looks great with its smart alloy wheels, red detailing body stripes, side skirts, flared wheel arches and deep front and rear spoilers and is available in three colours, Storm White, Pearl Black and Blade Silver. The sporting theme continues inside, with deeply bucketed seats, the side bolsters of which were so firm they actually hurt my thighs after a few days of clambering in and out of them. The steering wheel is clad in alcantara, and features a red leather strip at the top to mark the top dead centre of the wheel, taking inspiration from competition cars so the driver knows when the driving wheels are straight, even though the car may not be! Red stitching on the seats, gear lever gaiter and door panels all add to the look which is finished off with weight-saving alloy pedals. Fiddle with the settings and central display changes, and I loved the fact that those displays included a G-Force metre – the only snag was that I could never see what it was doing, or how many "G" I was pulling through the corners, or under braking or acceleration, because I was too busy looking where I was going… which is probably a good thing! Great fun nonetheless when the Sport mode was selected, for those more mellow moments there were Economy and Normal settings too. In this form, the Nissan Juke Nismo RS is capable of completing the 0-62mph in 7.0 seconds, which is pretty quick, but certainly not the fastest thing on four wheels by today's standards. It has a top speed of 137mph, and provides plenty of mid-range punch between the gears, so zipping past slower A-road traffic is rarely a problem and can be great fun.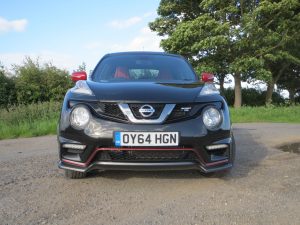 In a similar fashion to the Juke Nismo we reviewed last year, the combination of the car's relatively high ride height, narrow wheelbase and prolific performance mean that the front wheels have a habit of breaking away under hard acceleration if the car is anything but straight and you unleash generous quantities of its 218bhp, but take the time to get to know the car and feed the power in gently and the traction improves, but does tend to hamper the fun somewhat, but this model is definitely better than the original. To help get the power down, two wheel drive models now come with a mechanical Limited Slip Differential, while four-wheel drive models have a torque vectoring system as standard, along with Nissan's Xtronic transmission with steering wheel paddle shifters.To cope with the extra power, the car's body has also been strengthened to increase stiffness and the brakes are more powerful. Spring and damper settings have also been revised. During my few days with the car, it returned an average of 33.3mpg over a distance of around 300 miles, while emitting 165g/km C02, which is ok for a high-performance petrol engine. Inside there is room for up to five people, although the Juke isn't as big inside as you might expect it to be. The boot is also modest, but does come with a second compartment under the false boot floor, which is handy for keeping things out of sight and is a decent size.  It's not short on the luxuries either, with a colour reversing camera, cruise control, speed limiter and all the toys which we have now come to expect. These extra features really improve your experience behind the wheel and help out when you do need to park up in particularly tight spaces.I liked this car, it's not perfect, but it is better than the original Juke Nismo, it looks good (in a quirky sort of way) and it's fun to drive, if a bit rebellious in terms of the driving experience – but at least it keeps you on your toes! Rating: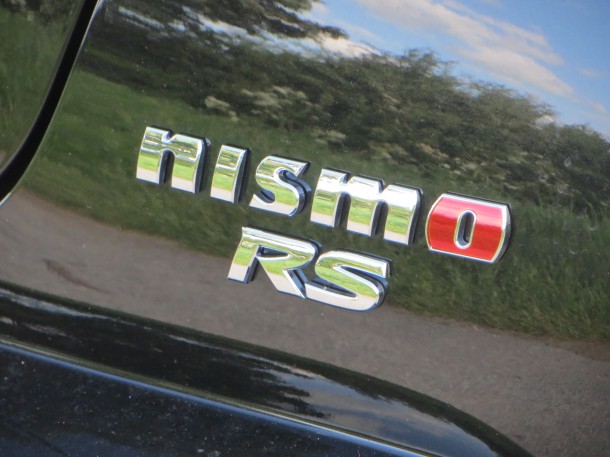 If you like this, read our review on the Nissan Juke Nismo THE VITAL STATISTICS MODEL: Nissan Juke Nismo RS. ENGINE: 1618cc, 218bhp four-cylinder petrol engine, driving front wheels through 6-speed manual gearbox. PERFORMANCE: Top speed 137mph. 0-62mph in 7.0 secs. ECONOMY: City: 29.4mpg. Country: 49.6mpg. Combined: 39.2mpg. Wheel World test average: 33.3mpg CO2 EMISSIONS: 165g/km. FUEL TANK: 46 litres. INSURANCE: Group 20. PRICE: £21,995. WARRANTY: 3 years/100,000 miles. WEBSITE: www.nissan.co.uk • All data correct at time of publication.