Vauxhall Ampera won't run out of electric power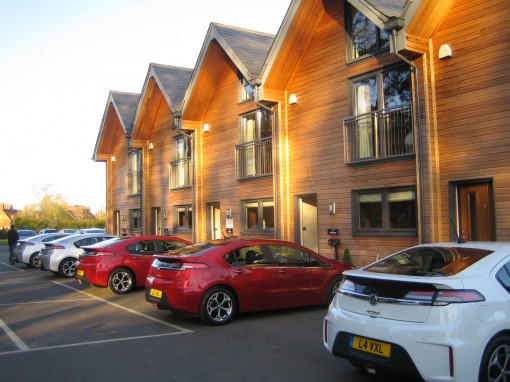 ROAD TEST REPORT AND REVIEW: Vauxhall Ampera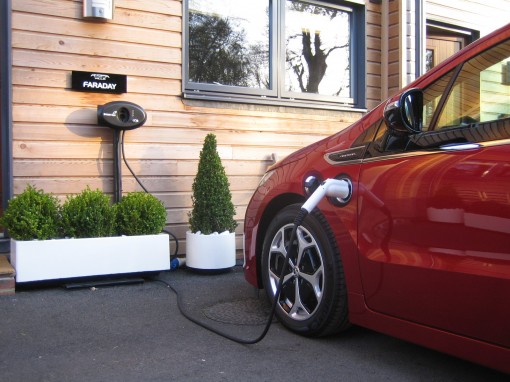 Unlike other electric cars, Vauxhall's new Ampera has a range-extending petrol engine, so you will never run out of power. DAVID HOOPER is one of the first to drive this unique new car which is on sale from May 1.
With the launch of its new Ampera, Vauxhall has turned the "current" thinking on electric cars around and come up with its own fascinating take on the future of motoring – and I have never asked so many questions on a press launch as I did on this one.
I was invited to Amperaville, a secret location in the south of England to experience a "day in the life" of this new car which is the 2012 International Car of the Year, to see for myself how it would fit into the life of an executive on the move. Labels on household appliances whet our appetites with facts such as cooking a microwave meal would drive the Ampera around 4 miles, or that the Sunday lunch would get you six miles, or that a six-minute shave with an electric razor would get you 19 yards!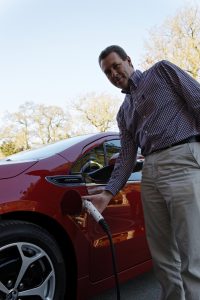 There's been quite a buzz about electric cars recently, but there is one major problem. They can only travel around 100 miles before the battery goes flat and needs recharging, which takes several hours. Driving one of these cars as the battery depletes before your very eyes at an increasingly rapid rate has become known as "range anxiety", or the fear of becoming stranded, but with Vauxhall's Ampera, this isn't something you have to worry about thanks to its range extending petrol engine.
It's a brilliant concept and one which many thought would never see the light of day when it was first mooted around four years ago – but here it is, and I was among the first to drive it in the UK.
As with any electric car, you plug it into its charging point at your house overnight to recharge its battery. As it only takes around four hours, the car can be programmed to take advantage of cheap rate tariffs in the wee small hours, so that it's fully charged in time for you to leave for the office in the morning. If you don't have a charging point, you can use the cable which comes with the car and plug it into a standard three-pin socket.
British Gas has an agreement with Vauxhall which will see one of their engineers coming to your home to check your wiring is up to the job if you have any doubts and carry out any necessary work to upgrade your home's electrics, but you would have to pay for that, as you would the charging point if you decided to have one fitted at a cost of around £800.
With our cars fully charged at a cost of around £1, depending on your particular tariff, we set off for our first day in our pretend new job in our new company car, making several stops along the way.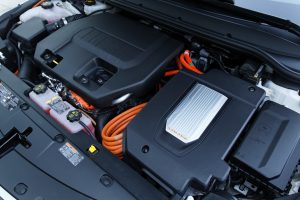 The car is a four-seater, with a reasonable sized boot. The T-shaped lithium-ion battery with 288 cells, which weighs around 200 kilos runs along the centre console and under the two rear seats, meaning a fifth seat becomes impractical.
Fully charged, the Ampera has a range of between 25 and 50 miles, depending upon how it is driven. We managed 42.4 miles before the battery pack reached its minimum permissible charge and brought the range extending petrol engine into play.
The 1.4-litre Ecotec petrol engine is used elsewhere in Corsa and Astra models, but in the Ampera, it doesn't actually drive the road wheels at all. It acts as an onboard generator for the electric motor, which is a more efficient way of doing things. This increases the car's range by up to 310 miles, giving the car a total driving range of around 360 miles.
If it's not convenient to recharge the car's batteries, it doesn't matter, you can just top up the 35-litre petrol tank and off you go again, so you will never get stuck.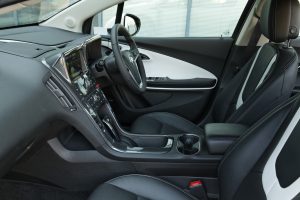 Of course, it's not that simple – you can choose to "hold" the electric power if you wish, perhaps if you were driving on the motorway first, switching to the electric motor when you entered a town or city to make the best use of the battery pack.
Under the current regime, all this is very attractive to company car drivers and fleet managers, thanks to no road tax to pay, no Congestion Charge fees if you go into central London, and a 50 per cent reduction in company car tax.
Vauxhall has also done its best to allay fears about battery life, by providing an eight-year, 100,000-mile warranty. The Ampera also comes with Vauxhall's Lifetime Warranty, but that isn't transferable to subsequent owners.
So what's it like to drive? Very good actually – I was far more impressed than I expected to be. Inside it's all quite space age, with two colour screens relating the vital information on remaining battery charge, fuel levels, economy etc, while the screen in front of the driver has a digital speed read-out and a spinning energy ball which moves up and down a scale in relation to how economically the car is being driven.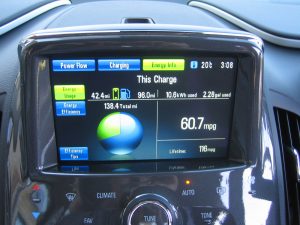 All the switchgear is specially designed to use less power and the climate control system has its own eco settings. There is even a bespoke energy-efficient Bose sound system.
The performance is quite respectable – with a power output of 150PS and 370Nm torque, it has a 0-60 time of 8.7 seconds and a top speed limited to 100mph, which is enough. It drives very well, although overtaking A-road traffic needs a bit of planning as the Ampera's acceleration tails off at higher speeds.
The car feels well planted on the road, thanks to its 200 kilos of batteries weighing it down, but is nimble enough for most drivers and there are selectable drive modes ranging from Normal, Sport, Mountain and Hold-charge mode. Certainly on the dry roads we tested the car on, there was plenty of grip from its energy-efficient low rolling resistance tyres.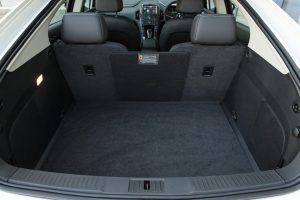 The Ampera is built in America, but there are hopes that the next generation of the car may be built in Europe, possibly at Vauxhall's Ellesmere Port plant, but that all depends on how well the car is received and how strongly it sells, which is an unknown quantity at this stage.
More good news, however, has just come from the residual value experts, who have just upped the Ampera's predicted values from 40 to 45% after 3 years and 60,000 miles, which means it stands comparison with the residual values of premium brands.
Prices start from £29,995 including the Government's "plug-in" grant. There are three models with two trim options, Positiv and Electron, while an entry-level model will go on sale later this summer. The Ampera Electron model I drove cost £32,000 after the £5,000 Government grant.
The car is available to order now from 24 selected specialist dealers around the country.
Rating: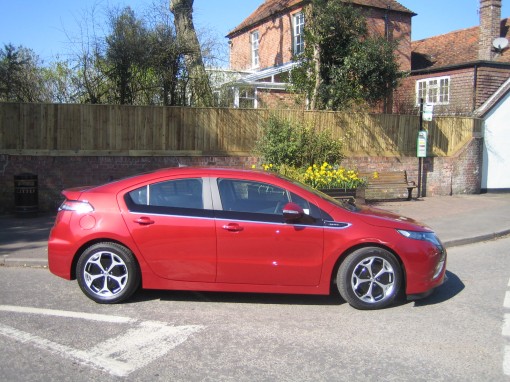 THE VITAL STATISTICS
MODEL: Vauxhall Ampera
BODY STYLES: Five-door hatchback
ENGINES: 16kW electric motor plus 1.4-litre 86PS Ecotec petrol engine.
TRIM GRADES: Positiv and Electron
PRICES: From £32,000
IN THE SHOWROOM: Now
WEBSITE: www.vauxhall.co.uk
 All data correct at time of publishing.