Evoque is a big hit with customers, and your head!
ROAD TEST REPORT AND REVIEW: Range Evoque Coupe
Range Rover's trendy Evoque Coupe is reportedly selling well in over 160 countries. KEITH WARD puts one to the test.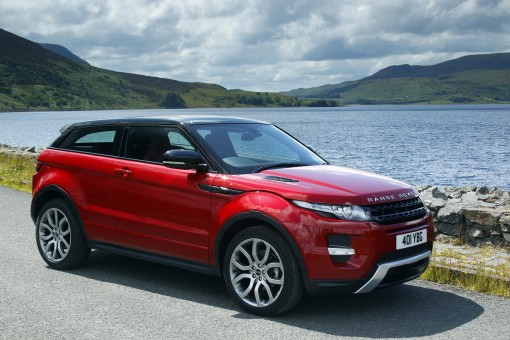 IN this three-door coupe form, with the impression of a squashed-down roof and its high waistline, the new Evoque reminded more than one observer of the beetle-browed, bunkered looks of a Hummer.
No problem for this beholder, an admirer and past-owner of the Land Rover brand. Both coupe and more conventional five-door versions of the hot-selling Evoque, the "smallest, lightest and most fuel-efficient Range Rover ever produced", have their head-turning appeal. But which is better to live with?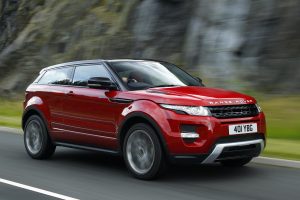 Like the five-door, the Coupe in a five-strong range offers a choice of 2.2 turbo diesel or 2.0-litre petrol engines, three power outputs, six-speed manual and automatic gearboxes and two or four-wheel-drive.
Rather than a traditional stepladder of trim levels, there are three "design themes" – Pure, luxurious Prestige and sporting Dynamic – each with a host of colours, interiors, option packs and accessories. Showroom prices range from just under £28,000 to a tad below £40,000.
Our sample was an SD4 2.2-litre turbo diesel Dynamic Coupe with permanent 4WD. In the plush, leather-trimmed cabin (10 square metres or three full hides consumed per car), an eight-inch, multi-coloured touch-screen display springs to life when you switch on and the rotary drive (gear) selector, located amidships, rises gently into your left hand. The Evoque evokes quality, no doubt about it.
While performance is robust and roadholding reassuring, steering practice is needed to minimise body sway, felt particularly by passengers.
Then there are practical drawbacks to that profile of the Coupe. Could it be that a motor show concept of a couple of years ago fulfilled its purpose by racing so many petrol-head pulses that the momentum carried it into production?
It stands, for example, 135mm or five and a bit inches lower than a Freelander. Drivers of challenged stature, with the front seat set high and forward, will tend to bump the top of the door frame when entering and exiting, unless adopting an exaggerated ducking, limbo motion.
One solution I found was to use one memory button to set the seat at its lowest and rearmost when getting out then, once behind the wheel on return, restoring it via another button to your preferred setting.
A grab handle might have been an idea to aid less agile front seat passengers. And access to the rear seats requires patience until the electric front seat inches forward, at snail's pace.
Compared to the five-door Evoque, the Coupe gives rear passengers 30mm less headroom and 50mm less shoulder room. Together with the shallow, letter-box window glass, that shrinkage can make for a hemmed-in feeling.
An optional full-sized, fixed panoramic glass roof might improve life in the back. Legroom for average-sized adults remains fine.
The divided rear seatbacks of the Coupe can be dropped forward into a near-flat floor to extend the boot length from 0.8 to around 1.4 metres. At 550 litres minimum the cargo capacity equates to that of a compact estate, and there's an extra underfloor locker.
Not many owners will be venturing off-road, you feel. But the Evoque has behind it the best cross-country pedigree in the world. Built at Land Rover's Halewood plant, it is reportedly selling well in more than 160 countries worldwide – a big success story for the North.
What next? An Evoque convertible was shown as a concept car at this year's Geneva Motor Show, with "no production plans as yet".
Rating:





THE VITAL STATISTICS
Model: Dynamic Coupe; three-door; five seats; compact SUV
Tape: Length 4,365 mm; width 1,965 mm; height 1,605 mm
Boot: Length 810 to 1,400 mm; width 990 mm; 550 to 1,350 litres Off-road: Wading 500 mm; approach angle 25 deg; departure 33 deg; ride ht 212 mm
Engine: Diesel; SD4 2.2; four-cyl; 16v; turbo; six-speed auto; 4WD
Power: 188 bhp; max torque 310 lb ft
Performance: 121 mph; 0-60 in 8.0 secs
MPG: On test 36.8; official combined 43.5 mpg; tank 60 litres
CO2: 169 g/km; band H; VED £265 then £190;
Weights: Kerb 1,685 kg;
Tyres: 235/55; R19
Insurance: Group 38
PRICE: £39,990