Vauxhall Adam Jam 1.2i 70PS road test review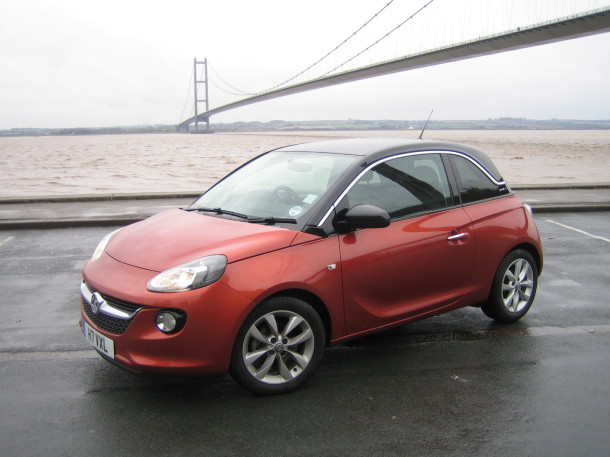 ROAD TEST REPORT AND REVIEW: Vauxhall Adam Jam 1.2i 70PS ecoFLEX Start/Stop – With trendy looks and a fun character, is the dinky little Adam all Glam with no Slam? DAVID HOOPER puts one to the test.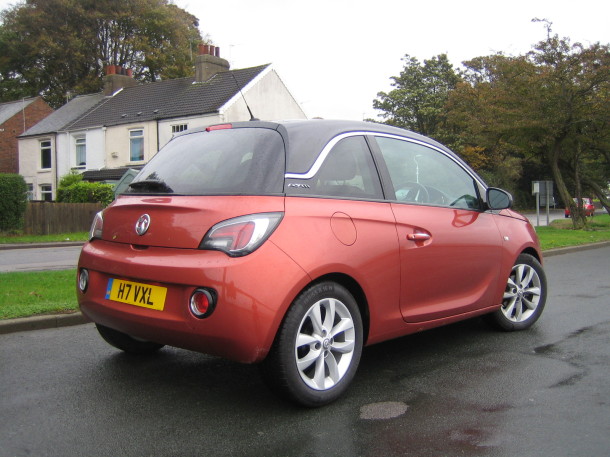 THE little Adam is Vauxhall's attempt to take on the incredibly successful BMW Mini and Fiat's remake of the equally iconic 500. While it may lack the heritage of these rivals, the fact that it's so eminently customisable means that it's becoming increasingly popular with customers.
There are three basic trim levels, Jam, Glam and Slam to which customers can add packs, trim detailing and a host of accessories to make their Adam the apple of their eye.
Strictly a three-door car, the Vauxhall Adam is offered with a good choice of petrol and diesel engines, so there is an Adam to suit most people's needs, with most being very frugal.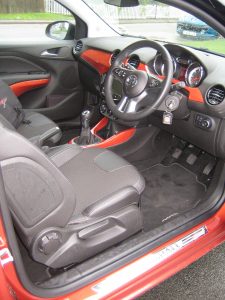 It's a compact little car, but will seat four with enough room at the back for a modest boot.
The interior of my test car looked smart, with the dashboard facing painted the same metallic bronze colour as the exterior bodywork. The centre console was dominated by a large screen which is home to the radio, Bluetooth telephone controls, and a selection of apps which can be operated via your phone connection – but be wary of your download limits before you get carried away! You can also connect your iPod via a 3mm jack or USB connection.
My Adam had a few optional extras fitted, one of which was the winter pack which adds heated front seats and an electrically heated steering wheel – quite a nice addition which is particularly appreciated as the winter weather begins to make itself felt. It also featured the Roof  Colour Pack amusingly called "I'll Be Black" which costs £200 – almost worth the money for the laugh!
For a small car, this Adam was well equipped and even featured a cruise control and speed limiter as standard kit which is useful for maximising fuel economy on a run by maintaining a constant speed and eliminating the driver's fluctuations on the throttle pedal. The speed limiter is something I rarely use, but can be useful in roadworks to prevent you inadvertently going over the limit and incurring the wrath of the average speed cameras.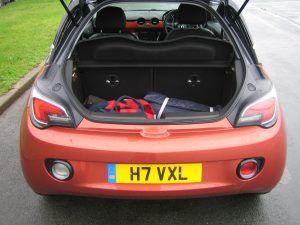 The Adam drives very nicely, although I thought the 1.2-litre engine in my test car was under powered for anything other than town work. It lacked low-end torque and had to be worked fairly hard to extract any performance, for example, for overtaking on A-roads. With a 0-62mph time of almost 15 seconds, and a low top speed of 103mph, I'd have hoped it would have achieved better than the average 45.4mpg that it did during my test of 294 miles. It's C02 emissions aren't brilliant either, at 118g/km
There is a City setting for the steering, to make it lighter for manoeuvring in town, so squeezing into a parking space isn't a problem and with the car's small external proportions, can be slotted into the smallest of gaps.
Adam's manners on the road are perfectly acceptable, with a comfortable ride quality and responsive steering, and I have no complaints with the car's dynamics. Despite its short wheelbase, Vauxhall has found a nice damper set-up which gives a compliant ride.
Would you Adam and Eve it – a small car from Vauxhall, sitting below the ever-green Corsa in the range which is now taking the fight for sales to the established players in this niche market for the young and trendy.
Will it succeed? Based on my first experience of the Vauxhall Adam, I suspect it will.
CLICK HERE and "Like" our Facebook page for regular updates and follow us on Twitter
Rating:





THE VITAL STATISTICS
MODEL: Vauxhall Adam Jam 1.2i 70PS ecoFLEX Start/Stop.
VAUXHALL ADAM RANGE: From Jam 1.2i 16v 3dr (£11,550) to Slam 1.4i 16v (100ps) ecoFLEX Start/Stop 3dr (£14,295).
ENGINE: 1,229cc, 70PS four-cylinder petrol engine, driving front wheels through 5-speed manual gearbox.
PERFORMANCE: Top speed 103mph. 0-62mph in 14.9 secs.
ECONOMY: City: 39.8mpg.
Country: 67.3mpg.
Combined: 53.3mpg.
Fuel tank: 38 litres.
CO2 EMISSIONS: 124g/km.
INSURANCE: Group 3E.
PRICE: £11,550.
WARRANTY: Lifetime 100,000 miles.
WEBSITE: www.vauxhall.co.uk
• All data correct at time of publication.